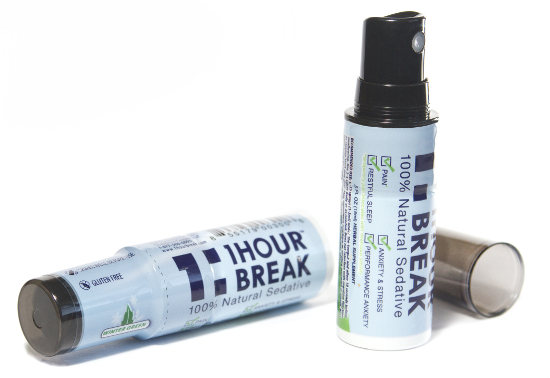 It's no secret that I'm a fan of energy drinks and supplements. I'm always looking for and trying "The next best thing" for staying alert during crazy long days. An emerging market running concurrent to this that also fascinates me is the growing trend for "Relaxation drinks" – supplements that have the opposite effect of energy drinks in purporting to help you relax and sleep. Since this is a newer market, I haven't really gotten a chance to try any of these products because they're hard to find locally. So it was fun when I had the opportunity to review a spray called 1 Hour Break, a product billed as a "100% Natural Sedative" aimed to help reduce anxiety and improve sleep. This supplement contains a mixture of herbs, including Kava Kava and St. John's Wort. I've read about the "Mellowing" effect that Kava Kava is supposed to have, so I was really intrigued to give this product a try.
One of the notable features of 1 Hour Break is the fact that it is not meant to make you drowsy – according to the package, "[1 Hour Break] does not interfere with cognitive function or staying alert and clear". Well, this sounded perfect for me, as I work extremely long hours and could really do with some stress relief, but can't use anything that will slow me down and make me sleepy. I received an envelope of complimentary samples in the afternoon mail delivery, so I decided to give it a whirl right away.
This product is packaged in a small spray bottle, and the instructions direct you to spritz 5-15 sprays under your tongue and leave it in your mouth for 10 seconds before swallowing. When I sprayed it in my mouth, it burned badly under my tongue – it hurt so much that my eyes watered and it was challenging to hold it before swallowing. It tasted pretty bitter and awful. I tried it twice over the course of the day, but I didn't feel any noticeable effects. Since the directions recommend using on 1 Hour Break on an empty stomach, I tried it again early this morning. Again, I didn't really feel anything from this. This spray isn't for me, but I really enjoyed having the opportunity to try out one of these "Mellow out" products!
As with all supplements, it's important to talk with your doctor before trying them. Kava supplements have been linked with liver problems in rare cases, and St. John's Wort can interact negatively with a large number of medications and supplements, so it's important to do you research and be informed before beginning use of any product containing these ingredients, whether it is this spray or a vitamin.
Coupon Code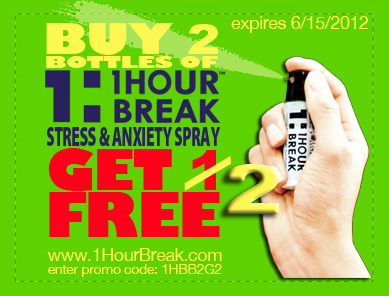 Check out the coupon code pictured above for a deal on 1 Hour Break!
Fore more information on 1 Hour Break, be sure to check out the following pages:
Official website
1 Hour Break page about Kava
1 Hour Break Facebook Page
1 Hour Break Twitter Page
1 Hour Break Pinterest Page
This review is provided for entertainment purposes only. It is not intended to diagnose, treat, cure, or prevent any illness or medical condition.