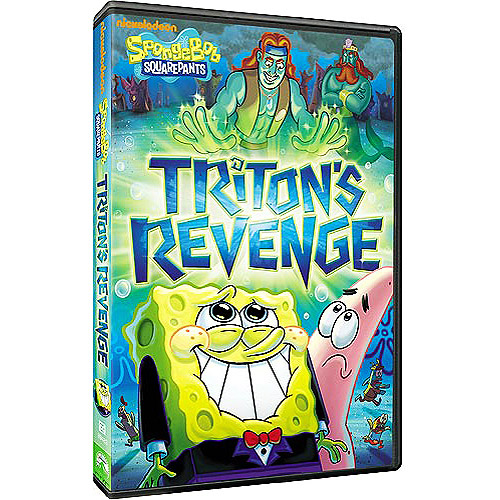 It's no secret that I love SpongeBob. I got satellite TV a few months back, and one of the things I was most excited about was having Nickelodeon again! I'm not sure if that makes me young-at-heart or just immature, but either way, SpongeBob is one of my favorite shows. It's hard to believe that it's been on the air for eleven years already!
I recently had a chance to check out an advance copy of SpongeBob SquarePants: Triton's Revenge
, a half-hour special that will be aired on July 5th and subsequently released onto DVD along with six other episodes on July 13th. The special features King Neptune (voiced by guest star John O'Hurley) and his wife Queen Amphitrite (Victoria Beckham) as they try to enjoy the King's 5,000th birthday at the Krusty Krab. Mr. Krabs can barely contain his excitement at all the money he will make, but his bubble is burst when King Neptune is too depressed to eat their banquet of 5,000 Krabbie Patties (one for each year!). In a hasty bid to save the party, Mr. Krabs sends SpongeBob to look for the King's banished son, Triton (voiced by Sebastian Bach), in hopes that it will make King Neptune happy again.
I'm just starting to catch up on SpongeBob now that I have Nickelodeon again; the last episodes I saw were from Season 6, so this DVD was my first glimpse of Season 8. I am starting to notice that the humor is a little different now than it was when SpongeBob first started – SpongeBob creator Stephen Hillenburg stepped back into an executive producer role in 2004, so he no longer writes episodes, although he does review them before they are aired. But I still love SpongeBob and watch it any chance I get!
SpongeBob SquarePants: Triton's Revenge Fast Facts:
Street Date: July 13, 2010
DVD SRP: $16.99
DVD Running Time: Approximately 89 Minutes
DVD Special Features:
The Clash of Triton  Shorts
SpongeGod
Neptunes Origins
Fan Boy & Chum Chum Wizboy/Pick A Nose
Triton's Revenge Episode Synopses:
The Clash of Triton
King Neptune wants to celebrate his 5,000th birthday at the hottest spot in town – none other than the Krusty Krab!  SpongeBob and crew spare no expense for the gala, rolling out the red carpet to welcome the royal family.  Despite their best efforts, the absence of Neptune's son, Triton, brings down the king's spirits and spoils the festivities for everyone, especially his wife, Queen Amphitrite.  The gang soon learns that Neptune banished his son to a deserted island until Triton is ready to follow in his father's footsteps.  Determined to make this the king's happiest birthday ever and save the day, SpongeBob sets out to find Triton and bring him back to the party.  Unfortunately no one anticipated Triton's wrath and now Bikini Bottom may get caught in the net of revenge meant for his father.
Sand Castles in the Sand
A friendly day of building sand castles soon turns into all out war when SpongeBob and Patrick use their sand creations to battle each other.
Shell Shocked
When Gary's shell breaks, SpongeBob tries to find him a replacement.
Chum Bucket Supreme
Plankton hires Patrick to create advertising slogans for the Chum Bucket.
Single Cell Anniversary
SpongeBob helps Plankton find the perfect anniversary gift for Karen.
Tentacle-vision
Squidward becomes the star of his own public access TV show.
I Heart Dancing
Squidward tries to sabotage SpongeBob's big dance audition.
The Karpel Group sent me a promotional copy of this DVD for review purposes.