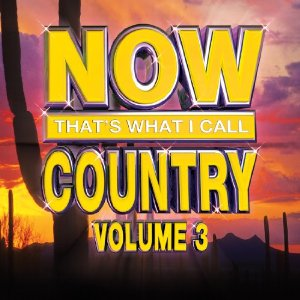 I've always enjoyed the "NOW That's What I Call Music" series. This ongoing compilation comes out several times each year and features today's chart-toppers, with specialty releases for a variety of genres. One of their newest albums, NOW That's What I Call Country Volume 3, highlights today's top country artists in a 16-track compilation that is sure to delight country fans. This album features hits from well-loved artists like Martina McBride, Kenny Chesney, and Brad Paisley, as well as tracks from new country sensations like Lady Antebellum. If you can't get enough country, then you might want to check this album out!
NOW That's What I Call Country Volume 3 Track Listing
1. Ain`t Back Yet – Kenny Chesney
2. Our Kind of Love – Lady Antebellum
3. Why Don`t We Just Dance – Josh Turner
4. Highway 20 Ride – Zac Brown Band
5. American Saturday Night – Brad Paisley
6. Unstoppable – Rascal Flatts
7. `Til Summer Comes Around – Keith Urban
8. Living for the Night – George Strait
9. Crazy Town – Jason Aldean
10. Man I Want to Be, The – Chris Young
11. Rain Is a Good Thing – Luke Bryan
12. Little More Country Than That, A – Easton Corbin
13. Wrong Baby Wrong Baby Wrong – Martina McBride
14. Up on the Ridge – Dierks Bentley
15. Little White Church – Little Big Town
16. Get Off on the Pain – Gary Allan
NOW That's What I Call Country Volume 3 is available on Amazon for 13.85
and wherever fine music is sold. I was provided with a promotional copy of this album for review purposes.