Welcome to Nerdy or Novice?, our brand new technology column! Here, you will not only read about the latest tech toys, you'll also get a well-rounded perspective thanks to my co-columnist (and fiancé!), Jai! A seriously tech-savvy guy, Jai owns a computer repair business, and will dissect the technical prowess of these gadgets and games. Meanwhile, I will be providing the layman's perspective on the user-friendly qualities of this geek gear.
As summer winds down, parents are preparing for fall by stocking up on school supplies. And these days, back-to-school shopping isn't just for glue and erasers – it can also entail electronics. The Internet is a crucial part of modern education, so today we have a great tech pick for today's students: The Linksys E4200 Router!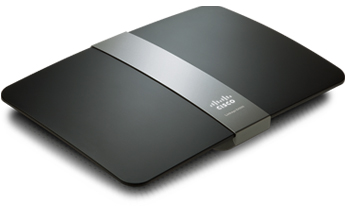 Routers have become an essential item, as they allow anyone in a household to connect to the Internet, whether they're using a desktop computer, laptop, or a wireless device such as an iPad. So if routers all do the same job, what difference does it make which one you buy? The answer is ease of installation and strength of signal. After testing out the Linksys E4200 Router, Jai and I were both impressed not only with its performance in these categories, but the additional features it offers that would make this router especially useful to students.
Jai set this router up, and it couldn't have been easier. He explains: "This is very simple to connect to the network. Just plug it in to your modem, and when you go to 'Connect' it will bring up a prompt reading 'This is the first time the device is connecting'. It will ask you to enter the number that's stamped on the bottom of the router; you put in that number and it gives you a brief, simple screen that asks you to put what you want your network name to be, and suggests a password for you. You hit OK, connect, and it's all done!"
We're replacing our old router with the Linksys E4200 because its performance is superior. It has gigabit ports built in which are much faster in moving data over the ethernet cables – it's full bar more powerful than our old 10/100 router. It's also got better range than our old router. Previously, there were several corners of the house which could not pick up wireless; now, you can maintain an internet connection wherever you are. (Now I can tweet while doing laundry!)
A unique feature on this router is the fact that it also has a USB port built in. Using this, you could plug a portable drive directly into the network for all your computers to share and access seamlessly. Jai says this would be good for a home theater system; I think it would be great for sharing homework between computers and accessing files easily across the network.
The Linksys E4200 Router is available on Cisco.com for $179.99.
Thanks to Linksys for providing a complimentary router for the purpose of this review.
Linksys: Advanced enough to satisfy tech geeks, simple enough for an average user to set up with no hassle!
Back to school savings from Linksys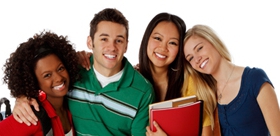 Right now, Linksys is offering back to school savings on a variety of wireless bundles. Check out these deals at www.linksys.com/backtoschool!