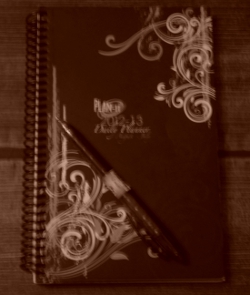 Can you believe that it will be November in just 2 short days? This year is almost over – crazy, I know. It seems like just yesterday that we were talking about setting goals for this year, but actually, that was in February.

I wrote a post at the beginning of 2012 talking about my goals for this year, and as I re-read it now, I actually feel pretty darn happy. In February, my #1 goal was just to rehabilitate my knees enough that I could resume the rest of my life. It was pretty grim, that's for sure. But here I am in October, and you know what I did over the weekend? I went scuba diving. Just a few short months ago, walking was tough for me. Although I still have some pains and trouble with squatting down or really high-impact stuff, that continues to improve every day and doesn't really bother me because I CAN FUNCTION! I can walk, I can stand, I can do athletic things like the scuba diving, and I no longer feel held back – I don't have to plan my whole life around how much I can move around. I feel like I'm always harping on about my knees, but the truth of the matter is, when you've been incapacitated for so long, that's your life – because you can't really do much else. I can't tell you how incredibly ecstatic I am to be able to start putting this awful chapter of my life behind me!
If I had done nothing but achieved that goal this year, I would have been satisfied. But a lot of other great things have been happening in the last half of this year. I've lost a significant amount of weight and continue to work towards my diet goals, we were able to complete some pretty major renovation projects, and I've achieved a number of work goals as well. It's been a really hard year, but I feel like I've managed to achieve a lot in the face of adversity!
In February, I talked about Noomi.com and its listing of life coaches in Portland. I still have yet to see a life coach, but I try to be open-minded about anything that could be of help to me. The Community College Transfer Students blog has an article about why they recommend life coaches for college-age students, touting the effectiveness of an external presence to motivate you and help you set effective goals. It's an interesting idea, but I wonder how many college kids have the funds available for something like a life coach when most of them are struggling just to buy Ramen. Hence, why I haven't seen a life coach since my last post in February.

But hey, if you're on a tight budget, you can always just read this free infographic about increasing productivity!
So as we wind down 2012 and begin to look towards the New Year, I'd love to know: How are your goals for this year coming? Are you starting to think about your 2013 goals yet?