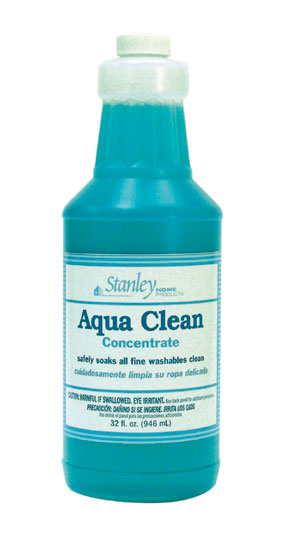 I've reviewed several items from Stanley Home Products recently, and so far I've been happy with all of products I've tried. I recently received a complimentary bottle of their Aqua Clean Concentrate to review, and I was curious to see how this laundry helper would stack up for my needs. Aqua Clean Concentrate is specifically designed for delicate laundry items such as hand washables. According to the product description, Aqua Clean Concentrate "Eliminates costly dry cleaning of fine washables". I was intrigued by this, because I have a ridiculous amount of clothing items that require hand washing. This is the downside to being a fashionista!
For my first test, I added the Aqua Clean Concentrate to a normal load of laundry just to see what it was like. This was a load of household items – reusable cloth bags, cloth napkins, potholders, etc. The Aqua Clean worked great as a detergent so I had no complaints there! For my second test, I decided to use this laundry cleaner with an extremely tricky-to-wash item – my winter coat. This is a great coat that I picked up very inexpensively at Ross right before I left for England in January, and it's very chic in addition to being warm. It was in need of a good wash, but I was unsure how to go about this. The tag states "Dry Clean Only", but I must confess, I have never taken anything to the dry cleaners; I always just wash my items carefully by hand. I thought about washing this coat by hand in the bathtub, but that would have been quite awkward due to the heavy nature of the coat. So I decided to go out on a limb and stick the coat in the washing machine!
I added Aqua Clean Concentrate to the washing machine, put it on the gentle cycle, let it fill up with cold water, and then added my coat. Once it was done washing, I put it in the dryer on the lowest heat setting – this is November in Oregon, so if I hung it up to dry, it would be damp until January!

Here is the finished product: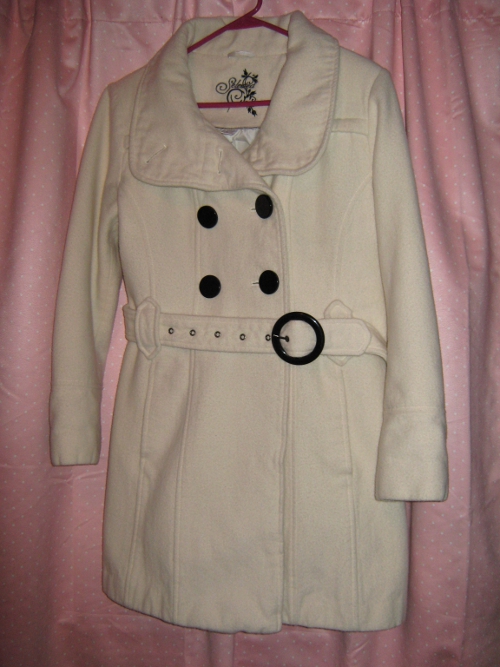 Good as new! The coat turned out great and I am so pleased. I was a little nervous that it might get mangled since I completely ignored all of the cleaning directions. But I had no problem! Now, I'm not at all advocating that you now should throw all your "Dry Clean Only" items in the washing machine – it's always a risk, and depending on the item, it could end up ruined; and I think this coat would have turned out the same regardless of what detergent I used. But I think this is a good example of how Aqua Clean Concentrate is gentle on delicate items. I'm pleased with this cleaner and will certainly use it again on my 5,000 other delicate hand washables!

A 32 oz bottle of Aqua Clean Concentrate is available on SHPOnline.com for $8.99.