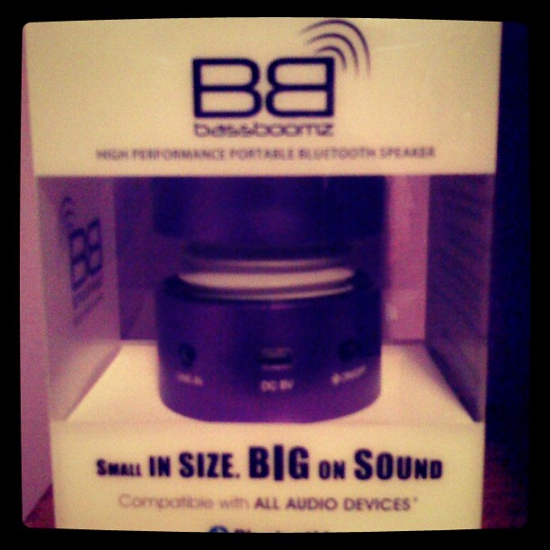 I must start this review with a follow-up, and perhaps a touch of gloating. As you may recall, I included BassBuds earphones in our 2012 Holiday Gift Guide, and it was a very popular feature with our readers. As I mentioned in the review, earbuds don't stay in my ears because of the shape, so I was intending to tuck them in Jai's Christmas stocking. Well, I just have to say that the BassBuds were as big of a hit with him as they were with you guys! He was super happy to pull them out of his sock on Christmas morning, and no joke, he's worn them almost every day since then. He loves to listen to audiobooks while he takes care of errands – in fact, if you follow me on Google+ you may have noticed a few pictures of him wearing his BassBuds while shopping at Walmart with me! He says these are the nicest headphones he's ever owned, so I just have to pat myself on the back for my good gift choice there.

Anyway, all that is to say that when the company invited me to check out their latest product, BassBoomz, this was a no-brainer for me…especially since Jai's birthday is coming up in less than two weeks! Do I have timing, or what?!
So what is a "BassBoomz"? This product is a small, portable bluetooth speaker that retails for $130, which you can use to amplify sound from devices such as smartphones, tablets, and computers. The unit has a unique design that looks rather like a Shakeweight, and the one I received came in a fun purple color. Since a speaker is something I can actually test (Unlike earbuds), I set about trying this unit out this morning while Jai wasn't looking. Sssshhh!
When I saw that this was a bluetooth speaker, my first thoughts were "Cool!" and "Ugh!", respectively. "Cool" because bluetooth is so useful and "Ugh" because setting bluetooth up on my particular devices can be a real pain. My laptop has recurring issues recognizing my bluetooth headphones that even Jai has difficulty troubleshooting, and I was hoping this wouldn't be really time consuming to figure out on my own since I don't have near as much patience or interest in troubleshooting these kind of issues as Jai does. However, my fears were unfounded. BassBoomz connected effortlessly to my laptop – the instructions said it would need a password, but mine didn't – and poof! Music time! I did my usual test of audio equipment by blasting some Maroon 5 through the speaker, and I have to say, I'm impressed with both the amplification and clarity of the sound. The unit rattles from the thumping of the speaker as you turn it up and will actually dance around the table if you crank the volume – it's like a teeny tiny version of those super loud cars that blast rap as they drive down my road at 2 AM.

In my opinion, BassBoomz have a really high quality output for such a little speaker, and since it works on bluetooth, you can place it wherever you want in a room. I can actually see this being fun when I'm cooking and cleaning and want to move my music around with me but can't wear headphones, maybe because I have company or need to keep an ear out for something, so Jai may have his birthday gift "Borrowed" occasionally.

The device is very simple, with a on on/off switch, a line in, and a DC5V charging jack. Volume is controlled through your computer/smartphone. All cords are included, and you can plug it in to your computer both to charge it and to play music directly if you don't have bluetooth, or if you prefer to turn the bluetooth off for whatever reason. You'll want to be sure and charge it up before your first use – not mentioned in the instructions as far as I could see – I'm sure that's really a given, but just throwing it out there in case anyone gets thrown off when they take it out of the box as it appears to turn on right away. I was able to turn it on and connect it to the bluetooth right out of the box, but it didn't play sound until it charged for about a half an hour. It says it takes about 1.5 hours to charge fully and is supposed to play for 5 to 6 hours at 70% sound.
Do you also know someone with a March birthday, or just want to pick up a speaker for yourself? Click here to visit the BassBoomz store and enter coupon code BBZUS026501 to save $46 on your purchase through 03/31/13!