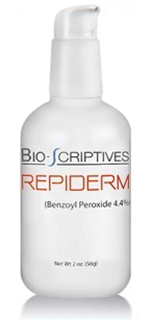 Would you like to try a new product to treat acne and blemishes? THREE lucky Contest Corner readers will win a bottle of Bio-Scriptives Repiderm acne treatment, so read on!
When my health started tanking a few years ago, I noticed that I begun getting a lot more blemishes than normal. I was someone that had clear skin my whole life, but I've had more spots in the last two years or so than I EVER got as a teenager. It's frustrating, especially when I'm also getting wrinkles at the same time! I don't get full-on acne, but I'll have stubborn patches of red blemishes that show up and won't leave. A lot of people still comment that I have nice skin, so I realize my lot isn't as bad as many individuals who suffer from clinical acne, but it still makes me feel self-conscious.
Further complicating this is the fact that I have ridiculously sensitive, dry skin all over my face. Skin care is tricky for me as I can use a product for a while and end up developing sensitivities to it after a few months, so I never really know what's going to work. Since the goal of all acne treatments is to zap pimples and dry them out, you can imagine how difficult this makes it for me to try and get rid of these blemishes. So when I received a bottle of Bio-Scriptives Repiderm in the mail, I fully expected that it would give me a rash and not do anything to clear up the spots; but it's been bothering me so much that I wanted to keep trying new things just on the off-chance that one might work. When I read the label and saw the advisory "Do not use if you have very sensitive skin", I figured I was in for it, but at this point a rash couldn't bother me all that much more than the blemishes. I applied a thin layer to one small patch on my cheek first thing in the morning – I didn't put it on all my spots at first, because I figured if I had a bad reaction it would be contained, and also I could compare how well it worked overall.
I was actually quite shocked the next day when I looked in the mirror and noticed that the largest blemish was a little smaller and not as red. I continued to use it every day, and much to my complete surprise, I could see visible improvement. I've never had this kind of luck with an acne product before – and what also surprises me is the fact that I've been able to use it without getting an awful rash. After about a week, I noticed some sensitivity, so I took a small break from it and then resumed use. I've been using it pretty much daily ever since (It's been a few weeks now) and it's been fine. I would not be at all surprised to get a skin reaction from this at some point in the future, but that's totally fine, because it actually clears up my blemishes so it's totally worth it; and it seems like taking small breaks from it keeps my skin from getting too irritated. It does dry out the skin – naturally, that's the whole point – so I'll apply moisturizer sparingly to the blemished areas to keep it hydrated.
I must say, I have really gotten visible results from this. The worst patch on my cheek is so much improved – it's not totally gone, but the blemishes have shrunk a lot and they are no longer as red, so I feel like they are small enough to not be that bothersome or too noticeable. I've also gotten random spots popping up on my chin and forehead, and putting a dab of this on seems to stop the problem in its tracks. I have no idea why this particular product worked for me, since I have used other products with the exact same active ingredient (Benzoyl peroxide) and not gotten this result. Perhaps it's the combination of "Other ingredients" (Which you can check out here) that does it? Perhaps it's the fact that it's 4.4% benzoyl peroxide – not too much, not too little? Maybe my skin is just totally crazy and unpredictable? I don't know, but I DO know that I am happy with my results and will continue to use this. Just remember that every person's skin is totally unique, and your mileage will vary.
Giveaway Time!

THREE lucky winners will each receive a bottle of Bio-Scriptives Repiderm! Entry is easy via the Rafflecopter form below:
a Rafflecopter giveaway
Rules, regulations, and other important stuff: Giveaway is open to residents of the United States and Canada, 18+, and ends on March 18th 2013 at 11:00 PM PST. Canadian entrants, please note that sometimes Canadians have to pay a small customs tariff on packages received – this is out of the control of the sponsor. We are sorry, but APO/FPO addresses are not eligible to win. Winner will be chosen through Rafflecopter the following day and notified via email. Winner has 48 hours to respond to our notification email, or a new winner will be chosen in their place. This promotion is in no way sponsored, endorsed or administered by, or associated with, Facebook or Pinterest. We hereby release Facebook and Pinterest of any liability. By entering this giveaway, you are releasing Facebook and Pinterest and understand that you are providing information to Contest Corner and the giveaway sponsor, not Facebook or Pinterest. Contest Corner is not responsible for late entries or entries lost due to technical malfunctions. Please see our Privacy Policy and Disclosure for further details on our site's policies. A sample was received to facilitate this review. This article is not intended to diagnose, treat, cure, or prevent any illness or medical condition.