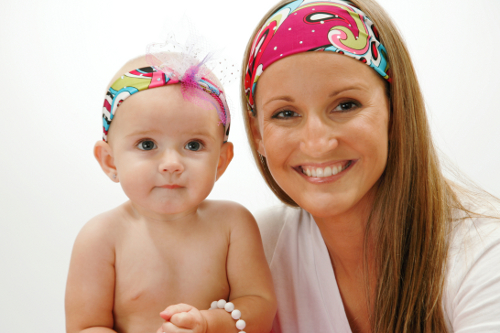 If you're looking for a cute and practical stocking stuffer, then I'd like to introduce you to Bondi Band. This company carries headbands with a plethora of styles and slogans for everyone from babies to adults. I recently had a chance to review one of their headbands, and I was surprised at what a help this simple little item has been!
The headband I received was black with white lettering boasting the slogan "I Run Like a Girl". It's too cute – I love the fun and empowering phrase! These headbands are designed to be "No-slip", which intrigued me. My hair is slippery to the extreme; I have a hard time wearing hair clips, because they will literally slip right out of my hair and fall on the floor! I like to wear headbands on occasion, but cloth headbands tend to slip toward the back of my head until they do a backflip right off my scalp – if you've ever worn a headband, you know exactly what I'm talking about!
I was honestly pretty skeptical that this would stay put, since it looked fairly standard and my hair is so squirrely. I've even worn headbands with bumpy rubber on the inside, and they still slipped around. However, one difference I noticed on this was the sheer size – it is a very wide headband. Because of this, it does a fantastic job of getting hair out of your face, even without a clip or ponytail. I haven't yet tried this while working out – my knees still have a ways to go before I can get back to the gym! – but I've been wearing it around the house and while running errands, and overall, it does a good job of staying where it should. I love this thing and I've been wearing it all the time!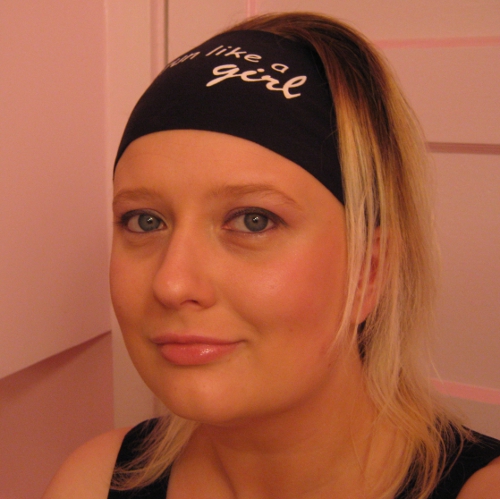 Me wearing my "I Run Like a Girl" headband
This would be ideal for any woman who has ever wanted to get hair out of her face – it doesn't matter if you're cooking, taking off your makeup, running after your kids, gardening, painting your masterpiece – at some point, we all need that hair out of our way. And if you have a bad hair day or wake up with a case of crazy bedhead, this is the perfect way to slick it back into something presentable until you get a chance to shower. I may be a hair product junkie, but even I want one cup of coffee before I embark on styling my hair!
With literally hundreds of styles and phrases to choose from, there's something for everyone at Bondi Band. This makes a great stocking stuffer for women, because it is both practical and a fashion accessory – and the best part? These headbands are only $8.00! Head over to BondiBand.com to get yours today.