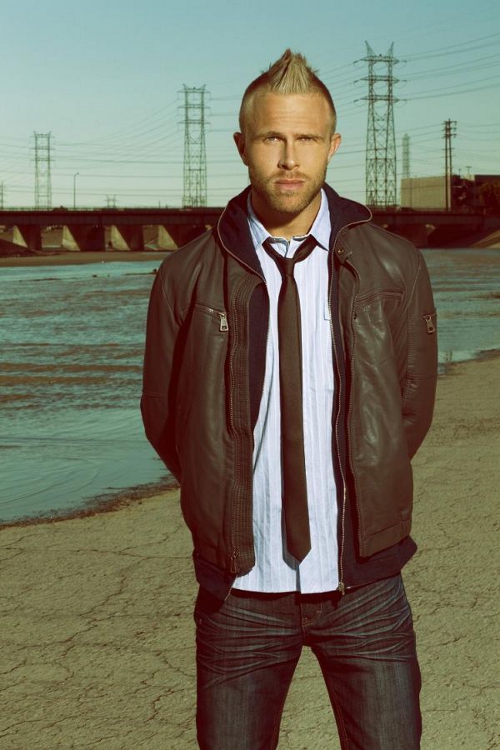 In my last post, I introduced you to singer-songwriter Cal Ecker through our exclusive interview. And now, I have a great giveaway for you! THREE lucky Contest Corner readers will win an autographed copy of his self-titled EP, so read on!
Cal Ecker Bio:

Minnesota native Cal Ecker exudes a natural charisma, evident in a beckoning voice that melds the gravelly tone of Jon Bon Jovi to the sensual innocence of James Blunt. His debut EP, out September 20, is a selection of clear, crisp songs that showcase the pop-rocker's powerful and emotive vocals. With the expert help of producer Aaron Johnson (best known for his work with The Fray), Ecker's first musical offering is replete with heartfelt melodies, addictive hooks, and larger-than-life choruses contained within the framework of finely crafted songs.

Ecker's talents developed naturally, with an ease that lead to a unique musical perspective – one he is acutely aware of. "I was never one of those guys who sat around listening to records over and over again trying to learn every note," says Ecker. "I never really sought out a formal musical education – I go more on instinct and feeling." In fact, much of Ecker's early music education actually took place while singing Christian-themed music in church bands.

Music wasn't Ecker's only talent. He spent much of his formative years on the basketball court, excelling in the sport. He honed his skills as a point guard in high school, and made it to NCAA Division 1 (the highest level of play) during college. His love of music never left him, however, and shortly after his college athletic career ended he began to feel the desire to make it the center of his life.

"I really wanted to be part of a band," recalls Ecker.

Initially, he didn't set out to become a star. His experience in sports ingrained a strong value of team play deep within him, and he wasn't interested in being the "front guy out in the spotlight by himself," as he puts it. Ecker joined several cover bands and over time his confidence grew. His reluctance toward stepping into the spotlight diminished. "I realized it could be fun to be the center of attention. I've always kind of been onstage, playing basketball, but that's not quite as bright a spotlight."

Soon Ecker was leading his own band, performing hundreds of gigs in bars across the upper Midwest. His woodshedding demonstrated a tireless work ethic and helped him develop the ability to read an audience like a book. The affable singer-guitarist-pianist learned to inhabit the spotlight comfortably and developed a pitch-perfect live show.

Seeking more opportunity than his hometown could offer, Ecker moved to Nashville where his act gained the support of many industry players, starting a chain of events that has culminated in a remarkably polished recorded debut.

His first single, the gripping rock ballad "I Will Love You" (to be released digitally on August 30), is highlighted by his ability to convey tenderness without getting too soft.

"It's about a girl, which is kind of obvious, but I think it's a pretty universal song," Ecker says. "I was trying to get the attention of this girl I fell for, to tell her that she'd always be my first priority. But it could be from the point of view of anyone who's separated from a loved one for any reason – a job, a war, whatever."

While "I Will Love You" is guaranteed to elicit a little bit of misting up, even among the tough guys out there, Ecker also knows how to coax a smile from a listener, as he proves on "Radio," a gritty shuffle that calls to mind the breezier moments in John Mellencamp's catalog.

"'Radio' is kind of tongue in cheek. It's not meant to be negative at all, just a sort of sarcastic song about what it would be like to be on the radio all the time, and why I really should be," Ecker says with a chuckle. "It's just a little bit of cockiness, only if you know me, that's not what I'm like at all."

Listen closely to the tracks on his debut, and you get a very good idea of what Cal Ecker is like – a "regular Joe", a romantic, a rock and roll heart. Above all, he's a guy who's not afraid to let down his guard, which makes it all the more easy to get into his world.

"People sometimes tell me my songs are sad, but I don't think that's the right word," he says. "I'd say they're heartfelt, more than anything. Part of that comes from writing on the piano, I think. If you gave me a grand piano and left me alone, I'd just sit there and write songs all day, every day."

As to why his music seems to have such a wide appeal with audiences, Ecker posits, "I can really only write about things that have happened to me. My songs are me. In some ways, I think there's a little bit of everyone in them."
Giveaway time!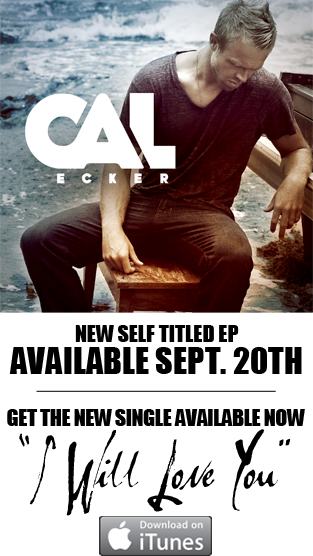 THREE lucky Contest Corner readers will each win a signed copy of Cal Ecker's self-titled EP! Here's how to enter:
1. For your first entry, just leave a comment on this post and tell me why you'd like to win! This step is required to qualify for the drawing.
Want extra entries? Do any of the following, and leave a separate comment for each one:
2. Write a post on your blog linking to this giveaway and Cal Ecker's official website. Then come back here and leave me the link!
3. Write about this on Twitter, then come back and leave me the link to your tweet! One Twitter entry per person. You can use the button at the bottom of this post to tweet with one click!
4. Subscribe to my blog updates by clicking here. Then come back and leave me the email you subscribed with!
5. Become a follower of my blog by clicking the "Follow" button in my sidebar! Then come back here and let me know in a separate comment!
6. Post my button on your website – just copy and paste the following code, and let me know where you put it:
Rules, regulations, and other important stuff:

Giveaway ends on September 19th at 11:59 PM, PST. Winner will be chosen the following day via Random.org. Winner has 48 hours to respond to my notification email, or a new winner will be chosen in their place.
Giveaway is open to US residents. I was not compensated for this post.