As members of the Nutrisystem Nation Blogger Panel, Jai and I received the Nutrisystem program free of charge in order to share our honest opinions with you. We were not required or compensated to write this post – we just figured our readers would be interested in a follow-up! Always consult with your physician before embarking on any weight loss or exercise program.
As promised, we are continuing to share our journey two months after transitioning off Nutrisystem. Here is our post-program update for month 2, including our weigh-in and thoughts:
Beeb's Weigh-In – Two Months After Nutrisystem: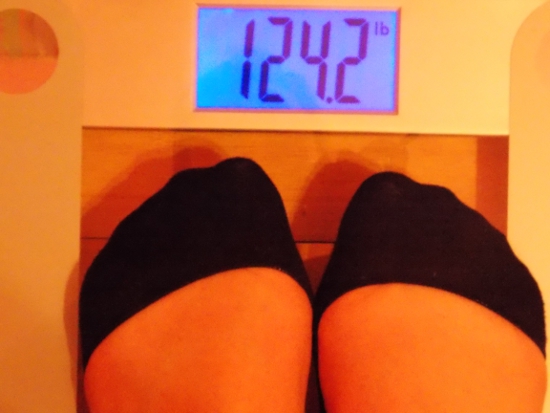 Starting Weight: 164.5 lbs
Final Weigh-In on Nutrisystem – April 20th, 2013: 128.8 lbs
Weight Two Months After Nutrisystem – June 22nd, 2013: 124.2 lbs

Beeb's Measurements – Two Months After Nutrisystem:

These measurements compare our final day on Nutrisystem with our measurements this week. We had to use a different measuring tape this week that was a little less accurate, but you get the idea.

Jai's Weigh-In – Two Months After Nutrisystem: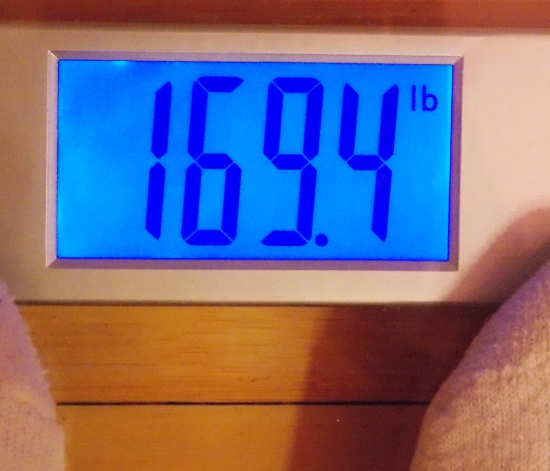 Starting Weight: 217.5 lbs
Final Weigh-In on Nutrisystem – April 20th, 2013: 166.4 lbs
Weight One Month After Nutrisystem – June 21st, 2013: 169.4 lbs

Jai's Measurements – Two Months After Nutrisystem:

This is a big month for me – not only have I lost an additional 4.6 pounds since finishing Nutrisystem, but I have now officially crossed the 40-pound mark, having lost 40.3 pounds since beginning my journey last year. Yeah! Jai has also done well maintaining his progress – as you can see, his measurements are pretty much right at what they were on our last day of Nutrisystem two months ago. His weight is 3 pounds up from our final weigh-in, which I think is a reasonable fluctuation considering the variables with water weight and so on; and we've been keeping an eye on our progress all month so we are aware of how we're doing overall. And honestly, if we can maintain our progress this month? We can do anything!

Yes, it's been a chaotic month, to say the least. I feel like I've been living out of a suitcase because honestly – I have! I've been doing some last-minute business traveling with even more coming up this week; and when I've been home, I've been living with a torn-up kitchen thanks to our renovations. Food preparation has been extremely challenging, and there has been more eating out than normal due to me traveling; not to mention, we've had a HUGE workload which has made dealing with day-to-day things more daunting. And yet, we made it through! Jai finished the kitchen as a surprise while I was in Wyoming – stay tuned for more on that this week! – so once this next week of travels is finished, I'm looking forward to having a kitchen and the ability to cook again! That will make eating healthy a lot easier.
Despite the obstacles, I think we've done OK for food this month. We were invited to a few family dinners before my trip, and I really noticed how now, when taking food, I underestimate how much I think I'll be able to eat. As my stomach has shrunk, it's helped to curtail that feeling of "Your eyes are bigger than your mouth"! I felt like I ate a lot on my Wyoming trip, so I was wondering how that would affect my progress, but it ended up being fine – perhaps all the walking I did on the trip balanced it out! I wouldn't normally have eaten as much as I did, but since I was only there for a short period of time and we had so many activities packed into each day, my only opportunity to sample all the different foods was to sometimes eat when I wasn't that hungry – and there way no way I was passing up garlic fries with a jalapeño burger.

During my time in the airports, I made an effort to eat on schedule, keep hydrated and eat reasonable portions.
Jai has really embraced these new eating habits, and I've really noticed how he is sticking to regular meal times and keeping in mind reasonable portions day-to-day. It has been a true life change for him, since he's never eaten like this before, and I am grateful for the opportunity we've both had to get in better health and do what we can to avoid conditions like diabetes.
Exercise has pretty much gone out the window this month, which has affected us both negatively. We're having to put our gym memberships on hold due to budget and a lack of time, so once I'm done with this last round of hectic travels, I'm looking forward to coming up with a daily in-home workout routine that we can maintain. Trying to work full-time while completing one of the most extensive remodels in the home has pretty much taken every spare second we've had, but it's sort of an unusual circumstance since we won't be doing renovations every day after this – thank goodness!!

We'll be back with another fitness update next month, so you can continue to follow our progress. Also, I will be attending FitBloggin' 13 in Portland this week, so if you will be there, please let me know so I can say "Hi"!