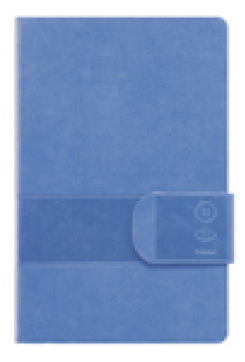 My weekly planner is one of my most important items. I'm self-employed, so I rely on my planner for everything: Keeping track of appointments, deadlines, people to email, things to do, social engagements…you get the idea! I do my best organizing on pen and paper – with the way my brain works, having a planner right by my computer where I can jot down notes and scratch things off my list is the best way for me to keep up; using online tools for this purpose just doesn't click with me. (For as long as I can remember, my dad has also used his weekly planner as a crucial tool for everything – I take after him quite a bit!)
So when I had a chance to try out a complimentary Weekly.Agenda by Buttoned Up, I was very interested to see how it would compare to my current system. And it couldn't have come at a better time: I was thrilled when this arrived, because my current planner cuts off half-way through December, and I wondered what I would do to keep up during those last few weeks – I didn't really want to buy an entire 2011 planner to only use 2 weeks worth! Luckily, this planner starts in September 2011 and continues through the first week of January 2013 – awesome!! I've got so much going on that I actually started making notes for appointments in January 2012 within about an hour of receiving the planner!
I love the design & snap-front lid. My only critique is that I usually prefer a spiral-bound planner as I find them easier to use for flipping through pages and keeping open at the right spot, although this does have a bookmark built in. The slots for daily activity are also smaller than I usually use – my current planner has a week spanning two pages, with a lot of room to write info, and I STILL run out of space – so I'm not sure how the smaller slots are going to work out for me. I do, however, like the lists on the opposite side of the page where you can list people to contact and things to do before the week is out. This is perfect for those tasks that need to be completed during your work week, but don't have a specific deadline – being self-employed and working in a fast-paced environment, it can be really hard to anticipate what tasks will take priority each day, so it's helpful being able to keep track without necessarily jotting it down for one particular date. I also love that each month starts with a monthly overview calendar – I have one wall calendar, and it's not enough, so I've been planning to buy a second – so this will really help! There is also extensive space in the back of the planner for your grocery lists, notes, and even tips on getting organized.
I think this would make an excellent gift for any business owner or busy person. My dad uses a very particular type of planner, and I can recall him being happy to receive it at Christmas since it was something he always needed and it came just in time for the New Year so he could scratch it off his own shopping list. As for this one, well, I've already claimed it as mine!

Weekly.Agenda is available at GetButtonedUp.com for $19.95.