Are you looking for a fun gift for your tween that is age-appropriate without being "Childish"? Then your child might enjoy the Monster High Terrifying Tattoo Roller!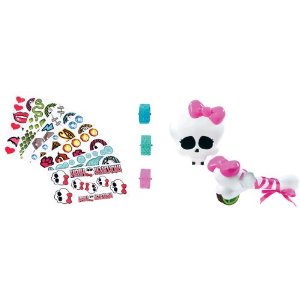 Monster High Terrifying Tattoo Roller – $22.99
Product Description:

"These ultra-cool, nonpermanent tattoos will make your daughter look like a student from Monster High™! It's frightfully easy and fun! Just select a tattoo roller, place it in the bone applicator, roll it in ink, and apply to your skin. There are six designs to choose from — stitches, bite marks, claw marks, scales, snake skin, and mummy wraps. Mix up the monster makeovers even more with sheets of character-specific temporary tattoos!

* Includes bone roller applicator and six tattoo rollers
* Also comes with seven tattoo sheets
* Skull ink pad features three dramatic colors
* Hours of do-it-yourself styling fun!"
Mattel provided me with a complimentary Terrifying Tattoo Roller to review, and I think this is such a fun little set! I love the little skull & crossbones with the pretty pink bow. You use the "Bone" to roll on your choice of design, and there are also temporary tattoo sheets that you can use to jazz it up. I know how much I enjoyed getting temporary tattoo sets when I was a teen – and to this day, I still love getting henna tattoos at the Saturday Market! This lighthearted set would be a winner with any girl who loves this show. In fact, I'm so confident that it would make a great gift…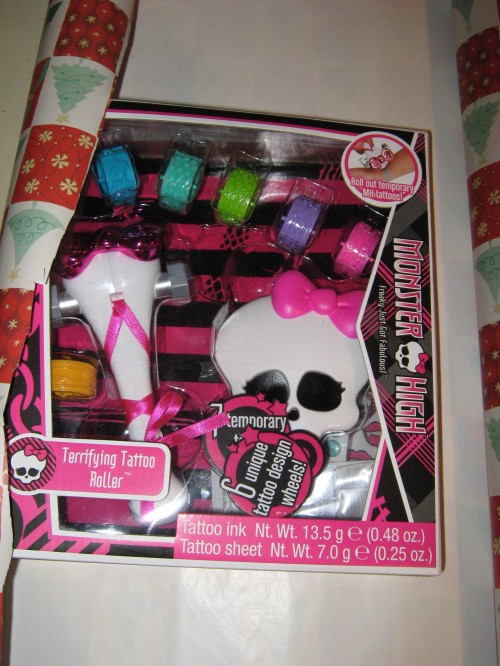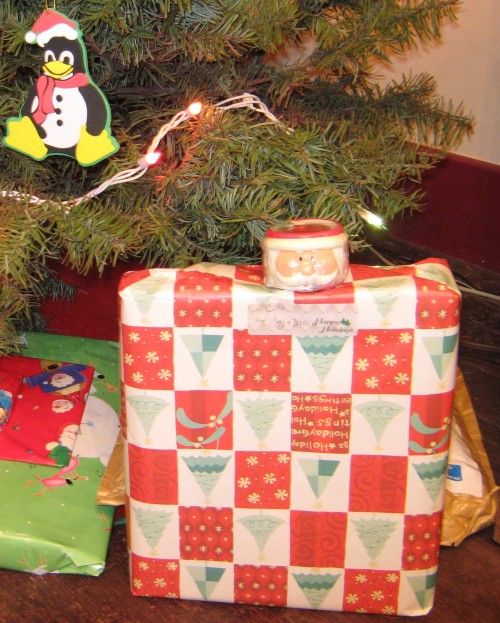 …that I've already wrapped it up and tucked it under my tree!
Monster High Terrifying Tattoo Roller is available on Amazon for $22.99
and can be found in brick & mortar retailers such as Toys R' Us.