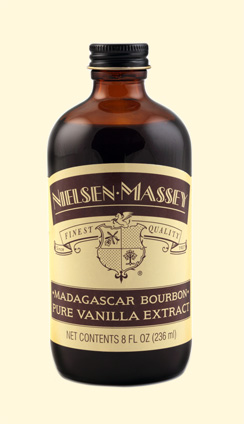 Thanksgiving is tomorrow, which means you've probably already started preparing food and gathering recipes. And what would the holidays be without delicious homemade desserts? Pumpkin pie, cookies, and cake tops the list of best-loved baked goods to serve this time of year. If you still need to make a last-minute dash to the store before you get stuck in baking, why not pick up a few bottles of Nielsen-Massey vanilla and flavoring to help you along? I received some complimentary bottles recently, and I am very excited to use them in my holiday treats:
Madagascar Bourbon Pure Vanilla Extract - One of the signature trademarks of my baked goods is the fact that I am very liberal with my usage of vanilla – usually, I don't even measure, I just pour in a generous helping! If you love vanilla as much as I do, then perhaps this premium vanilla will be just the ticket!
Pure Almond Extract – You'll need this if you plan on making almond cookies, Biscotti, sweet bread, or any number of deliciously festive recipes. I also love adding my own twist to recipes by experimenting with different flavoring combinations!
Pure Peppermint Extract – I am seriously obsessed with peppermint this time of year. Peppermint fudge, peppermint cookies, peppermint brownies – I'm already drooling at all the wonderful things than can be made with this!
To find Nielsen-Massey products, click here for their store locator. You'll also want to check out all their delicious recipes here!