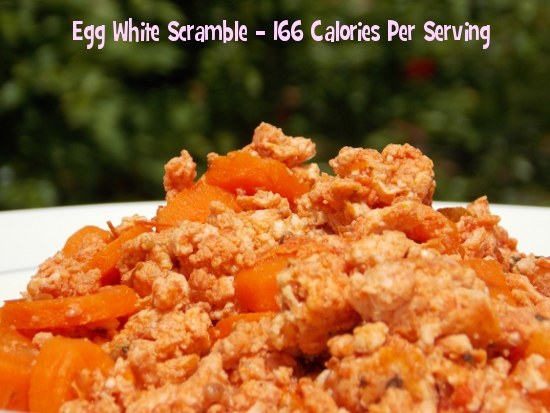 I'm a big fan of scrambled eggs, because they're quick, easy, and versatile. Over the weekend, I decided to whip a scramble using a carton of liquid egg whites that Jai had picked up. I usually add in a few "Extras" – whatever I have around – and since a jar of Dei Fratelli pasta sauce had shown up on my doorstep, I decided to add in a cup of that along with some carrots and seasonings!
Egg White Scramble
Ingredients:
1/2 tsp coconut oil (I used Tropical Traditions)
2 small carrots
1 cup Dei Fratelli Tomato and Basil Pasta Sauce
1 and 1/4 cups liquid eggs whites
Salt & seasoning to taste (I used Zoës Kitchen)
Directions:
Add coconut oil to a frying pan and melt over medium heat. While the pan warms up, peel, wash and chop the carrots, adding to the pan. Cover carrots with salt and seasoning as desired, and cook until browned. Add the pasta sauce, stir, then pour egg whites on top. Scramble the mixture until cooked thoroughly – you may wish to turn the heat up a notch after adding the eggs. Serve and enjoy!
Yield: 2 servings – 166 calories per serving.
Notes:
The serving size for this assumes that it is being prepared as a side dish for two people. The calorie count doesn't include the salt or seasoning, as I just put a dash in and wasn't sure how to measure caloric count for a trace amount of seasoning. These could easily be omitted, however. With the carrots, sauce and coconut oil, this scramble had quite a sweet flavor to it!
This dish would be great for using up leftover pasta sauce after making spaghetti – in fact, this dish is a great way to use up all kinds of leftovers. The more veggies you add, the more you could bulk this up as a dish without adding a lot of calories.
"Pin it to Win it" Contest: If you're looking for more tomato sauce recipes and want a chance at winning prizes from Dei Fratelli, then click here to check out their Pinterest contest running through May 31st.