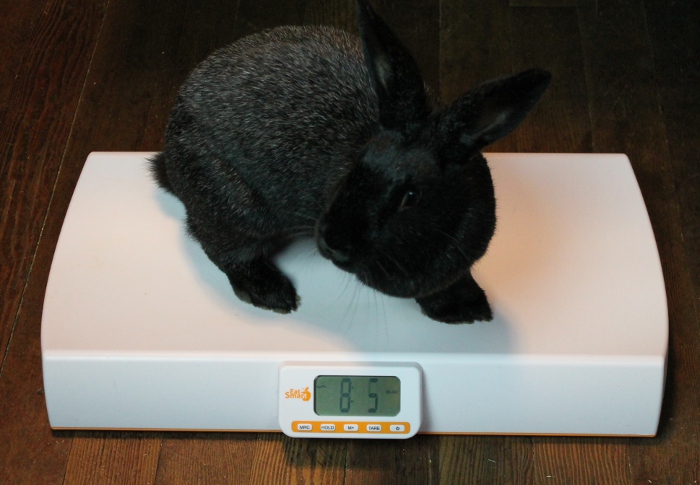 This is a sponsored post.
If you're a longtime Contest Corner reader, then you know how much I love EatSmart scales. I reviewed one of their food scales almost 6 years ago and still use it on a daily basis to weigh food and check the weight on letters. Jai and I have also been using their bathroom scales for years to keep track of our weight as we achieve various fitness goals. And now that our family has expanded to include four rescued rabbits, I've added the EatSmart Precision Baby and Pet Check Scale to our arsenal of tools to keep everybunny in the household healthy!
I've gotten a crash course on rabbit care in the last few months since these little buns arrived on my doorstep – literally! – and they require much different care than a dog or a cat. Many people don't realize that keeping track of a bunny's weight is actually quite important to their health, for three key reasons:
1. Feeding
A recommended diet for rabbits consists of hay, pellets, and vegetables. The amount of pellets and veggies that you feed is based off of the rabbit's body weight, so it's important to know how much your bunny weighs in order to work out how many food servings they should receive.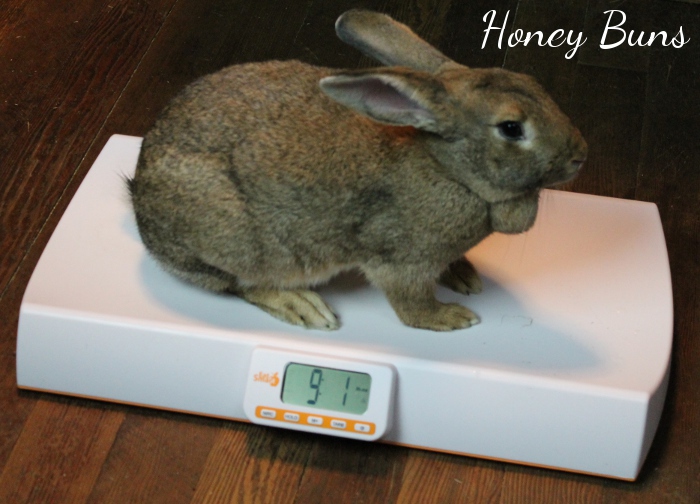 Honey Buns weighs in at a whopping 9 pounds, one ounce – or as everyone at the veterinarian says, "That's a BIG bunny!"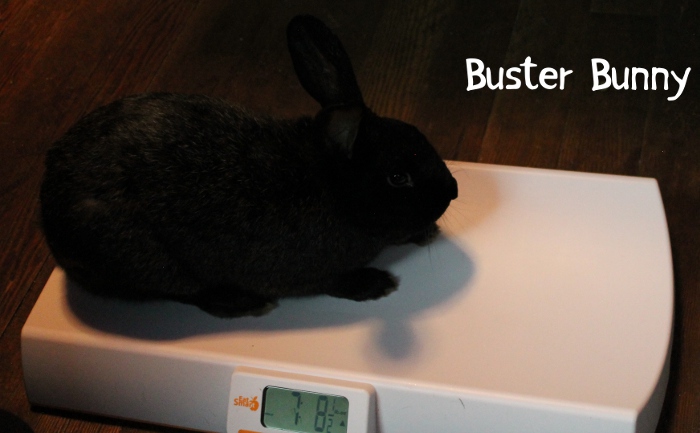 Meanwhile, Buster is a bit smaller, clocking in at 7 pounds, 8 1/2 ounces. Rabbit feeding guidelines are generally worked out per 6 lbs of weight, so weighing your rabbits is important for determining appropriate serving sizes.
Having a scale makes it easy to monitor your rabbit's weight over time and make sure you're on track with their diet. Bunnies have a way of really turning on the charm to get extra treats, but it's important to keep them on a consistent diet – as tempting as it is to spoil them with treats, too much food can cause obesity in rabbits, not to mention health issues such as GI stasis. Which brings me to our next point:
2. Monitoring Illness
Earlier this month, my precious Bunsen Burner came down with a scary case of GI stasis, which is a digestive issue that commonly afflicts rabbits. Stasis can be fatal quickly, so we rushed Bunsen to the veterinarian for medicine. As part of their exam, they weighed him in the office and logged his weight as 8 pounds, 9 ounces. Thankfully, Bunsen made a full recovery, so now we are using our EatSmart Precision Baby and Pet Check Scale to monitor his progress.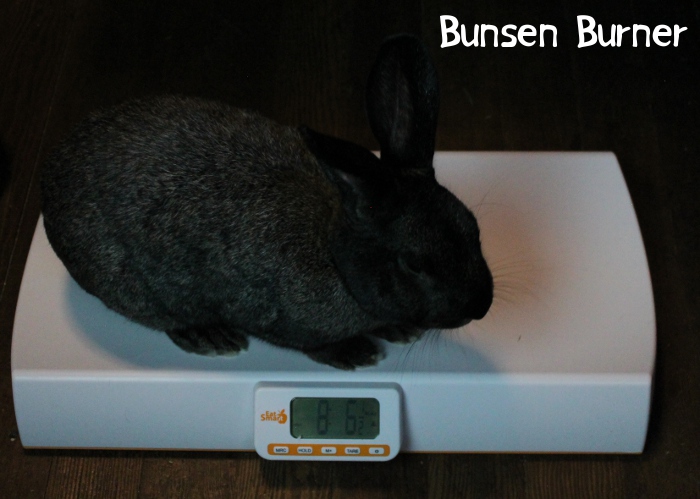 This scale looks very much like the one at the vet's office, which makes it so easy to use. We weighed Bunsen in at 8 pounds, 6 1/2 ounces – I'm not surprised to see a small weight loss due to his being unable to eat much during the illness, and I'm glad to have this scale on hand so I can continue to monitor his recovery. Weight gain or loss in a rabbit can tell you a lot about their health – they are secretive by nature and hide sickness as a defense mechanism, which makes it so important to pay attention to cues such as weight. Noticing small changes can make a huge difference in catching an illness right away and fixing it before it's too late.
3. Pregnancy
Buster and Babs Bunny were already a bonded pair when they showed up at our door, and they were outside mating for some time before we were able to rescue them. We all know what that leads to, so it was no surprise when we observed Babs making a nest!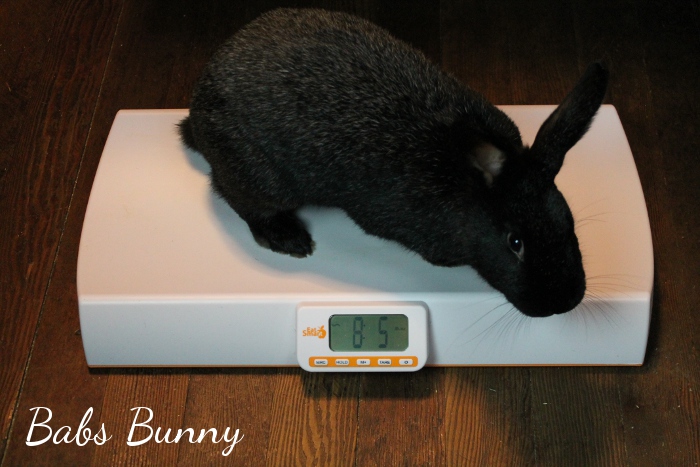 She weighed in at 8 pounds, 5 ounces – heavier than Buster, even though they're the same size otherwise. Naturally, a doe will gain weight while pregnant, so using a scale is another way to monitor a rabbit's pregnancy. Rabbit.org even suggests that you weigh baby bunnies if you're concerned that they aren't nursing properly, so who knows, in a few weeks I may have a whole new reason to use this scale…

So there you have it – from figuring out a proper diet to monitoring your rabbit's well-being, the EatSmart Precision Baby and Pet Check Scale is worth its weight in 24 carrot gold!