May 21st, 2013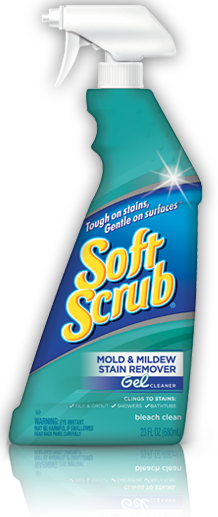 Living in a damp coastal area, mildew is something that you have to deal with. We just painted our back door two months ago, and the center panel is already covered in mildew. This door has leaking issues and needs to be replaced as soon as our budget allows for it. So, when I had the chance to review Soft Scrub's Mold & Mildew Stain Remover Gel, I thought this would be quite useful!
Now, the label on the bottle indicates that this product is meant for bathroom surfaces, and when I tried it on some mildew residue that had appeared in the bathtub, it immediately got the tub back to white and sparkling. But I also wanted to try this on my door, just to see what would happen and also because I didn't read the label closely enough.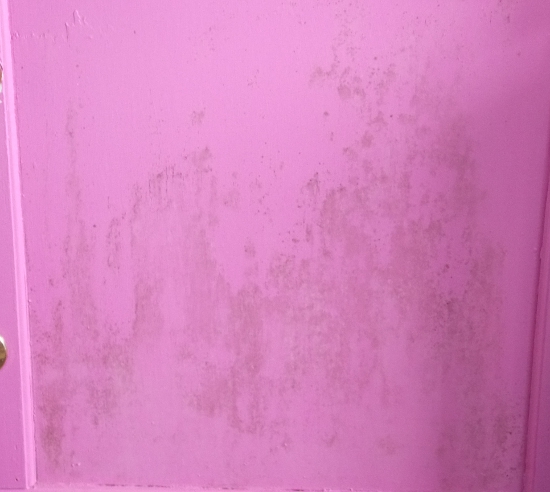 The instructions on the panel say to test an inconspicuous area first for color-fastness, but I did not do this, seeing as we'll be covering the paint damage with another layer of paint next month anyway. I sprayed the product all over the door and left it for one minute – actually, more like one minute and 30 seconds, as it took me a second to grab a rag after I sprayed it on!
It did an awesome job of cutting through the mildew, although it also lightened the color of the paint, too. Like I said, this door needs a fresh coat of paint anyway so it's not a problem, and seeing as the product is sold for tile and bath surfaces rather than painted doors, I can't complain. I'd rather look at some discoloration than the mildew.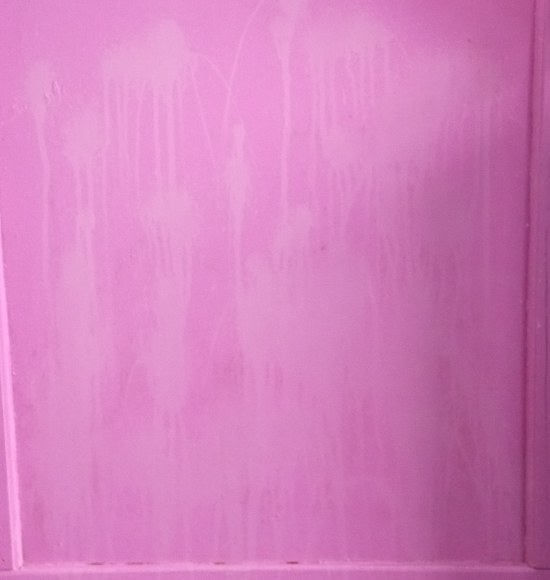 Since I did leave it on for 30 seconds longer than directed, I experimented on some of the remaining spots of mildew by spraying on and then wiping off immediately, spraying on and leaving for 30 – 60 seconds, and spraying on the rag versus the surface itself. It does seem that leaving it to sit is really the best way to get the mildew off, at least in an instance like this door. I also found it a little hard to control the spray – since it's a gel, it tends to glob on and run down the surface immediately, as you can see from the trails on the door. Also as a word of warning, this has a very strong bleach smell, so I opened the back door for a while to let the fumes out. I also wore rubber gloves to protect my hands, since my skin is dry and cracked anyway.
How do you get rid of mildew?