May 17th, 2013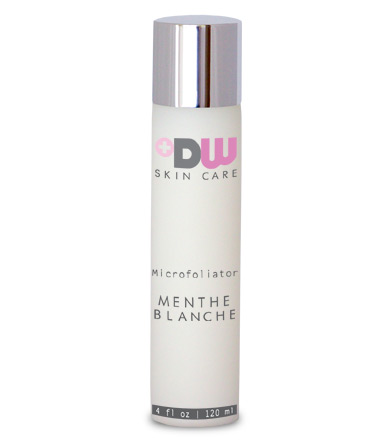 I'm always looking for ways to improve my skin care routine. I've been vocal about the fact that I'm an exfoliant fan, so when I had the chance to try out a bottle of Menthe Blanche Microfoliator Cleanser by The Doctor's Wife, I couldn't pass it up. Now, what is the difference between an exfoliant and a microfoliant, you ask? According to this explanation on their site, it is a combination of microdermabrasion and exfoliation that is meant to be gentle enough for every day use. So, how does it work?
The first thing I noticed about this face wash was the peppermint extract. When I applied it for the first time, my face tingled…and I mean really tingled, to the point where it was really uncomfortable and I had to quickly wash it off. Given that I have such sensitive skin, I figured this would be yet another product that I'd have to cross off my list. However, the product didn't cause any reaction on the skin afterwards, and on subsequent tests the tingling was manageable. I've actually been using it every night for a month now, and while it is a tingling sensation when I put it on, it doesn't hurt anymore and it hasn't caused any irritation or problems. I also wonder if part of the reason it tingles so much is because I use it in the shower – it advised using tepid water while washing your face, but my showers are warmer than that, so I wonder if the warm water makes the tingling sensation more prominent.
The texture of this is a very fine grain – it's an exfoliating agent that you can use every day, which is really nice. They say you can use it morning and night, but I just use it at night and it works fine for me. Again, since I have sensitive skin, I don't want to go overboard and I kind of like having a different set of products for both my morning and night facial routine. I've become a real fan!
The Menthe Blanche retails for $59 and is available on The-Doctors-Wife.com. It's hard to tell how much is left because the bottle is opaque, but I'd say I've used about 1/4 to 1/3 of it with nightly use over the course of a month.