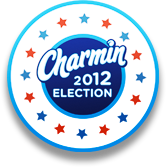 It's 2012, which means that it's an election year in the United States. In November, citizens will take to the polls and cast their votes on important issues. And it's not just political issues that will be debated – because this year, Americans will also be casting their vote for another topic that affects their daily lives: Toilet paper.
Yes, toilet paper! You see, this year Charmin is hosting an election of their own, posing the age old question: Which is better, bath tissue that is soft, or strong? Through the Charmin 2012 Election app on Facebook, you get to know both candidates – two soft and cuddly bears! – representing the Ultra Soft and Ultra Strong platforms, respectively. You can watch the two battle it out in video debates, and if you're still undecided after hearing the arguments from both sides, you can check out their handy quiz, the Charmin Candidate Selector. Once you've made your decision, you can cast your vote directly from the app!
Choosing between strong and soft is no easy feat. Each characteristic is necessary in different situations – indeed, you're probably a mixture of both in your own life. When it comes to family, you have to wear a lot of hats and pick your time to be soft and your time to be strong. It's definitely a fine balance! In my opinion, it's important to know when to switch gears and do both.
When to be strong:
- Someone tries to push your boundaries and convince you to get involved with activities your family doesn't really have time for
- A loved one is going through a difficult situation and needs an advocate
- When your family is facing a crisis
When to be soft:
- When a loved one suffers a loss and needs support through grief
- When expressing appreciation, thanks, and encouragement to your kids, spouse, parents, and other relatives
- When taking time to relax and enjoy quality time with those who matter most
With soft and strong both having so many important and necessary qualities in a well-balanced life, it's going to be hard trying to choose just one in the Charmin 2012 Election! After you've deliberated and chosen a side, you can cast your vote by "Liking" the Charmin Facebook page below and visiting their Charmin Election voting tab:
You have until October 20th to make your decision and vote "Soft" or "Strong"! Luckily, no matter which side you're on, Charmin has the ideal toilet tissue candidate for your bathroom!
What side are you on, readers? Team soft or team strong?
I was compensated for this blog post as part of the SocialMoms and Charmin blogging program. The opinions and ideas expressed here are my own. For more blog posts on this topic, click here.