This shop has been compensated as part of a social shopper insights study for Collective Bias. #CBias #AllYouCFK
Being Super Coupon Girl, I use my coupon-clipping skills for a lot of different applications. The most obvious is to save money for my family; but it also has larger implications affecting what I am able to do for the community, as well. Whenever possible, I use my coupon skills to purchase items for local organizations such as food banks. In fact, my money goes so much further purchasing food when paired with my coupon skills that I focus most of my domestic hunger relief donations on buying items to donate myself. So when I was invited to join a campaign spearheaded by All You magazine to benefit children in the community by using my "Coupons for good", I was so excited; I can't think of a more perfect project for me!
My assignment was to stop by a Walmart store to buy a copy of All You magazine and pick up as many items as possible to donate to a local charity of my choice. All You magazine is packed with coupons, so the idea was that I could use coupons from it to help with my project. Jai and I both already have one subscription each to this magazine specifically for the coupons, so I'm already an All You fan and was looking forward to getting a third copy to use!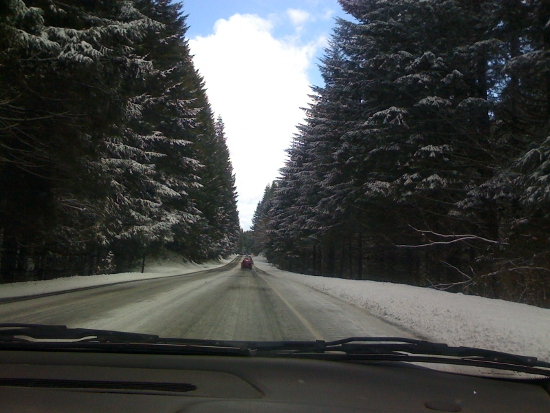 The closest Walmart store to us is almost 50 miles away, so this would be a "Coupon roadtrip", as I like to call them! Since I have never shopped at this location before – and only used coupons at Walmart one time prior to that, three years ago – I knew this project would require a little research beforehand to learn the store coupon policies, read coupon match-ups, come up with multiple scenarios, and organize a boatload of coupons for potential items. I had no idea what items would be in stock, where they would be located in the store, or what the local prices would be. I've also never shopped for baby items before, so I knew this trip would be a fun challenge and test my skills!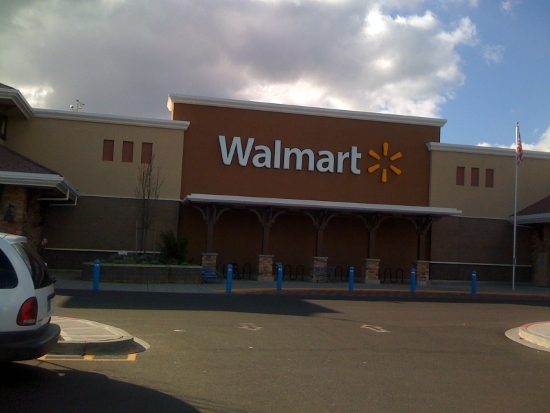 After driving 50 miles through the snow, we arrived at Walmart. The first thing I did was run inside to buy another copy of All You magazine, clip the coupons out of it, then head back into the store to buy the rest of my items! These are the items which I bought to donate: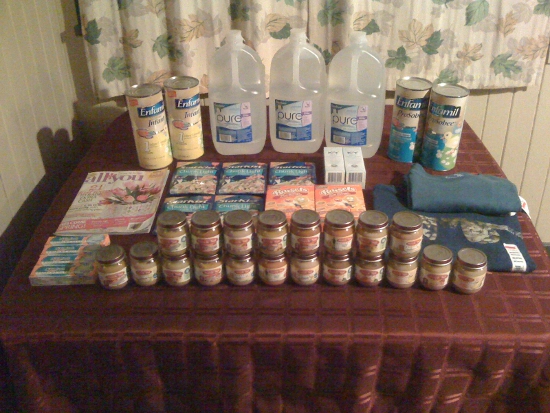 2 t-shirts
3 gallons of Gerber Pure distilled nursery water
20 jars of Beech-Nut baby food
4 canisters of Enfamil baby formula
2 boxes of Raisels
2 boxes of K-Y Jelly
4 tubes of Aquafresh Extreme Clean toothpaste
5 Starkist Tuna pouches
Total spent: $27.46
Total saved: $39.50
All told, I used 18 printable coupons and 5 coupons from All You magazine, although I realized after the fact that two of the coupons I handed over didn't get deducted from the total. Oh well! I still saved almost $40 thanks for my coupons, which I thought was pretty awesome, considering how many great items I got to donate and how unfamiliar I am with Walmart. To see a detailed breakdown of my shopping trip, click here to view my Google+ album. For a full list of the coupons that I used, along with links to where you can print them, click here.
The items that I purchased will be benefiting two different organizations in our community. The first is a food bank at my aunt Kim's church, which I've actually couponed for in the past, so I'm really excited to be able to donate to it again! The second is a "Clothing bank" at a local high school, which provides clothing free of charge to high school students in need. I'll be sharing more about these organizations in a future post, so stay tuned for that! I chose these two organizations because charities that focus on providing basic necessities such as food, water, and clothing are close to my heart.
Hunger is one of the biggest crises facing today's world, and it has a devastating impact on children, affecting their growth, development, academic performance, and emotional well-being. You may recall that I hosted a "Cause Party" back in 2009 that raised funds for water purification systems to be delivered to children in Africa, and I have written several other times about ways to help provide food and water for the needy; so whenever an opportunity arises to benefit an organization that works towards these goals, I'm thrilled to participate. And it's fabulous that this project focuses on local efforts – our state, Oregon, is one of the top five states in the US with food insecure children under 18, according to FeedingAmerica.org. The need is great – and with times being hard for a lot of us right now, it may feel impossible to help when your own budget is tight. That's another reason why using coupons for charity is so wonderful: It allows you to give a lot even if you have little.

For more information on how you can help address issues facing children in your community and "Coupon For Good", please visit ChampionsForKids.org and follow them on Facebook and Twitter. And be sure to join us on Thursday, March 17th for an #AllYouCFK Twitter party where we'll be discussing how to use coupons to benefit your community. Learn more and RSVP by clicking here!