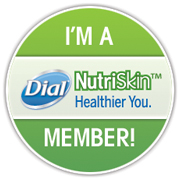 I was recently selected by Dial to join their "Healthier You" program, a group of 100 bloggers across the country who are testing out complimentary Dial NutriSkin Body Wash, receiving exclusive tips and advice from wellness coach Amy Hendel, and entering for a chance to win a fabulous spa getaway! I will be chronicling this journey through blog posts each week updating you on how my healthy habits are working out.
This week's theme is "Skin Care", and it was perfect timing – we're having our engagement photos taken next week, so I'm being extra conscientious with my skin care routine. Although I am fortunate to have normally-clear skin, I think having a good skin care routine is critical. Unfortunately, it's too tempting to skip some parts of my skin care regime when I'm pressed for time, so this week I have faithfully stuck to it and washed, exfoliated and moisturized my face with a variety of products and treatments, and my skin thanks me!
Amy Hendel also talked about nutrition this week. I consider my diet to be an evolving work in progress, because I always want to improve it where I can. I've made great progress in recent months with hitting weight loss goals, so my efforts have really been paying off. I still struggle with making the time to eat right in my hectic schedule – taking time out to take care of myself is one of my biggest challenges, but it's a goal I continue to work towards!