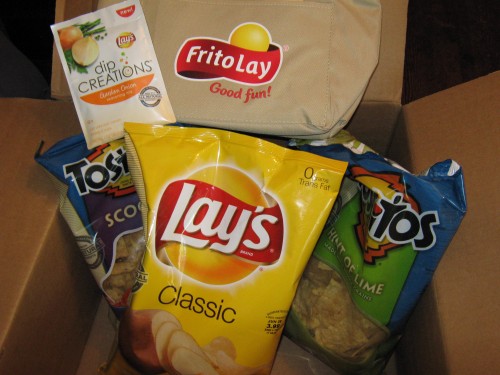 With summer fast approaching, we'll soon be in the thick of family reunions, graduations, weddings, and all sorts of gatherings. There's nothing like having a little help with entertaining, so Frito-Lay are offering you tips and recipes for your summer buffet – and one lucky reader will win a Frito-Lay Summer Entertaining Prize Pack to help them simplify their next gathering, so read on!
I recently signed up for the Frito-Lay Fan Program, where you have the opportunity to receive news, offers, and free samples to review. As my welcome into the program, I received a big box over Memorial Day weekend filled with chips, dip, and an insulated bag. I'm a sucker for snacks, so I tore into the chips about 5 seconds after I received them! The package included a bag of Lay's Classic Potato Chips, a bag of Tostitos Scoops, and a bag of Tostitos Hint of Lime tortilla chips. I've been noshing on the classic chips for as long as I can remember, so of course those were a hit! Neither Jai or I had tried the Hint of Lime chips before, but we really enjoyed them. We ate pretty much all the Lime and Classic chips before we even had a chance to buy sour cream to make the dip.

Fortunately, there were plenty of Tostitos Scoops left, which are made for dipping! The dip packet I received was Garden Onion, and all you do is add it to a tub of sour cream and stir. I love anything onion, so this dip went down well! Perhaps a little too well, since we pretty much ate all the chips and dip before the weekend was over!

Frito-Lay have some fun ideas and recipes for entertaining to share with you:
Summer Entertaining with Frito-Lay

The time is here for summer barbecues, picnics and outdoor parties! Make summer entertaining fun, easy and oh-so-tasty with these party tips and appetizer and snack recipes featuring fruits and veggies:

Keep Your Cool – When it's hot outside, the last place you want to be is in a kitchen with the oven blazing! Cool down with appetizers and snacks made from fruits and veggies, like our easy-to-make Garden Lime Dip — a perfect pairing with snacks like Tostitos® Hint of Lime chips!

Keep it Simple – A party isn't a party without chips and dip, but not all chips are created equal. For example, some of Frito-Lay's most popular snacks, such as Tostitos Scoops! tortilla chips and Lay's Classic potato chips are made with only three simple ingredients: potatoes or corn, healthier oils and salt – that's it! Use your favorite chips as a vehicle to dish up extra nutrition by pairing them with dips made with fruits and vegetables, like our Mango Salsa Chutney.

Keep it Fun – Give a traditional potluck a modern twist by asking guests to share their recipes before they arrive. As guests leave the party, provide them with a festive printout of all the recipes so they can recreate the tasty dishes at home.
Giveaway time!

One lucky Contest Corner reader will win a snack pack like the one I received, containing Tostitos Scoops! tortilla chips, Tostitos Restaurant Style with a Hint of Lime tortilla chips and Lay's Classic potato chips, along with one of their new Dip Creations Dip Mixes and an insulated Frito-Lay tote bag made from recycled material. Here's how to enter:
1. For your first entry, leave a comment on this post with your favorite summer entertaining tip! This step is required to qualify for the drawing.
Want extra entries? Do any of the following, and leave a separate comment for each one:
2. Write a post on your blog linking to this giveaway and FritoLay.com. Then come back here and leave me the link!
3. Write about this on Twitter, then come back and leave me the link to your tweet! One Twitter entry per person. You can use the button at the bottom of this post to tweet with one click!
4. Subscribe to my blog updates by clicking here. Then come back and leave me the email you subscribed with!
5. Become a follower of my blog by clicking the "Follow" button in my sidebar! Then come back here and let me know in a separate comment!
6. Post my button on your website – just copy and paste the following code, and let me know where you put it:
Rules, regulations, and other important stuff:

Giveaway ends on June 23rd at 11:59 PM, PST. Winner will be chosen the following day via Random.org. Winner has 48 hours to respond to my notification email, or a new winner will be chosen in their place.
Giveaway is open to US residents. Frito-Lay provided me with free chips (Yay!), recipes, and tips for this feature.