Samples provided.
I've been working on a lot of Spring cleaning projects this year as I gear up for a big summer garage sale. One that has been on my list for a very long time is re-organizing the kitchen cabinets. We emptied everything out of the kitchen when we completely re-painted it in 2013, and right before we were finished painting, I left the state to go on a press trip. Jai surprised me by finishing the whole thing by himself and putting the kitchen back together while I was gone, because he is an amazing man! What a relief it was not to come home to a torn up kitchen on top of a huge workload! However, I had intended to go through and get rid of some things and set up a better organizational system before putting the kitchen items away, since we had all this new space created after the remodel from the new cupboards Jai had built. It's been on my list ever since to go through and get it "Properly" set up, but with my crazy work schedule and traveling constantly, it just never got done. So when I had the opportunity to review a few products from YouCopia, I thought this would be the perfect time to dig in and do some re-organizing in my kitchen cupboards!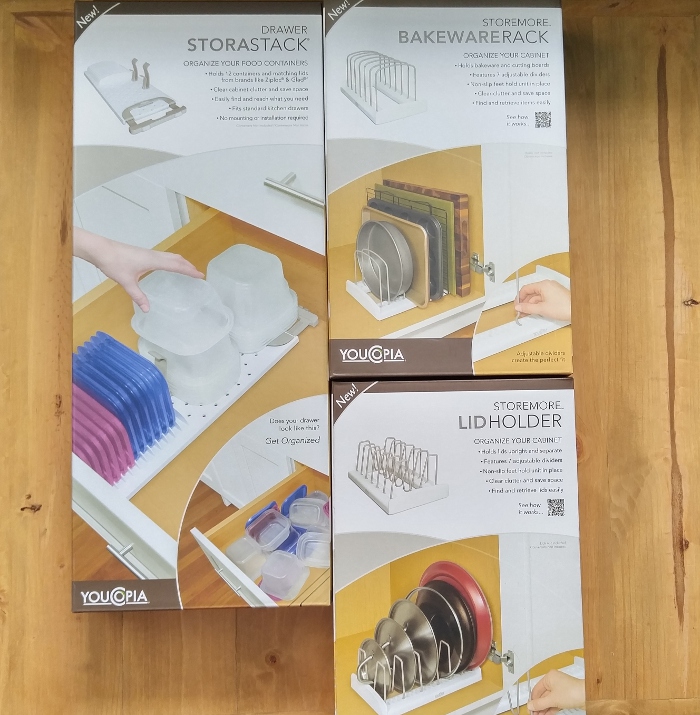 YouCopia make clever organizing solutions for the home. I received the StoreMore Bakeware Rack, the StoreMore Lid Holder, and the Drawer StoraStack. These racks and storage units are built with the aim of consolidating common kitchen items to create more space. Sounds good to me!!
Although all three storage sets come flat with some basic assembly required, they fit together pretty much instantly so there's not much legwork required to get them ready to go. The real work came when it was time to clear out the cabinet and re-organize what was in there…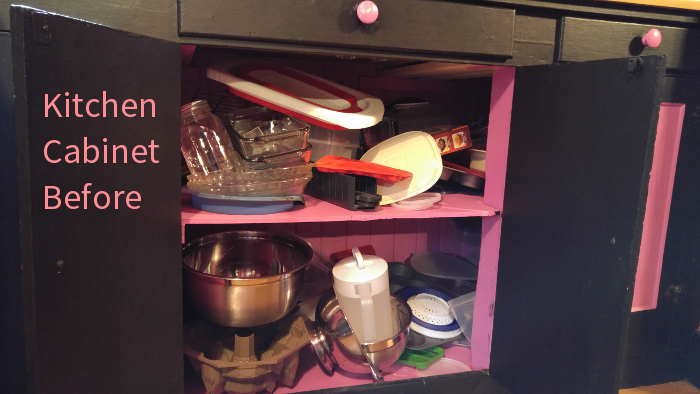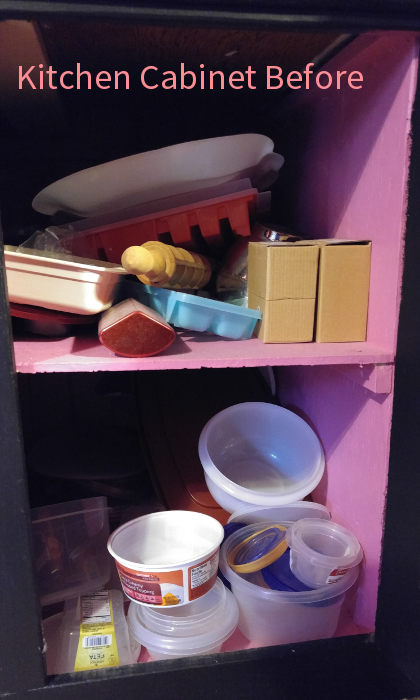 I know, I know, it was a wreck. Don't judge me too hard!

I put everything into boxes, gave the cabinet a nice deep-cleaning, and tossed some old items I didn't need. I then began the process of putting everything back in, using my YouCopia set as a template for where things should go. I started with the Drawer StoraStack for plastic containers, which I actually opted to put in the cabinet although it is meant for use in a drawer. That's because I have way too much Tupperware to fit into just one drawer…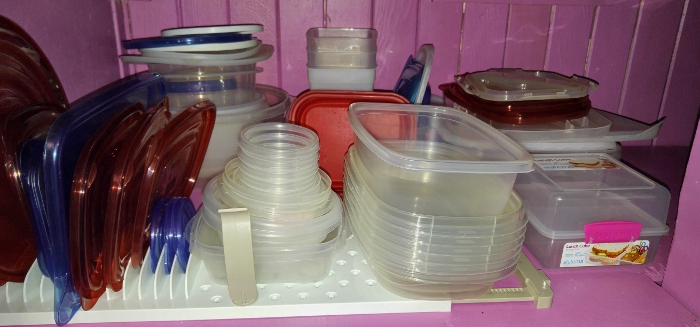 Holy Tupperware, Batman!! I never realized exactly how many plastic containers I had until this moment. I would probably need at least 3 Drawer StoraStacks to fit all my pieces, and even at that, I have some crazy-large plastic containers that I think defy storage racks! However, this was a great focal point to organize all the containers around. I love that it has slots to fit the lids, since those are usually the most fussy pieces that end up getting lost and disorganized. I had a bit of a hard time getting the square containers to hook onto the StoraStack clips – I'm not sure if I placed them wrong or if the size is off, but it works fine for generally keeping things in place, if not locked in. It wouldn't make much difference regardless, since there's so much Tupperware around it, anyway!

StoraStack would easily contain the Tupperware collection of a college student, or other sane person with a kitchen. I appreciate the hand it's given me and will be generous in sending leftovers home in plastic containers with future dinner guests!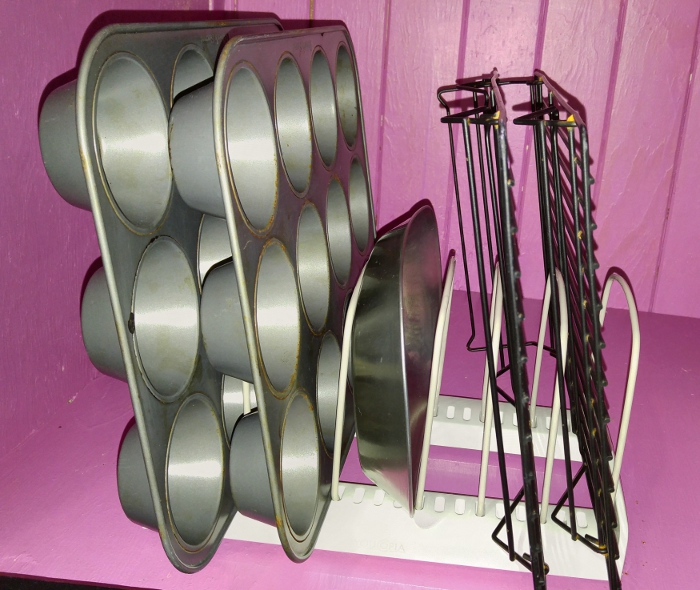 Next up was the StoreMore Bakeware Rack, which was very straightforward. This gives you a handy place to hold bakeware, and I particularly like it for the cooling racks, since those always seem the most cumbersome to stack on top of each other – having a holder keeps them firmly in place instead of sliding around.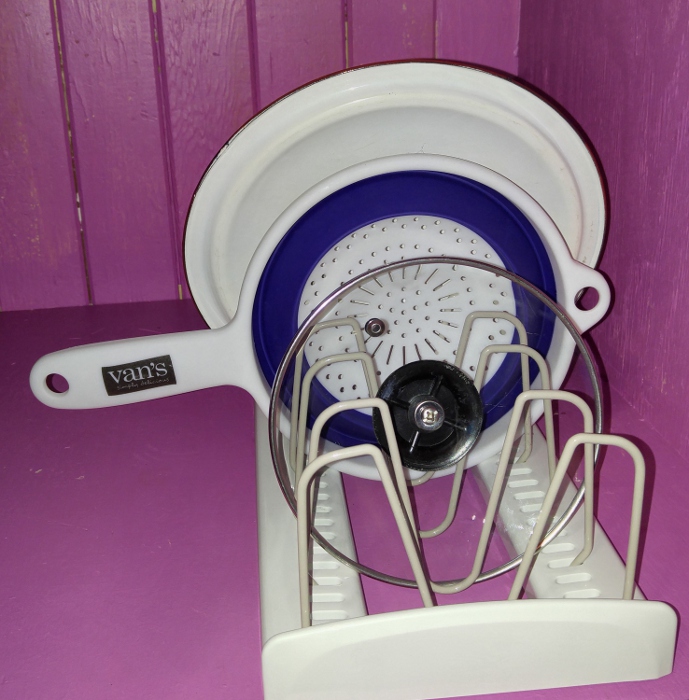 Finally, we have the StoreMore Lid Holder. This is a nice place to put your miscellany lids, and was also the perfect size to hold one of my foldable colanders.
Here's what the cabinet looks like now: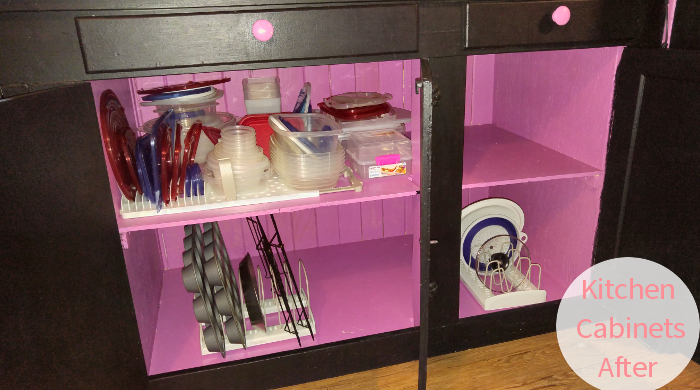 Much better! These YouCopia racks gave me some new ideas and provided a nice backbone from which I can organize the rest of the cabinet. Another Spring cleaning victory!
Giveaway Time!
To help with your Spring cleaning goals, YouCopia are hosting a special giveaway for Contest Corner readers! One lucky winner will receive any YouCopia product of their choice, up to a value of $40! This giveaway ends on June 25th, 2017, and is being administered by YouCopia – please see the widget below for full giveaway rules and to enter:
Win a YouCopia Product of your choice #37