Do you – or someone on your holiday shopping list – love to make a statement with your clothes? Do you get a kick out of t-shirts with funny sayings or jokes on them? In that case, I would like to introduce you to Headline Shirts. And one lucky Contest Corner reader will win a t-shirt of their choice from Headline Shirts, so read on!
Headline Shirts specialize in humorous t-shirts that will appeal to those who enjoy wearing eye-catching shirts that bring a laugh and start a conversation. When I was offered a complimentary shirt of my choice from their line, I thought this would be a great opportunity to take care of some Christmas shopping!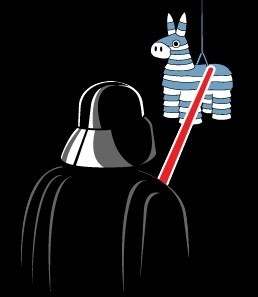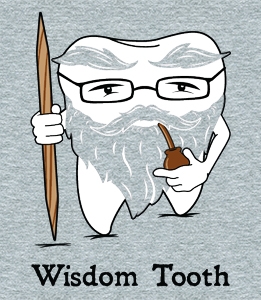 There are many people on my list who would enjoy getting a silly tee as a gift, so I had a close look at all the designs before making my selection. I should point out that the humor on this site is not for everyone – there is language on some of the shirts and the content of the jokes are not always family-friendly. Let me put it this way: If you enjoy watching shows like South Park, then Headline Shirts may be up your alley. If you prefer more wholesome humor, then this site is not for you.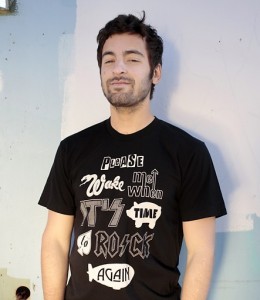 I decided to get this fun "…Time to Rock" shirt, which I am giving to the classic rock lover on my shopping list. This shirt is a fun homage to the greats of rock 'n roll, and I think it makes a neat gift for the music lover!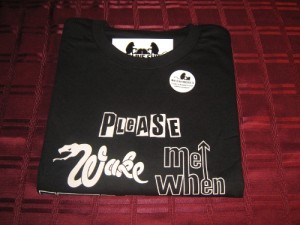 My order arrived promptly in a compostable bag, which I thought was pretty cool! Here you can see the shirt on my wrapping station as I prepared to gift-wrap it for my recipient.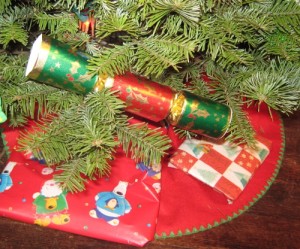 Now it's sitting snugly under my tree waiting for Christmas day. There's one more name scratched off my shopping list!

Keep up with the latest from Headline Shirts by becoming a fan of them on Facebook.
$5 Off Coupon
Click here to sign up for the Headline Shirts newsletter and receive a coupon for $5 off.
Giveaway Time!
One lucky Contest Corner reader will win a t-shirt of their choice from Headline Shirts! Prize will be awarded in the form of a coupon code that may be redeemed for 1 free shirt of your choice with free shipping. Here's how to enter:

1. For your first entry, click here to visit Headline Shirts, then come back here and leave a comment on this post telling me which shirt you might choose if you win! FYI: As I mentioned above, not all of the shirts on this website are family-friendly, so please bear that in mind. This step is required to qualify for the drawing.
Want extra entries? Do any of the following, and leave a separate comment for each one:
2. Write a post on your blog linking to this giveaway and Headline Shirts. Then come back here and leave me the link!
3. Write about this on Twitter, then come back and leave me the link to your tweet! One Twitter entry per person. You can use the button at the bottom of this post to tweet with one click!
4. Subscribe to my blog updates by clicking here. Then come back and leave me the email you subscribed with!
5. Post my button on your website – just copy and paste the following code, and let me know where you put it:
Rules, regulations, and other important stuff:

Giveaway ends on December 28th at 11:59 PM, PST. Winner will be chosen the following day via Random.org. Winner has 48 hours to respond to my notification email, or a new winner will be chosen in their place.
Giveaway is open to US & Canadian residents.