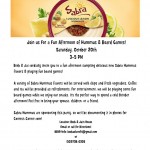 Click on the thumbnail to see my full-size invitation!
It should be clear by now that we love Sabra Hummus. It's delicious, fits in our diet plan perfectly, and Jai credits Sabra with turning him into a hummus fan. So when we were recently invited to host a Sabra Hummus tasting party, naturally we took them up on the offer! Sabra sent us a fun package including party props, coupons, a gift card to buy supplies with, and of course, HUMMUS! This isn't the first time I've hosted a hummus party, so I was excited to introduce my guests to some new varieties.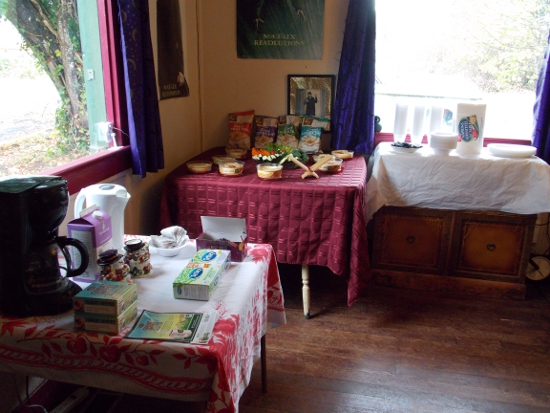 My party took place yesterday afternoon. I set up a table full of Sabra Hummus with a platter of fresh veggies and baked lentil chips for dipping!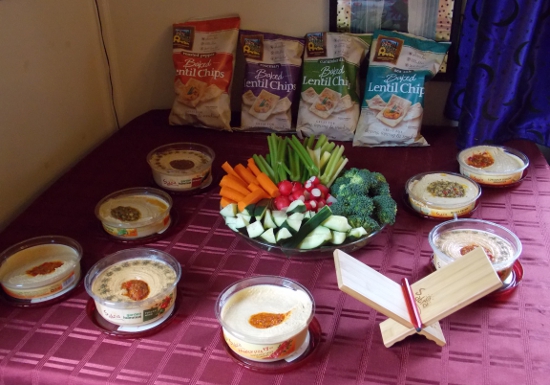 For refreshments, I set up a table with coffee and tea. I had actually received a package from BzzAgent that afternoon with Green Mountain Coffee samples and coupons to share, so that was good timing!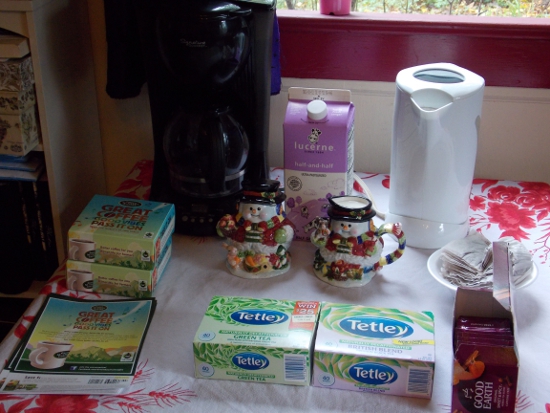 For a little added fun, I also set up a card table with games so that we could have some added entertainment while we munched on our food!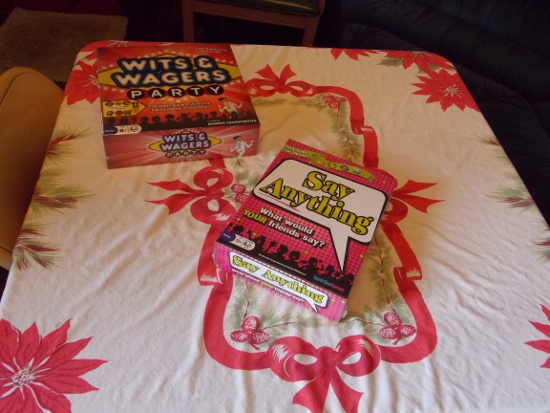 With everything in place, I was ready to welcome guests to the party!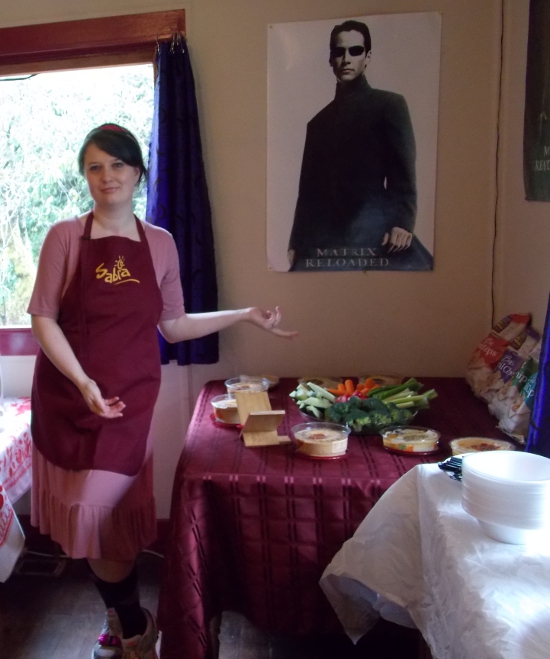 Our friends and family soon arrived and began to sample the spread!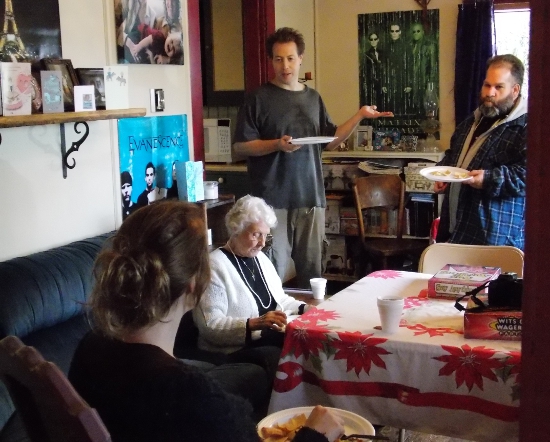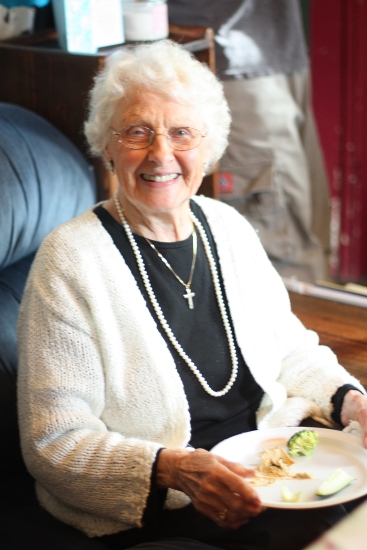 We had quite a selection of flavors to choose from: From old favorites like Tuscan Herb and Southwest, and to new-to-me varieties like Supremely Spicy, Luscious Lemon, and Basil Pesto.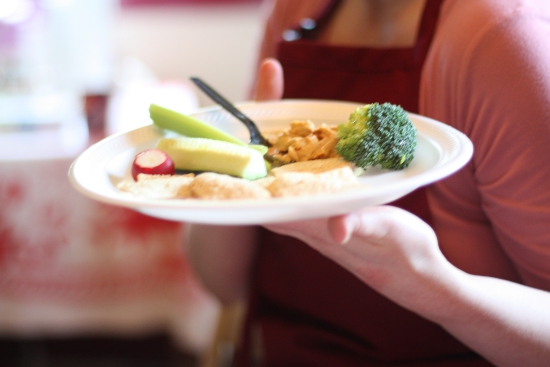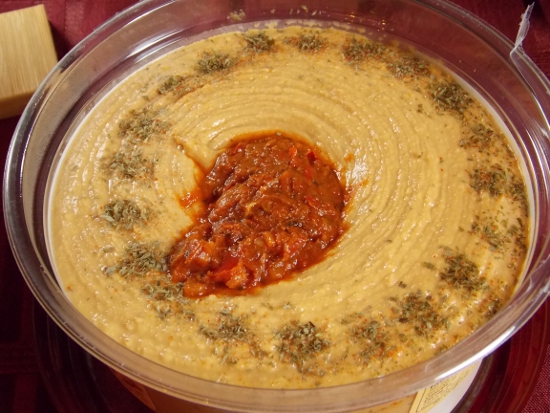 Supremely Spicy seemed to be one of the most popular flavors with the guests. Mmmm! Jai and I have yet to meet a Sabra Hummus flavor that we didn't like! Of course, we're already fans of the Southwest and Tuscan Herb, so those were known winners; we also quite like the Basil Pesto. Out of the new flavors, I was most struck by the Luscious Lemon – it really did have a strong, sweet lemon flavor that was quite nice.
We served the hummus with fresh veggies as well as some baked lentil chips from Mediterranean Snacks (Click here for more about those!), both of which were super tasty and made a great foil for the hummus.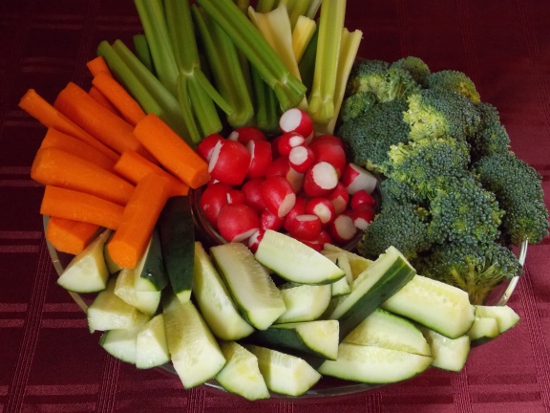 In addition to the yummy food and good company, we also had fun playing some board games. The two games we played were Wits & Wagers Party and Say Anything, both of which you will be hearing more about in a Holiday Gift Guide announcement next week, so stay tuned for that!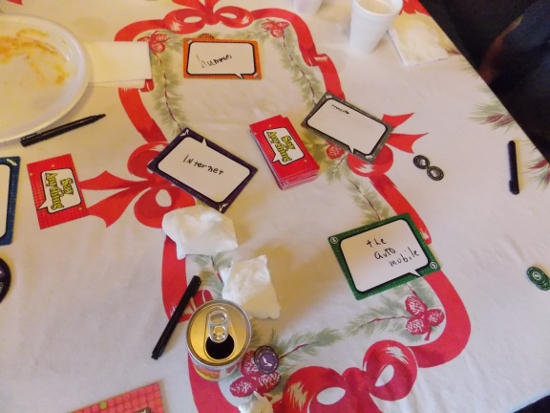 In "Say Anything", one player reads out a question card and everyone must write down their answer to the question. The person who asked the question then secretly chooses which answer they like the best, and the other guests vote on which one they think will be picked as the best answer. In this round, the question was "What is the most important invention of the last 100 years?" Note the card that says "Hummus"!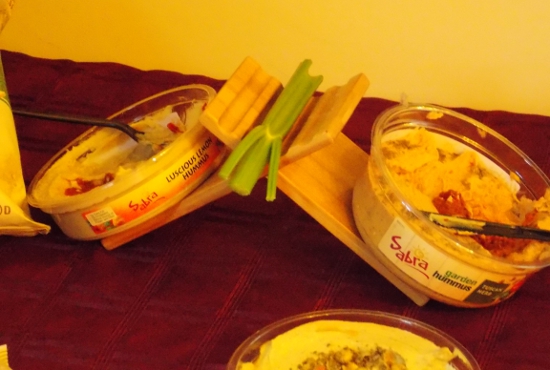 Another unofficial game that party guests ended up playing was "Figure out what these pieces of wood are"! You see, one of the items I received in my party pack was two slats of wood with the Sabra logo on them, with one smaller piece of grooved wood and a stick that looked a bit like a pen but did not write. I figured it must be some sort of display piece, but I could not for the life of me figure out how to assemble it. I did my best to set it up as a decoration – you'll notice it in the photos above on the hummus table. Each guest puzzled over it and tried to figure out what, exactly, it was supposed to be and how it worked. Finally, we determined that the small piece of wood has actually broken off one of the larger slats in shipment, but we hadn't realized that because the break was so smooth that it looked like it was supposed to be that way! So Jai super-glued it back together and we decided that it was supposed to be a stand to hold the hummus. What you see above is how one of my guests decided to arrange it.

The jury is still out on what the "Pen" was supposed to be – the most popular guess is "A hummus stirrer". Ha!!
The party was a lot of fun and I had a great time hanging out with everyone, playing fun games and eating my favorite hummus. At the end of the party, I packed up little bag for everyone with some hummus, chips and veggies to take home and enjoy later. Another successful hummus party!

For Sabra coupons, recipes, and a chance to win prizes, be sure to click here to check them out on Facebook!