Slippers are an indispensable piece of footwear. When I'm at home – which is a lot, considering I have a home office! – slippers are a must. I seem to go through them pretty quickly, so I'm always on the lookout for new and better pairs. So when I got an offer to test out a complimentary pair of Hush Puppies slippers, it seemed like a good opportunity to expand my collection.
The pair I received was "Ginger", a slipper from the new Hush Puppies "Spring Break Collection" by Grandoe. You definitely need a versatile slipper for spring – with the wildly varying weather, you can have warm sun one day and cold hail the next. The "Ginger" bridges this gap, with a slipper boasting a thick sole, plush cushioning, and an open back for ventilation during warmer days.
A great example of this versatility was illustrated during the weather we got on Jai's birthday on March 13th. The weather changed from hour to hour, with flooding, snow, and hail. (As they always say…if you don't like the weather on the Oregon coast, just wait an hour.

) I went onto the back deck to take some photos of the wild weather, and while I was out there, it dawned on me that I should point the camera downwards and get a snapshot of how durable these slippers are: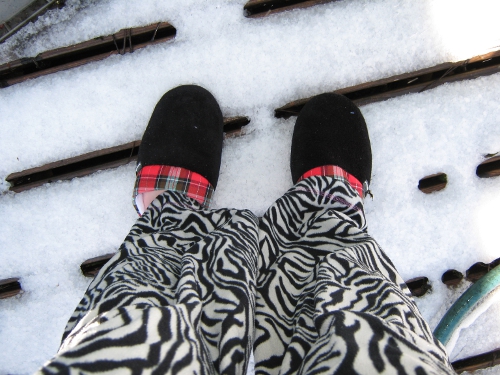 Like my awesome Zebra-stripe pajamas?

As you can see, the thick plastic sole allowed me to walk outside in the hail/snow-covered deck with no issues. The inside of these slippers is so soft and cozy, and the open back makes them easy to slip on and off and will keep them from getting too hot during warmer spring days. Since these slippers have a very slight heel, I'll have to wait until my knee injury heals up completely before I can wear them full-time – at the moment I have to stick with either specific orthopedic sneakers or totally flat slippers. But these slippers are so comfy and durable, and I'm really looking forward to wearing them more in the future and seeing how long they will last compared to some of my others. The Ginger slipper retails for $42, and through May 31st you can receive 15% off by using coupon code 15HUSH.