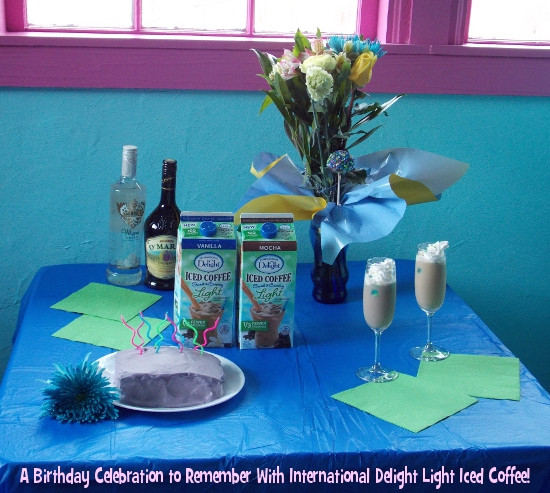 Last Sunday, we invited our good friend Jeff over for dinner to celebrate his birthday. Jeff has been a very good friend of the family for close to two decades, so I thought it would be fun to do something special for this year's dinner instead of the usual PBR and pork rinds.

With a little help from my new favorite iced coffee, I created a delicious iced coffee cocktail and also tried my hand at cake pops for the very first time! You can click on any image in this post to view it full-size.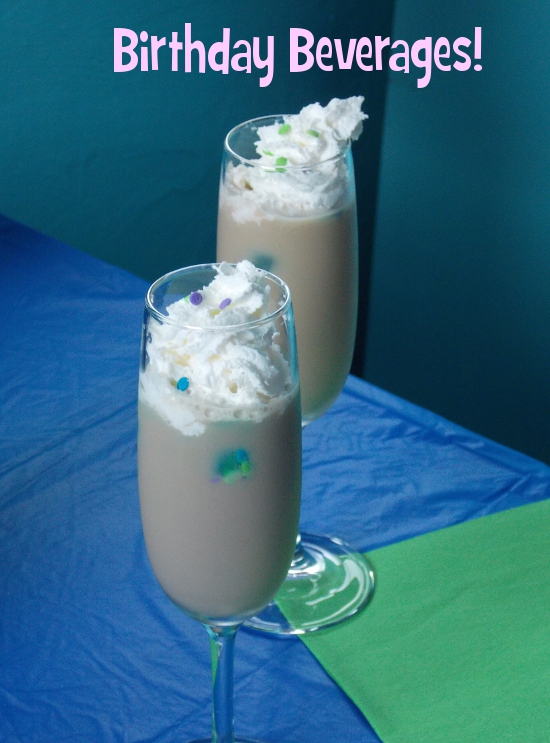 First, let's talk about the beverages. I had recently made a trip to Walmart to pick up a few cartons of International Delight Light Iced Coffee, and I felt inspired to do a little mixology and create a delicious cocktail to serve at the party:
Creamy Coffee Cocktail Recipe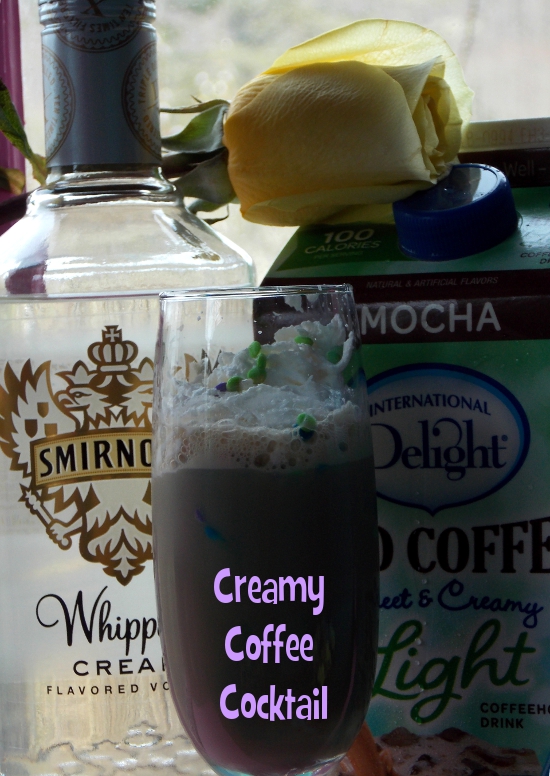 Ingredients:
1 oz Smirnoff Whipped Cream Vodka
1 oz Irish Cream
2 oz International Delight Light Mocha Iced Coffee
Ice
Whipped cream
Sprinkles
Preparation: Place ice into a cocktail shaker and add the vodka, Irish cream, and International Delight Light Iced Coffee. Shake, pour into glass, and top with whipped cream and sprinkles as desired. Serves one.
These iced coffee cocktails are so yummy (If I do say so myself)! If you're not a big fan of the way alcohol tastes, this is a great one to try. It's very smooth drinking! The Light Iced Coffee has less sugar and 1/3 less calories than the regular International Delight Iced Coffee, clocking in at 100 calories per cup. The diet plan that Jai and I are following is all about moderation, so indulging every once in a while is acceptable – in fact, for me, it keeps me on track since I'm continuing to live life and not trying to lose weight in a vacuum. I wouldn't even have noticed that this had less calories if the carton didn't say so, because it's so full of flavor!
Everyone knows that ordering iced coffee from a shop can get expensive – and this seems like a good time to point out that using it as a mixer for party drinks saves even MORE money since you're not throwing money away at a bar! The last time I ordered a cocktail at a bar it was around $6 – I can buy two cartons of ID with that and use it to make many drinks for a party! So not only do we save money by staying home and save calories by not getting the full-fat coffee cocktails from a bar – we have more fun too, because we can relax and watch TV instead of shouting at each other over loud music!
Psst! You can save even MORE money by clicking here to print off a coupon good for .55 cents off your next half gallon of ID Light Iced Coffee!
Coffee & Cream Mocktail Recipe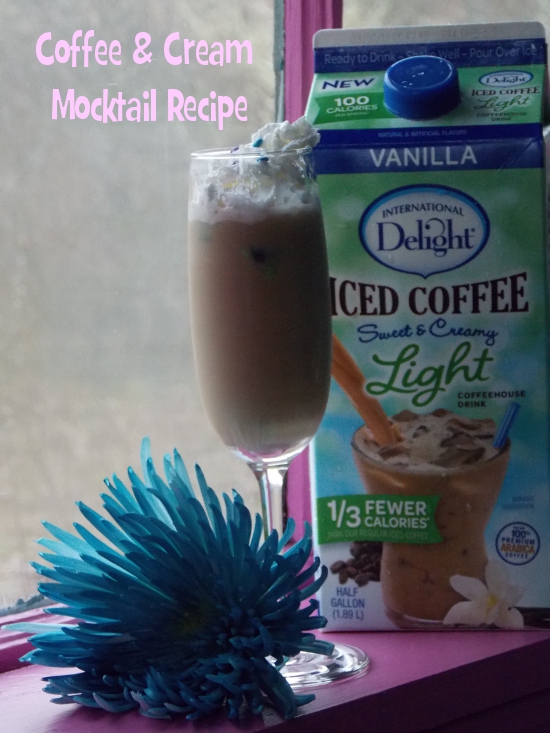 Ingredients:
1 oz vanilla syrup
2 oz International Delight Light Vanilla Iced Coffee
1 oz lemon-lime soda
1 scoop of vanilla ice cream
Ice
Whipped cream
Sprinkles
Preparation: In a cocktail shaker, mix ice cream, soda, Iced Coffee and syrup. Shake vigorously and strain over an ice-filled glass. Top with whipped cream and sprinkles to taste. Serves one.
Any time I host a gathering where I'll be serving alcohol, I make sure there is either a designated driver available or that my guest room is ready for guests to stay the night. Jai isn't too big on the taste of alcohol, so he often chooses to skip drinking at parties, as he did this last weekend. Since he was the designated driver and giving our friend a ride home after the party was over, I thought it would be nice to make a special "Mocktail" just for him! I created this to mimic the cocktail that Jeff and I were drinking – originally, I had wanted to use hazelnut syrup as I thought it would work best with the ice cream to imitate the Irish cream, however I wasn't able to get any so I used vanilla instead. This actually worked really well with the Vanilla Light Iced Coffee. This "Virgin cocktail" is oh-so-good – it reminds me a little of a root beer float!
How to Make Birthday Sprinkle Ice Cubes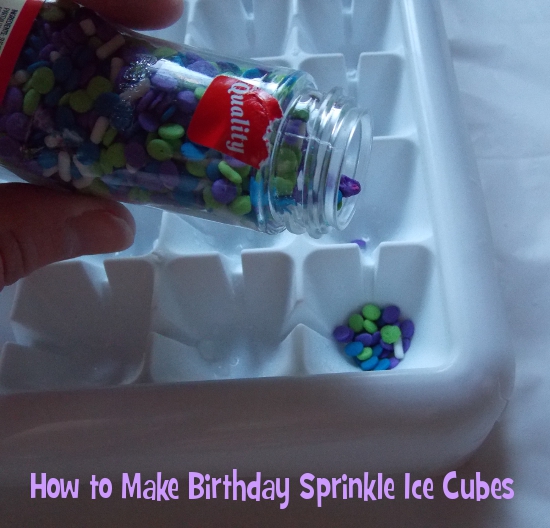 To turn these into extra-special b-day cocktails, I made birthday cake sprinkles! It's a very simple and fun way to jazz up any drink. Simply add a few sprinkles to the bottoms of your ice cube tray, then add water as normal and freeze.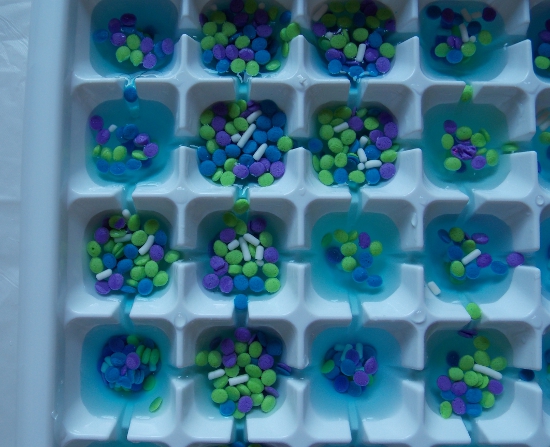 And hey presto! You have fun birthday ice cubes.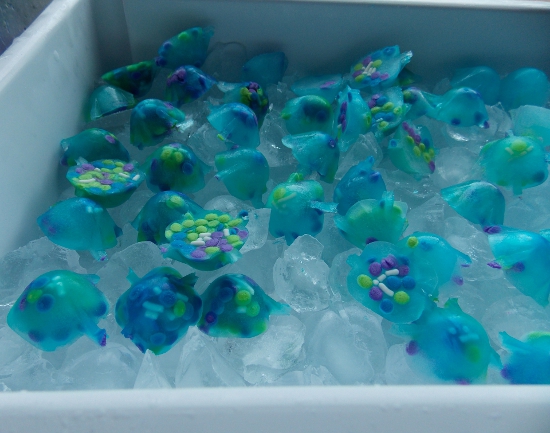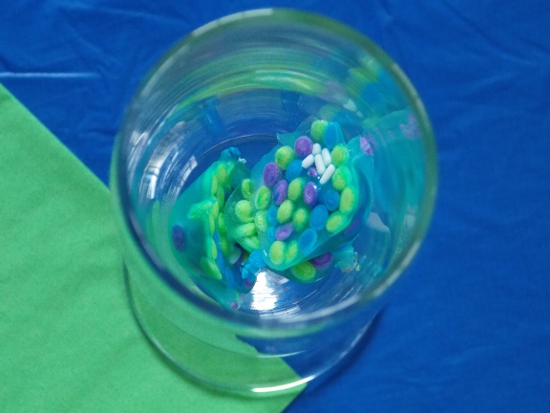 More Birthday Fun: Carrot Cake Pops With a Coffee Glaze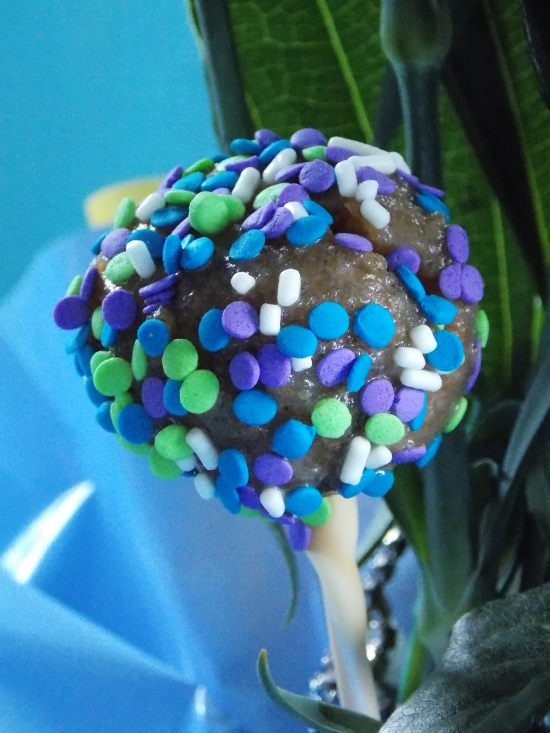 It wouldn't be a birthday without cake, and it's tradition for me to bake a carrot cake on Jeff's birthday since that's his very favorite. This year, I decided to have some fun with it and make cake pops in addition to the regular cake. I started off by baking a carrot cake from scratch using a recipe in one of my vintage 1960s cookbooks. I baked the cake in a 9 x 12 pan, and once it was done, I cut it in half, crumbling one half in a bowl and putting the other half aside. Using this tutorial from Divas Can Cook as my guide, I added two spoonfuls of cream cheese frosting and mixed it with the cake, using an ice cream scooper to mold the final product and form cake balls on a tray. I then dipped lollipop sticks in white chocolate and inserted them in the center of each cake ball, refrigerating for 20 minutes.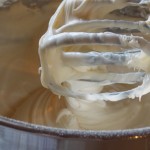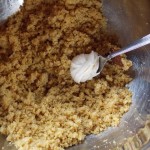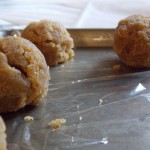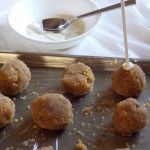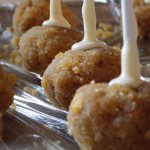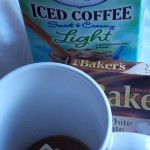 I then melted a larger quantity of white chocolate with a splash of International Delight Light Iced Coffee, with the goal of creating a coffee-infused candy coating on my cake pops. After experimenting with several bowls of candy infused with coffee in the microwave, I ended up with a very thin coffee-chocolate glaze, which I ended up drizzling over the cake pops instead of dipping, adding sprinkles on top to tie in with my theme. It was tasty, but the cake pops themselves were very crumbly so they fell apart pretty quickly! I made the mistake of not adding very much frosting to the initial cake mixture, as it was a very moist cake and I feared from what I had read that too much frosting would be gross. It ended up not having enough frosting to really bind it together, as the cake pops fell apart any time I tried to dip them, even just in regular chocolate without anything added. They tasted good…they just didn't look very pretty.

Still, I ended up with a few cute cake pops using the coffee-chocolate drizzle mixture, which I stuck in a vase with a bouquet of flowers and accents to make a pretty centerpiece: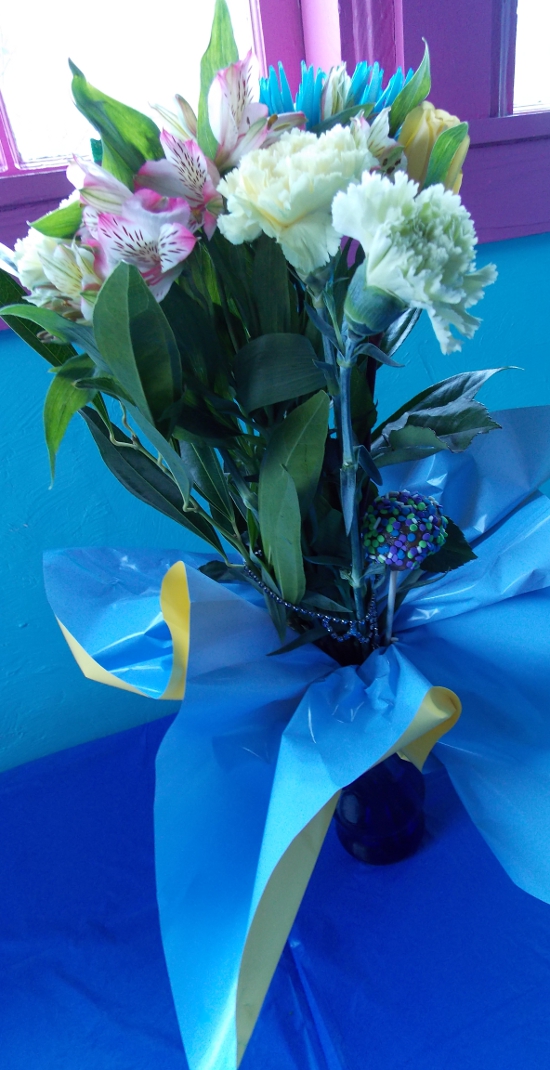 After my first-time foray into cake pops was complete, I frosted the other half of the cake with the rest of the cream cheese frosting, which I tinted purple and topped with these really fun curly candles. Jeff is an artist, so I wanted to whole tablescape to reflect his fun personality!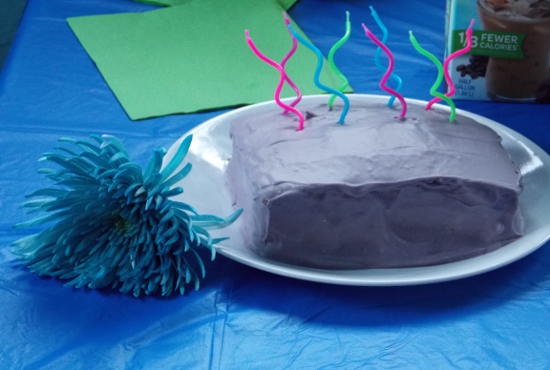 In addition to the cake, I also set out a spread of sandwiches and salad for dinner. We laughed, ate, and watched some funny TV shows – all in all, it was a great evening!
For more on International Delight Light Iced Coffee, click here to visit them on Facebook!
I am a member of the Collective Bias® Social Fabric® Community. This shop has been compensated as part of a social shopper insights study for Collective Bias® and WhiteWave #CBias #SocialFabric #LightIcedCoffee