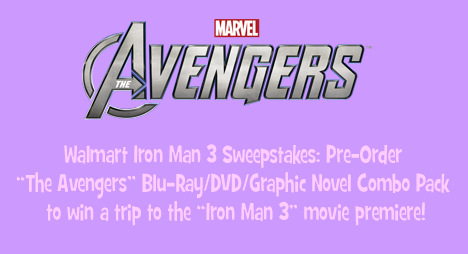 I am a member of the Collective Bias™ Social Fabric® Community. This content has been compensated as part of a social shopper insights study for Collective Bias™ and Marvel. #MarvelAvengersWMT #CBias #SocialFabric
The Avengers took moviegoers by storm this year! The wildly successful film has been enthralling children and adults alike. Just in time for back-to-school movie nights and holiday gifting, the movie is set for release on DVD and Blu-Ray on September 25th. If you're a comic book fan, you're probably already stoked to order your copy, but I've got some news that will excite you even more: When you pre-order the exclusive Blu-Ray/DVD/Graphic Novel Combo Pack on Walmart.com, you will entered to win the trip of a lifetime to attend the Iron Man 3 movie premiere!
Pre-Order Sweepstakes Details:
To enter the Walmart Iron Man 3 sweepstakes, you will need to pre-order The Avengers Blu-Ray/DVD/Graphic Novel Combo Pack by September 24th. One lucky winner will win a trip for themselves and three friends to attend the Iron Man 3 movie premiere in April 2013, which includes passes to the premiere, airfare, hotel, and a gift card for expenses. Click here to enter!
#MarvelAvengersWMT Twitter Party
But the chances to win don't end there! You won't want to miss the #MarvelAvengersWMT Twitter party on Monday, September 24th at 1 PM EST. @AgentM will be your host and giving away four $100 Walmart gift cards! Click here to RSVP. You can access a custom TweetGrid for the party here.
I am one of the only people on the planet who hasn't seen this movie yet. I KNOW! I always end up being so behind the times because I don't make it to the cinema often. Luckily, these days movies are released on DVD soon after they leave the theaters, so you don't have to be left out if you miss it on the bid screen. Remember back in the "Old days" when it used to take such a long time for movies to come out on VHS? Now you can practically pre-order the DVD before you leave the theater! It's awesome!
I am so glad that The Avengers comes out soon because I can't wait to see it – I'm a lifelong comic book nerd and Marvel fan. I was fascinated by super-heroes before I had even learned how to read – case in point: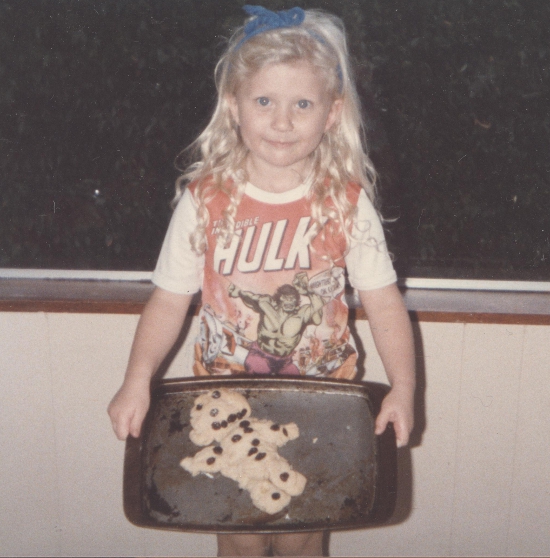 Here's a picture of me, circa the mid-1980′s, wearing my "Hulk" t-shirt while proudly showing off a cookie that I made! As you can see, I've been a fan of the various Avengers teammates since I was just a tot!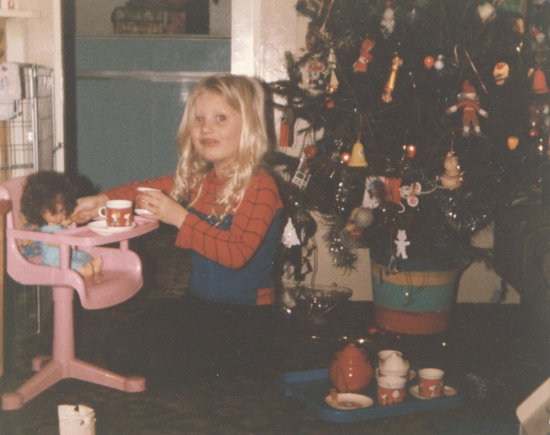 This photo is from roughly the same time period – I am pictured having a tea party with my dolls while dressed as Spider-Man. Even super-heroes need a break for a cuppa, right?
As I got older, I religiously followed the popular '90s cartoons depicting the adventures of the X-Men and Spider-Man. I picked up comics whenever I could and amassed quite a collection of action figures. Since there were so many members of the X-Men team, they didn't have action figures for all of them, so I ended up making my own out of – wait for it – old corndog sticks. I would save the sticks from the family-sized package of corndogs my mom would buy, clean them off, break the sticks in half, and then draw the characters on them. When I ran out of corn dog sticks, I started using popsicle sticks, so some of the villains such as Mystique ended up being larger than the other members of the corndog crew.

I also had a small plastic plane that the corn dog sticks fit in, so I used that as the X-Wing. I still have a Ziploc bag with my quirky X-Men creations in a box somewhere!
So clearly, a DVD/comic book combo pack would have been the PERFECT gift for me as a child – you know, if DVDs had existed back then.

What makes this release even more serendipitous is that is comes out on September 25th, which just so happens to be my birthday! I just love that they packaged this DVD/Blu-Ray with the comic – brilliant move for collectors and comic book aficionados. You can snag this combo pack at Walmart – my favorite place to pick up DVDs! – for $24.95, so it's a budget-friendly way to thrill any comic fan this year! Christmas, anyone??
I received a copy of this graphic novel earlier in the week and I've been enjoying reading it in portions at night after work. Some things change, but my appreciation for comics never has!
If you're a big Marvel Comics fan too, then make sure to follow them on Twitter and Facebook for fun updates and comic news! And don't forget to pre-order your Avengers Combo Pack before September 24th so you can enter to win the trip of a lifetime!
Readers: Are you a Marvel fan?