After making my Atchara chili, I had plentiful leftovers in my fridge, which is one of the best parts of cooking a big batch! I served the second helping of leftovers over rice, and then for the third go-round I wanted to do something a little different. This morning I discovered a recipe for "Chili spaghetti", which seemed like a perfect fit since those are the two dishes I'm making the most frequently right now! I decided to take it a step further and make a spaghetti pie incorporating the chili.
The same day that I planned this meal, I received a shipment of samples courtesy of Frank's Redhot Sauce to try out. I used to have a really hard time with spicy food – it would make me really sick – but I seem to have developed an immunity in the last year thanks to eating Jalapeno McChickens, so for some reason I can tolerate it fine now. I guess sometimes you can be inoculated against very hot food?? At any rate, I thought this would be a fun way to add a new kick to my leftovers.
Spaghetti pie is a great dish for using up leftovers and also for camouflaging ingredients that you're not fond of. For example, we don't like processed cheese slices served by themselves, but I discovered that when they are melted into spaghetti pie or similarly cooked into another dish, it actually makes a pretty convincing substitute for regular cheese. This is also a great way to use up extra spaghetti if you've cooked a large batch of plain noodles.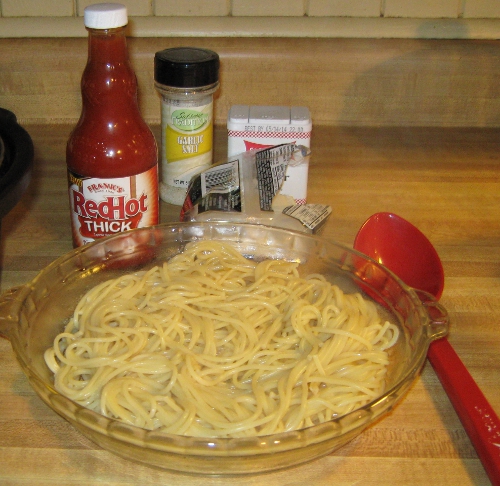 To make this pie, I layered spaghetti in a pie dish and topped with two processed "Swiss Slices". I should note that these did not really melt into the casserole very much – I noticed the packaging just says "Processed slices" and makes no reference to actual cheese, so I think for optimal taste you'd need to use at least 2% milk slices. Regular old cheese works too.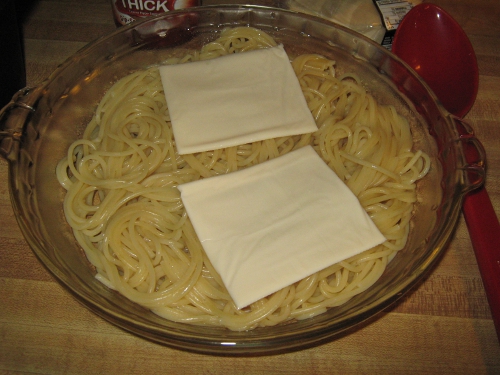 I then topped with the remainder of the Atchara chili. For the finishing touch, I poured Frank's RedHot Thick Cayenne Pepper Sauce on the top and sprinkled on garlic salt and black pepper. Since the chili was really mild, I thought adding this hot sauce would add a kick without making it too much.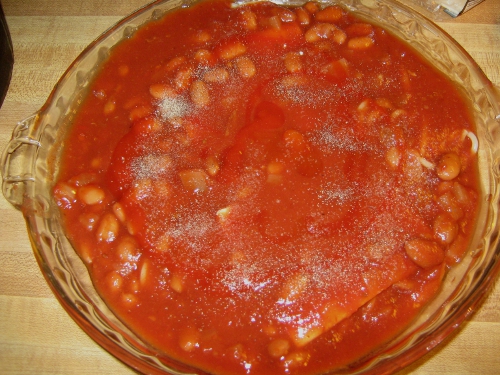 I had enough pasta to make two pies, so for the second I layered a pie plate with spaghetti and covered with Frank's RedHot Sweet Chili Sauce.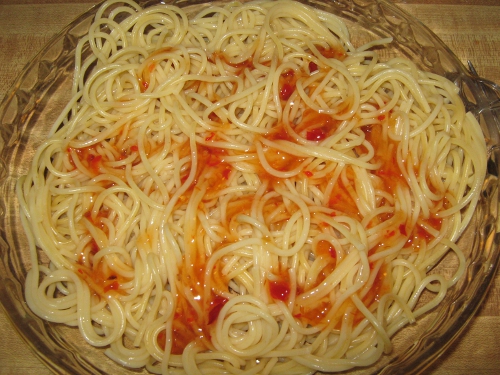 I then topped this with a large can of crushed tomatoes and a sprinkling of Parmesan, garlic salt and black pepper. I put both pies in the over at 350 degrees.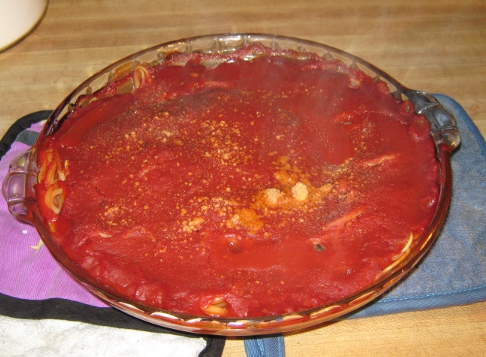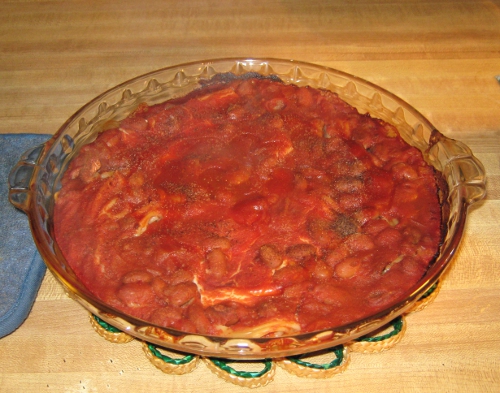 I believe I cooked these for about half an hour – I was doing other things (Namely, writing this!) and not really paying attention. I'm very much a "Cook it until it's done" kind of chef.

Despite the slices not melting, this was still a pretty good dinner. I won't win any foodie awards for this casserole, but it's easy, tasty, cheap, and uses up leftovers so there's no waste. We enjoyed sampling Frank's RedHot sauces – I do think different seasonings and sauces can go a long way in reinventing a dish. The Cayenne Pepper Sauce is pretty hot, while the Sweet Chili Sauce (My favorite!) has a really nice, mild flavor. The hotter of the two sauces will be great in moderation in chili dishes and I can see using the sweet sauce in all kinds of dishes.