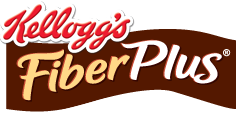 Kellogg's FiberPlus is a line of great-tasting, high-fiber products. They recently introduced their newest addition to the FiberPlus family, a line of cereals. To celebrate, TWELVE lucky Contest Corner readers will each win a coupon good for a free FiberPlus product, so read on!
I recently had the opportunity to sample a selection of Kellogg's FiberPlus items thanks to a box of complimentary goodies that I received. I had a chance to taste-test the following products: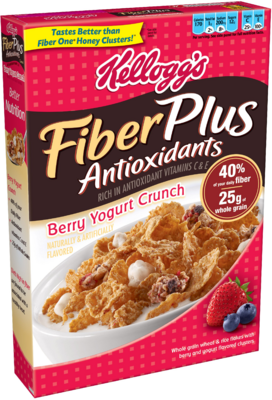 Berry Yogurt Crunch Cereal: I really liked this cereal a lot – the little yogurt clusters are tasty!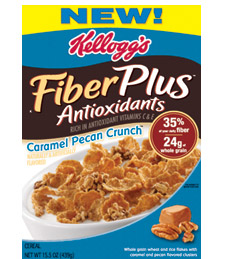 Caramel Pecan Crunch Cereal: I liked this cereal also – it's high in fiber without being really bland or yucky. If you like your cereals to be packed with sugar and marshmallows, then this isn't the one for you, but if you want a cereal that meets your dietary needs while still being palatable, then I bet you'll like this.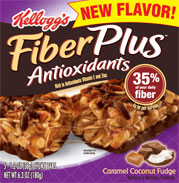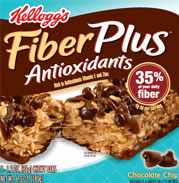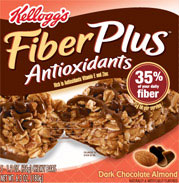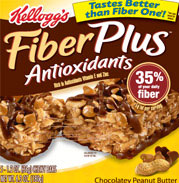 Chocolate Chip Bars, Caramel Coconut Fudge Bars, Dark Chocolate Almond Bars, and Chocolatey Peanut Butter Bars:
We tried all four varieties of these bars, and we really liked the flavors and convenience as a breakfast or snack. Jai and I both liked the Chocolate Chip the best – yum!
If you want a meal option that combines high fiber with great taste, then I think you will enjoy Kellogg's FiberPlus. Look for this line in grocery stores and learn more at KelloggsFiberPlus.com.
Giveaway Time!

TWELVE lucky Contest Corner readers will each win one free coupon redeemable for either a 5-ct box of Kellogg's FiberPlus® bars OR one package of Kellogg's FiberPlus® cereal (11.5oz or larger)! Coupons expire December 31st, 2011. Here's how to enter:
1. Just leave a comment on this post. That's it! You can say whatever you like!
Want extra entries? Do any of the following, and leave a separate comment for each one:
2. Write a post on your blog linking to this giveaway and KelloggsFiberPlus.com. Then come back here and leave me the link!
3. Write about this giveaway on Twitter using hashtag #fiberpluscoupon, then come back and leave me the link to your tweet! One Twitter entry per person. You can use the button at the bottom of this post to tweet with one click!
4. Subscribe to my blog updates by clicking here. Then come back and leave me the email you subscribed with!
5. Post my button on your website – just copy and paste the following code, and let me know where you put it:

Rules, regulations, and other important stuff: Giveaway starts on December 1st at 6:38 PM PST and ends on December 8th at 11:59 PM, PST. Winner will be chosen the following day via Random.org. Giveaway is open to to legal residents of the fifty (50) United States and District of Columbia who are 18 years of age or older at time of entry. Full rules are available here: http://resources.ketchum.com/helpdesk/docs/FiberPlusCouponGiveawayRules.pdf