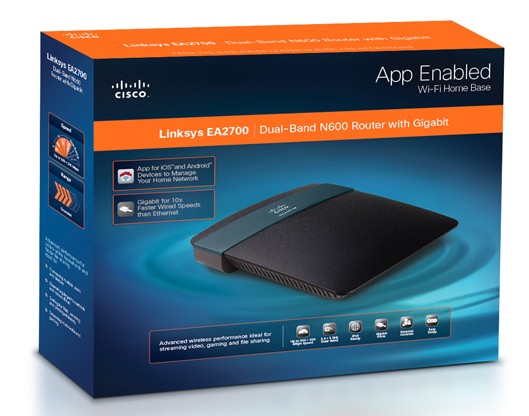 Welcome to a special edition of Nerdy or Novice?, our technology column! In today's installment, we will not only be sharing our thoughts on the new Linksys EA2700 wireless router, but one lucky reader will have a chance to win this router for themselves as well, so read on!

In addition to sharing news on the latest tech toys, Nerdy or Novice? also provides a well-rounded perspective thanks to my co-columnist (and fiancé!), Jai! A seriously tech-savvy guy, Jai owns a computer repair business, and will dissect the technical prowess of these gadgets and games. Meanwhile, I will be providing the layman's perspective on the user-friendly qualities of this geek gear. Today's review and special giveaway is for the new Linksys EA2700 Maximum Performance Dual-Band N600 Router with Gigabit. Here's a little background information on this router provided by Cisco:
The Linksys EA2700 wireless router is perfect for Mom, Dad, your favorite grad, or anyone interested in building the ultimate connected home in 2012. From iPads, to gaming systems, to Wi-Fi enabled TVs, laptops and e-readers, consumers are snapping up consumer electronics that open up a world of entertainment, learning and socializing anywhere in their homes. So if an iPad, Xbox, Internet TV, laptop, etc, is on the list this year, make your wireless home worry-free by including the powerful Linksys EA2700 for home wireless the easy way to set up wireless products around the home, along with your must-have consumer electronics.
Benefits of the new EA2700 include unrivaled speed and is ideal for:
• Creating a powerful wireless network, plus, share files and games at wired speeds 10x faster than Ethernet.
• Networking larger households and home offices
• Surfing the Web, emailing and printing wirelessly
• Connecting multiple users and devices at high speed
• Transferring and downloading larger files
• Streaming multimedia and gaming
Jai set up this router, and this was his opinion on it:
"I'm used to setting up routers the old fashioned way – and by "Old fashioned", I mean a year or two ago! – by powering them on, plugging them into the network, and using a web browser on a local computer to set things up to my liking. The Linksys EA2700 is capable of doing this, but would much rather use the setup CD to get things running. I was a little reluctant but I went ahead and used their setup method. It was surprisingly easy. The setup program was able to find the new router wirelessly and asked what I'd like to use as the wireless' SSID (The name you see when searching for your wireless network) and password. I was able to get online with my iPod Touch in just a few minutes.
Just for fun (Yeah, this is the sort of thing I do for fun!) I went ahead and reset the router so that I could have a chance at setting things up manually. I turned off my laptop's wireless antenna, plugged the Ethernet cable straight into the newly reset router, and typed 192.168.1.1 into my browser. A page came up asking me to insert the CD or download the configuration software. After a few seconds of concern I saw the fine print on the router's page that let me go into the manual configuration. Everything went great from there since I was in familiar territory. The Dual-Band feature was especially impressive to me. With this you won't have to worry about your older Wifi devices not being compatible, and your newer devices won't be slowed down by older technology."
As for me, I love the wireless range that this unit can provide throughout the house and the lightweight design of the unit. Linksys make quality routers, and this one seems to work great. It might be cool if this had a wallmount option, but that's the only thing that I could even think of to suggest. This router is awesome in my book!
With Mother's Day and Father's Day right around the corner and graduations soon to follow, I would agree that if you're shopping for a gift and want to get something really cool, a router is a great thing to consider. I know it's not something that everyone would think to give, but every time I've given a "Techie" gift it has always been hugely memorable and useful to the recipient. Since routers are such an important part of our day-to-day computer setups, it's a practical and helpful option than I think many would love to be surprised with!
The Linksys EA2700 Maximum Performance Dual-Band N600 Router with Gigabit retails for $109.99 and is available on Cisco.com. You can also connect with Linksys on Facebook, Twitter, YouTube, and the Cisco Consumer Blogs.
Giveaway Time!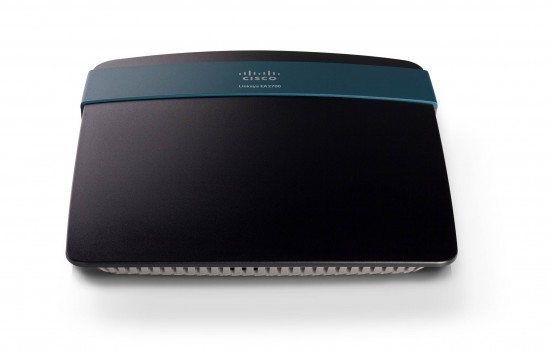 One lucky Contest Corner reader will win a Linksys EA2700 Maximum Performance Dual-Band N600 Router with Gigabit! Note: Winner cannot have won the Linksys router in any other contest/giveaway in the last 6 months. Here's how to enter:
1. For your first entry, click here to visit Cisco.com, then come back here and leave a comment mentioning another product that you would like to own. This step is required to qualify for the drawing.
Want extra entries? Do any of the following, and leave a separate comment for each one:
2. Write a post on your blog linking to this giveaway. Then come back here and leave a comment with the link to your post!
3. Write about this on Twitter, then come back and leave a comment on this post with the link to your tweet! One Twitter entry per person. You can use the button at the bottom of this post to tweet with one click!
4. Subscribe to my blog updates by clicking here. Then come back and leave a comment on this post with the email you subscribed with!
5. Post my button on your website – just copy and paste the following code, and let me know where you put it:
Rules, regulations, and other important stuff:

Giveaway ends on May 22nd at 11:59 PM, PST. Winner will be chosen the following day via Random.org. Winner has 48 hours to respond to my notification email, or a new winner will be chosen in their place.
Giveaway is open to US residents, 18+.