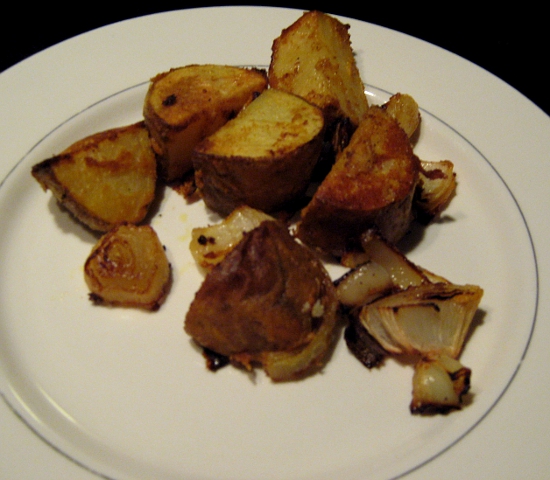 Potatoes are one of my favorite foods, for a lot of reasons. They're so versatile, tasty, and cheap. Earlier in the week, Jai picked up 20 lbs – yes, 20 lbs! – of potatoes, so tonight I set about roasting some of them for dinner. I recently received a box of complimentary samples of hot sauce and mustard, so using these condiments has become a theme this week. I had an idea for using mustard to coat the potatoes with before roasting, and I came up with my new favorite recipe:
How to Make Mustard Roast Potatoes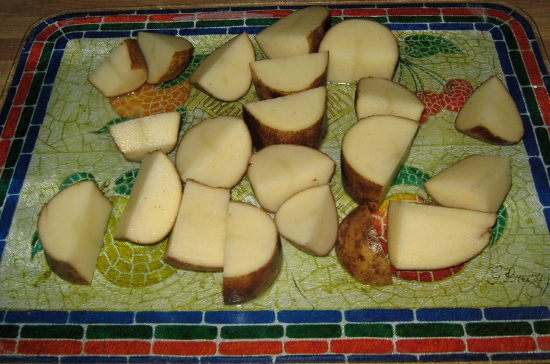 Wash and scrub your potatoes – I used three, but you can adjust this accordingly – and cut them into small, thick wedges.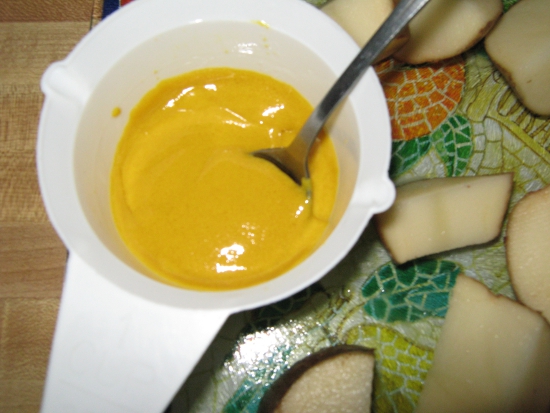 Mix yellow mustard with olive oil. I used French's Classic Yellow Mustard, as it was included in the package I received from the company. I used roughly 1/2 cup of mustard to 1/4 cup of olive oil total.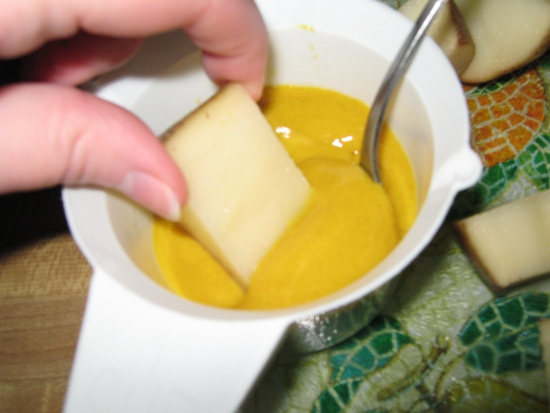 Dip potato wedges into the mustard-oil mixture and place them on a foil-lined pan.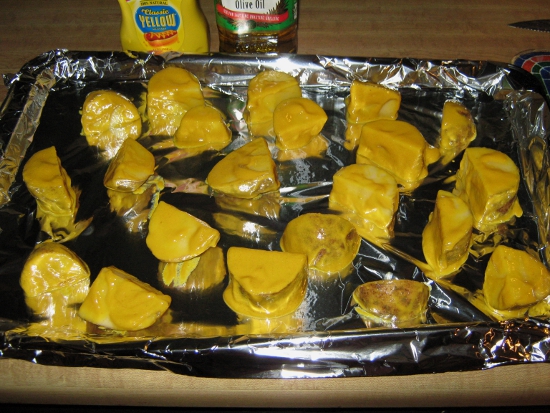 Cut an onion into wedges and add to pan. Cover with garlic salt and pepper and place into an oven preheated to 350 degrees.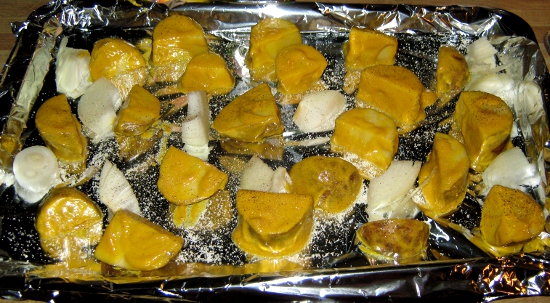 I put these in the oven at 4:50 PM, but I was so hungry that I forgot to look at the clock again when I pulled them out. It was around 5:30ish, so cook these for around 40-45 minutes. As with everything, "Cook it 'til it's done!"

The kitchen smelled really nice as these were cooking, so I was expecting them to be edible, but I was not expecting these to be as delicious as they were. In all honesty, these are the best roast potatoes I've ever made. They are soft and fluffy inside with a crisp skin packed full of rich flavor. Roast potatoes can be a bit bland sometimes, and I'm one who normally likes to smother them in condiments. But I didn't add anything to these, which really surprised me. No extra salt, no additional pepper, no ketchup, nothing! This will be my go-to recipe for making roasted potatoes from now on.
One last note from the potato files: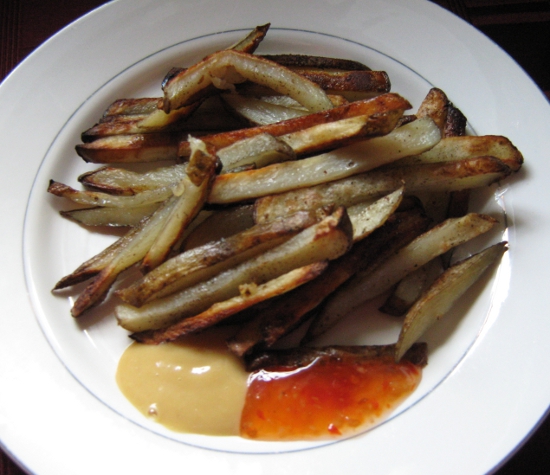 Yesterday, we used our plentiful potatoes for homemade French fries. French's also sent me a bottle of their new Honey Mustard Dipping Sauce, so we used that to dunk our fries in, alongside a dollop of the Frank's RedHot Sweet Chili Sauce that was included in the box (And which I also used in my spaghetti pie on Tuesday). I've always loved honey mustard sauce and this one did not disappoint. Mmmmm!