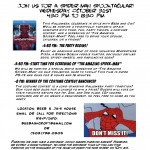 Click here to see my Spider-Man party invitation!

I am a member of the Collective Bias™ Social Fabric® Community. This shop has been compensated as part of a social shopper insights study for Collective Bias™ and Sony Pictures Home Entertainment #CBias #SocialFabric #SpiderManWMT
I'm famous for hosting epic Halloween parties, but I've had to take a break from doing it for the last four years. Between my work schedule and knee injury, Halloween fun just had to go on the backburner, which really made me sad! So when I had the opportunity to host a special Spider-Man themed party this year, it was the perfect chance to resume my tradition with a bang! I hosted a fabulous pizza party at my house on Halloween where my friends and family were able to get an early screening of The Amazing Spider-Man. The movie will be released to DVD on November 9th, but since I picked up the Pre-Purchase Gift Set, I received an early digital copy on October 30th to stream at my party. Nice!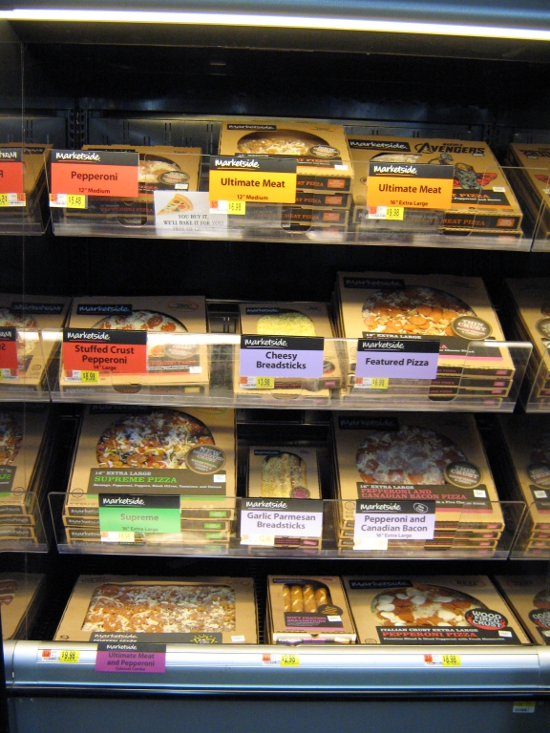 A few days before the party, Jai and I headed to Walmart to pick up Marketside Pizza to serve at the party. I usually spend a lot of time cooking for my Halloween parties, so it was nice to be able to pick up something so easy to prepare – not to mention, everyone loves pizza so I knew it would be a huge hit!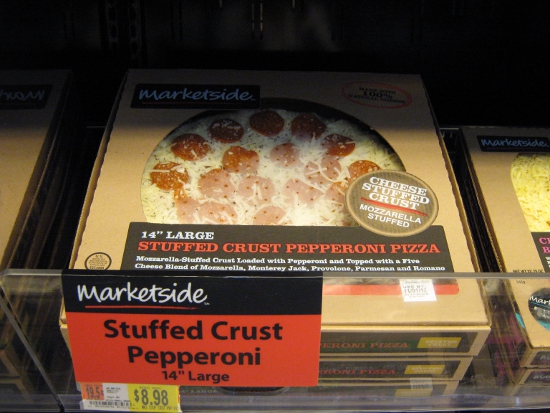 There were so many varieties to choose from that it was tough making a decision! We ended up buying a variety of flavors for guests to choose from, like this Stuffed Crust Pepperoni. YUM!!
As the release date of The Amazing Spider-Man draws closer, Marketside Pizza will be putting special "Augmented Reality Triggers" on their boxes and displays that shoppers will be able to scan with their smartphones to trigger special Spider-Man experience. How cool is that?!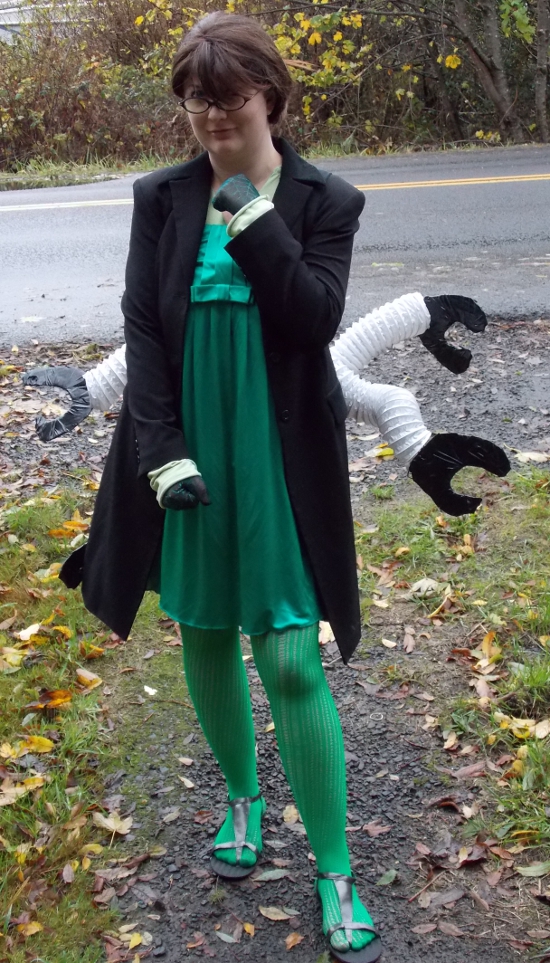 As the big day arrived, I was very excited for my party! The first order of business was to put the finishing touches on my homemade Halloween costume. Since this was a Spider-Man party, I decided to go as his greatest nemesis: Dr. Octopus! I wore all the items of green clothing that I had, donned my ratty old brown wig, and made the arms out of dryer hose, coat hangers, cardboard and electrical tape!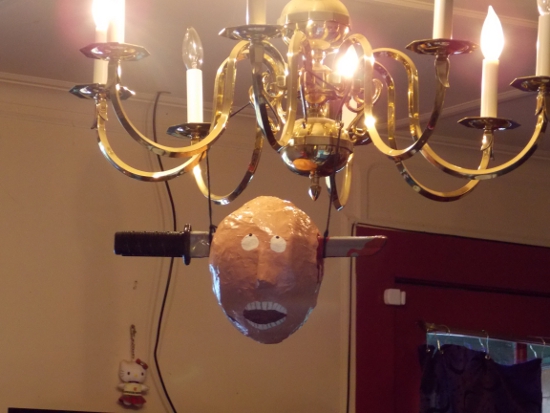 The next step in throwing a spooky soiree is decorating!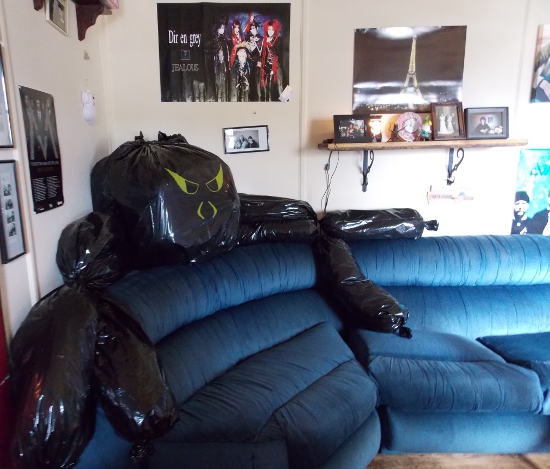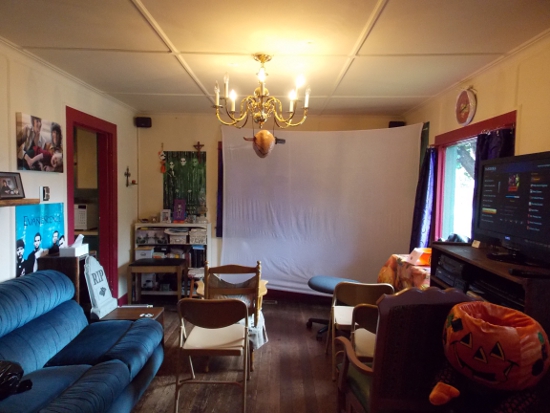 We set up our projector in the living room so we could watch the movie on the big screen!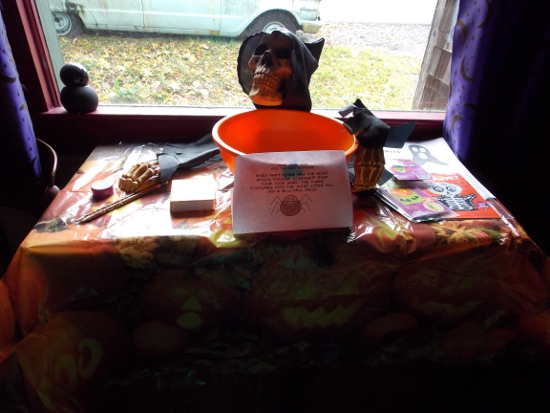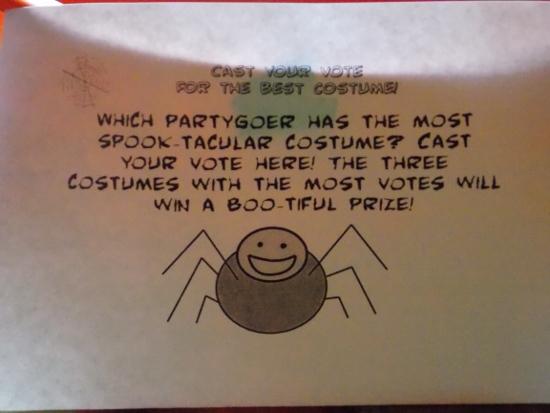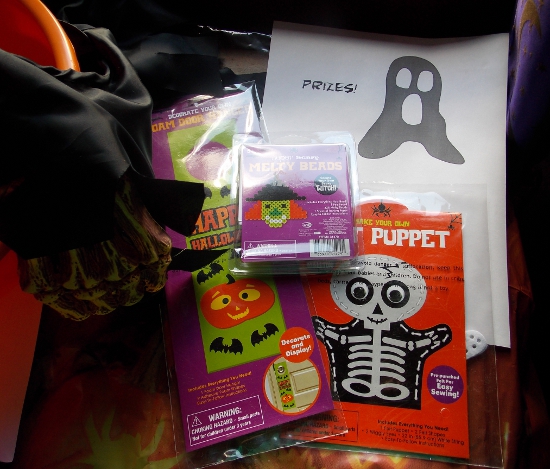 Every Halloween party, I host a costume contest where guests write down their favorite costume and put it into a bowl throughout the night. At the end of the party, I tally up which partygoers got the most votes and award little prizes. Check out these adorable Halloween goodies I found at Walmart on clearance to give away – aren't they cute?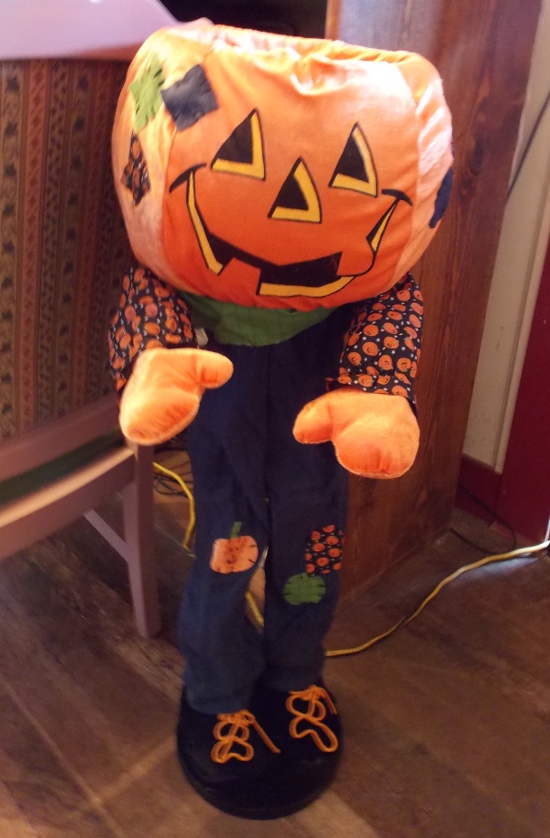 Another tradition is that I fill that pumpkin candy bowl with treats for the guests. (His head is the bowl!) I always hope that I'll get trick-or-treaters that I can give these goodies out to, but that usually doesn't happen since I live down kind of a dark rural road.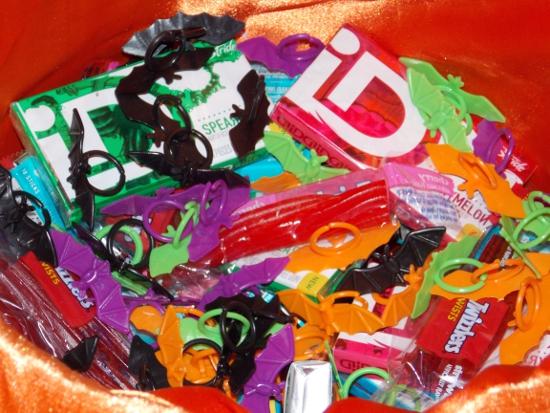 This year's treats included candy, gum, and plastic bat rings.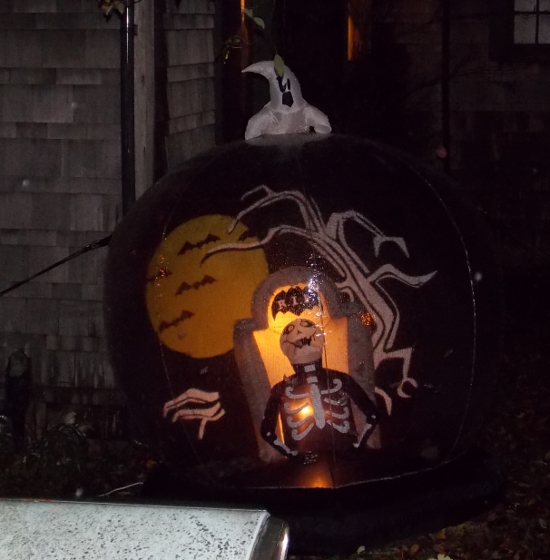 I also decorate the yard with this giant Halloween inflatable that I got on clearance a few years ago!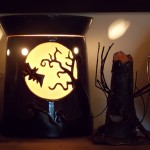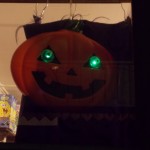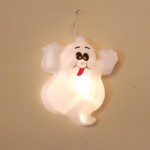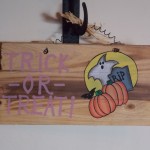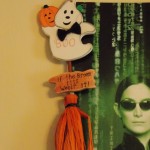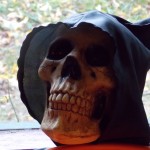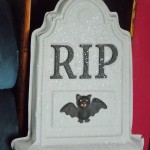 Click on the thumbnails to see the rest of my haunted decor!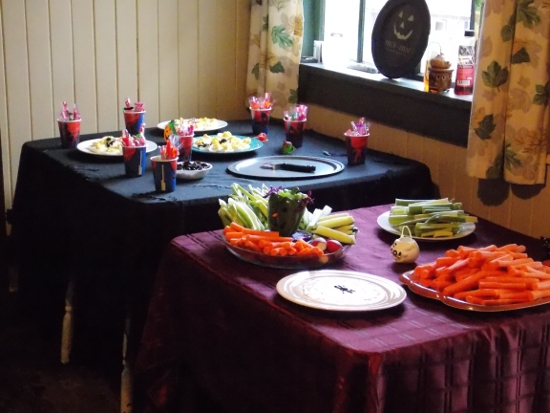 Next up: Preparing all the food!
I love making themed Halloween food, and this year I centered my creations around Spider-Man!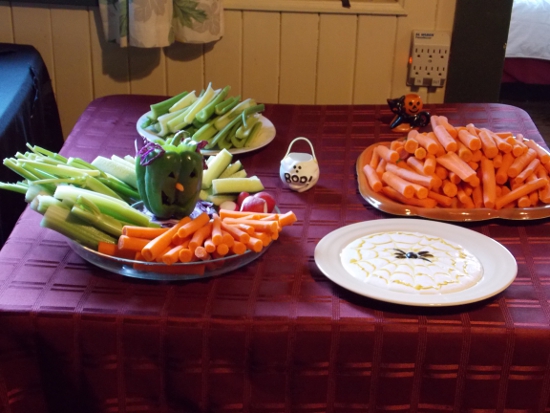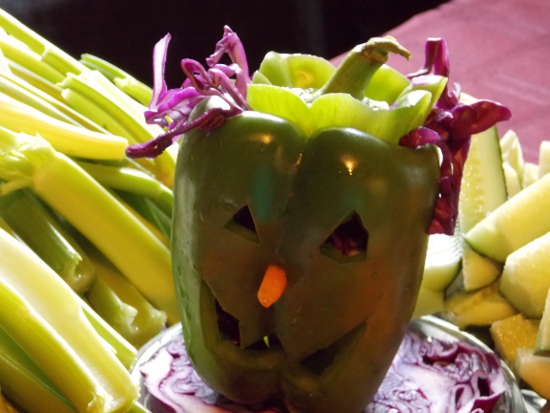 This is my Green Goblin Veggie Platter! To create this, I carved a face into a Jalapeño pepper, using a carrot for the nose and filling the inside of the pepper with purple cabbage.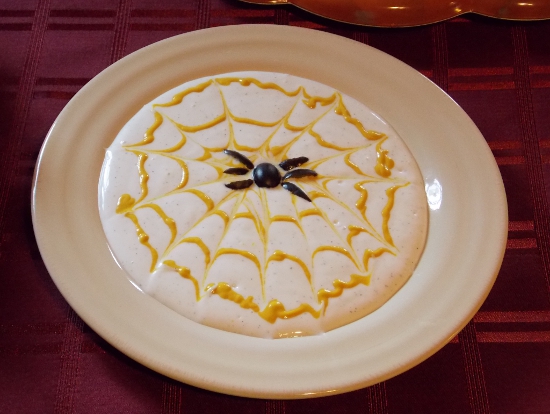 I served this with spiderweb dip, which is created by pouring a circle of mustard onto a plate of Ranch dressing. You then use a toothpick or knife to run down the plate to create the web effect. I garnished this with an olive chopped to look like a spider!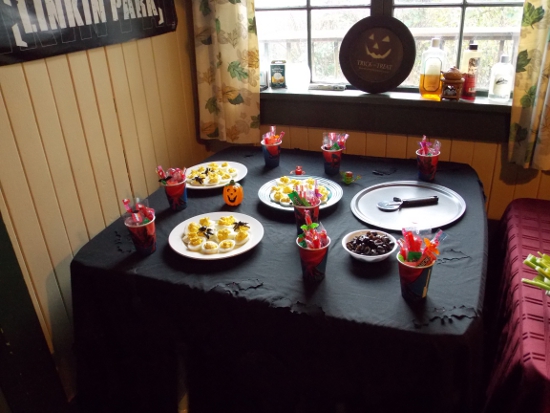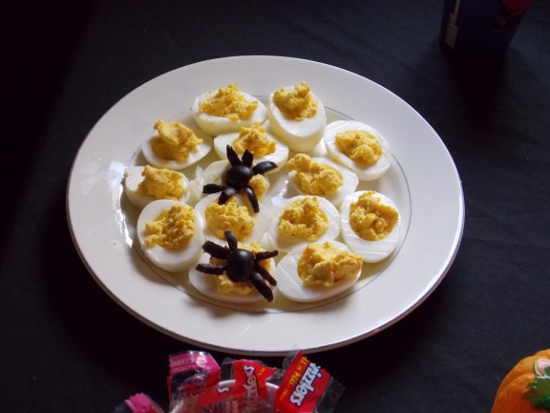 I also used those olives as accents on deviled eggs, to make it look like there were spiders crawling on them!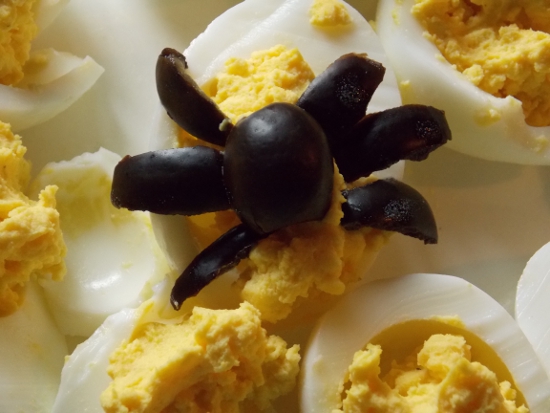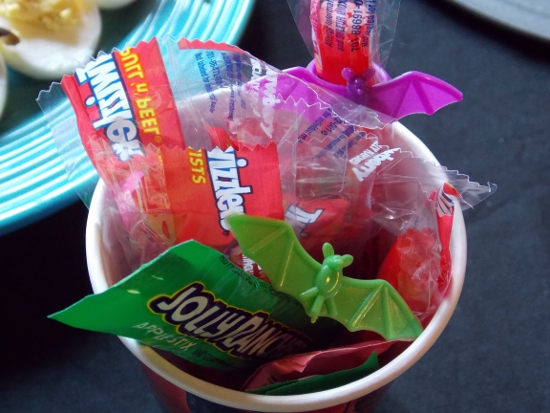 I found some Spider-Man party cups that made the perfect little serving dishes for candy and favors!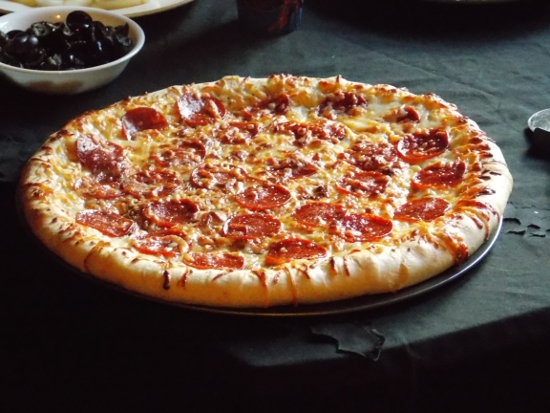 And of course, the Pièce de résistance of the evening was the delicious Marketside Pizza! This pizza was sooo good – it was a huge hit with the guests! We kept a conveyor belt of pizza cooking all night – we bought so much pizza and we only have one oven, so we just kept cooking new batches! Jai and I agreed that this was the best storebought pizza we've ever had – our favorite was the cheesy Stuffed Crust pizza pictured above. SO GOOD! We had a ton of pizza left over, so as our guests were leaving, we actually sent them home with the boxes that we didn't get a chance to cook – they said that was pretty much the best trick-or-treating they've ever done!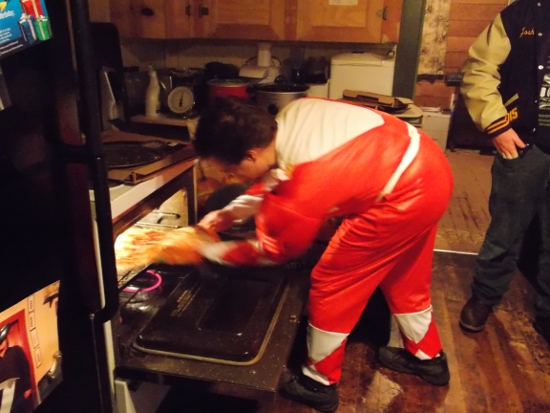 Here's Jai, dressed as the Red Power Ranger, pulling some Marketside Pizza out of the oven!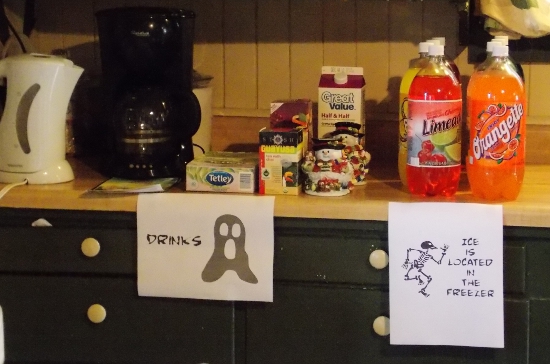 I also set up a serving station of "Radioactive drinks" – IE, all the brightest sodas I could find!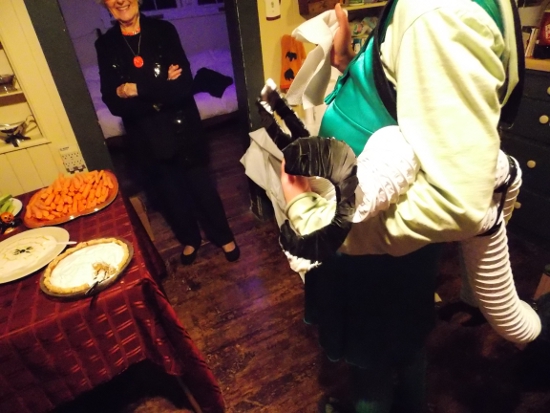 So here's the hazard of wearing a Dr. Octopus costume: All night long, I was trying not to smack people with my arms! At one point, I turned around near the buffet table and my claw dipped right into the pumpkin pie which Grandma had brought! Jai snapped the picture of me above, wiping the whipped cream off my claws! Doc Oc loves pie!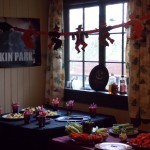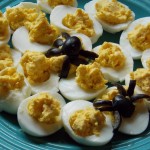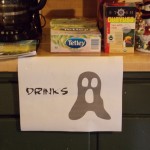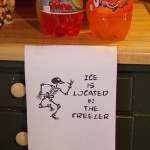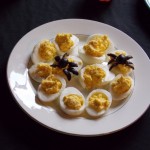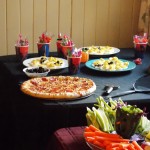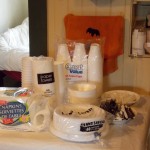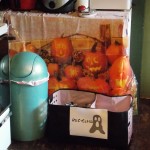 Click on the thumbnails to see more photos of the food & party setup!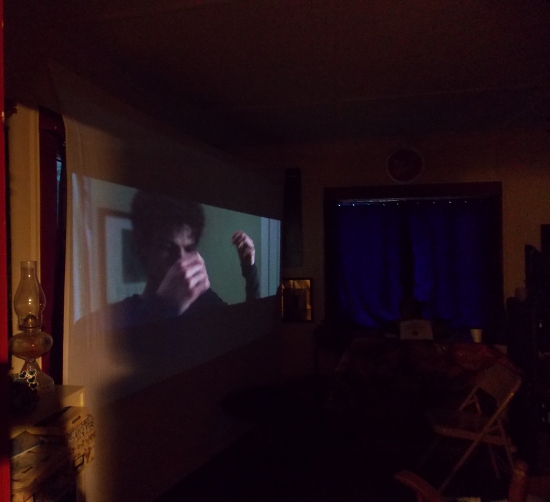 Once our guest arrived and got settled in, we started the feature presentation! I fired up my Vudu account and started playing The Amazing Spider-Man on the projector. You can either stream it or download the movie to play on the VUDU app, which is what I chose to do just in case the bad weather knocked out our Internet connection! It was quite easy and seamless to do.
As a lifelong Spider-Man fan, I was definitely excited to check out this movie! It was a fun evening – the resident comic book nerds (Myself and another guest) dissected how the movie compared to the comics, while the other guests just enjoyed the story for what it was since they weren't very familiar with the comics. It's funny, Jai said that he thought the story moved a little too fast, while I actually liked the fact that the plot developed quickly – I've been reading comics all my life and I've read Spider-Man's origin story so many times, that I appreciated the fact that they got to the point more quickly and didn't spend so much time dwelling on all the stuff that I already know! Although I think the story lacked in some departments, overall I enjoyed it more than I thought I would. I think Andrew Garfield did a good job as Spider-Man and the special effects were great. It's a fun film that both comic book fans and those unfamiliar with Spider-Man can enjoy together!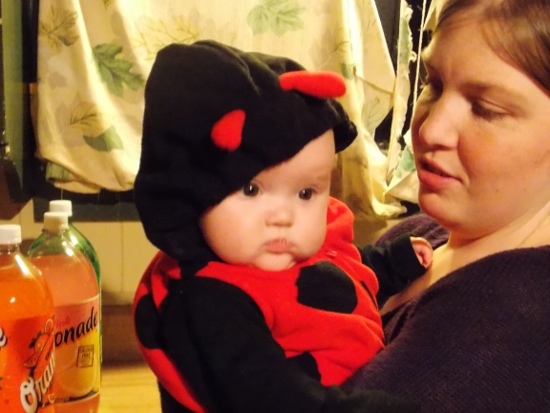 After the movie, I drew the winners of the costume contest. This adorable little ladybug swept the votes and took 1st place!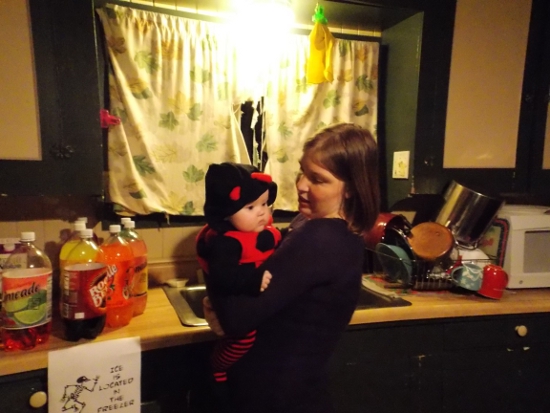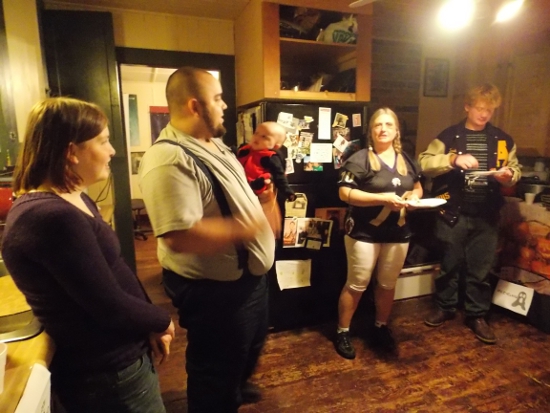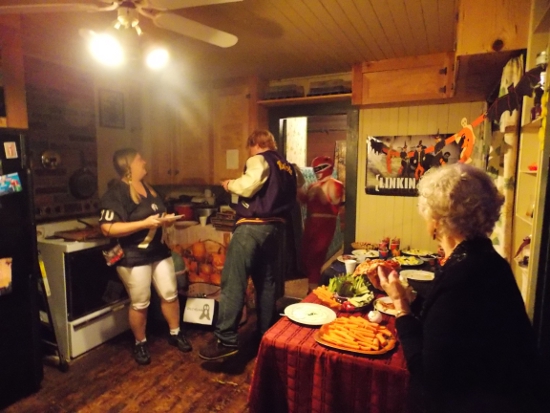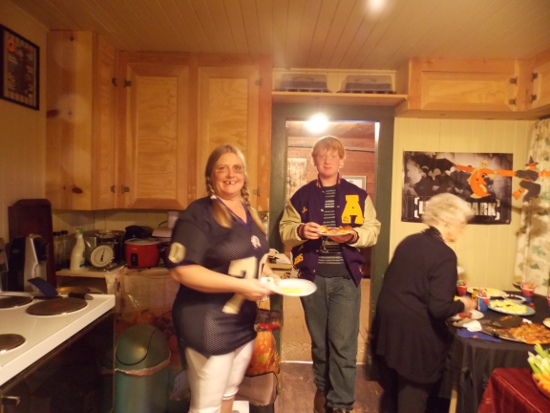 We had such a blast with our friends at the party! My Halloween parties have always had a big turnout – usually around 30 people – so I was expecting a packed house, especially since everyone was so excited about the pizza and movie. Unfortunately, there's a nasty stomach flu going around and several of my friends had to call and cancel on the day because they were ill! Some friends also got stuck at work since Halloween fell on a Wednesday. I was bummed that some of my friends had to miss out, but now that I own this movie we can always have another Spider-Man screening when everyone's feeling better!
Keep up with The Amazing Spider-Man on the World Wide "Web" by becoming a fan on Facebook and Twitter, and don't miss the DVD release on November 9th!