Did you know that July is "National Hot Dog Month"? Both hot dogs and mustard were introduced to the world during the 1904 St. Louis World's Fair, so these two things have gone hand-in-hand right from the start! Because of this, French's Mustard wanted to share some fun trivia with you in honor of the upcoming Hot Dog Month as well as share their favorite hot dog recipes. They sent me some coupons as a thank-you for this post, so I'll be able to pick up some more mustard of my own for summer soirée!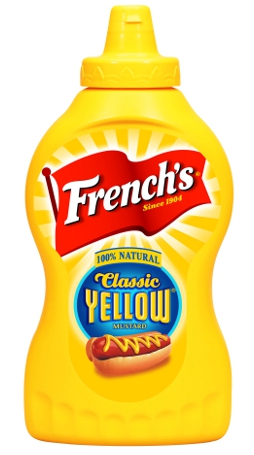 Fun Facts about Hot Dogs and Mustard*:
2.3 billion hot dogs are consumed during National Hot Dog Month which occurs in July
During hot dog season, from Memorial Day to Labor Day, 7 billion hot dogs are consumed which translates to 818 hot dogs every second during that time period
Mustard is the number one hot-dog topping in America
On July 4th, Americans will enjoy 155 million hot dogs—enough to stretch from D.C. to L.A. over five times
Every year, Americans eat an average of 60 hot dogs each
Classic Yellow mustard is 100% natural with zero calories, making it one of the healthiest condiment
Important Dates:
1839- Baseball invented by Abner Doubleday
1903 – The inaugural World Series between the National League (formed in 1876) and American League (formed in 1900) champs.
1904- French's® Cream Salad (yellow) Mustard introduced at the St. Louis World's Fair.
1915- French's® Pennant became the brand's official logo.
1926- Reckitt and Coleman purchased RT French Company.
2000- Reckitt and Coleman changed its name to Reckitt Benckiser, the current parent company of French's® Mustard.
2004- French's® Celebrates 100th Anniversary of Classic Yellow Mustard
2010- Today French's® Mustard offers Spicy Brown, Honey, Honey Dijon, and Horseradish flavors in addition to its Classic Yellow Mustard and new Honey Mustard Dipping Sauce.
* Courtesy of the National Hot Dog and Sausage Council
Recipes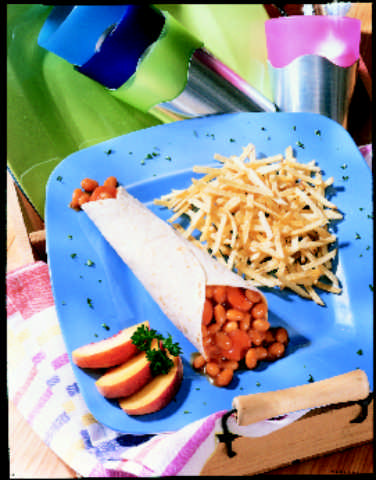 HOT DOG BURRITOS
A quick, easy meal for back-to-school days. To serve for lunch, spoon bean mixture into Thermos®-style containers. Great for serving at picnics, too!
Prep Time: 5 min. Cook Time: 5 min.
1 (16 oz.) can baked beans
8 frankfurters, sliced
1/3 cup ketchup
2 tbsp. FRENCH'S® Classic Yellow® Mustard
2 tbsp. brown sugar
8 (8 inch) flour tortillas, heated
1. COMBINE beans, sliced frankfurters, ketchup, mustard and sugar in medium saucepan. Simmer about 5 min. to heat through.
2. SPOON mixture into tortillas, dividing evenly. Roll up jelly-roll style.
Makes 8 servings
Tip: Try topping dogs with FRENCH'S® French Fried Onions before rolling up!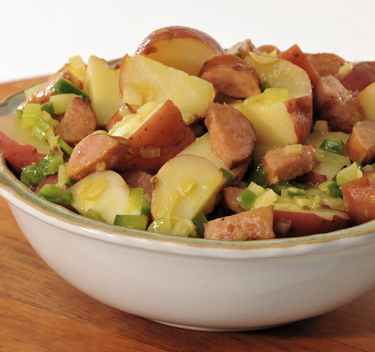 GERMAN POTATO SALAD WITH GRILLED SAUSAGE
Grill sausage at your next barbecue and add to potato salad just before serving. Ideal for tailgating parties.
Prep Time: 15 min. Cook Time: 15 min.
2/3 cup prepared vinaigrette salad dressing
1/3 cup FRENCH'S® Spicy Brown Mustard or FRENCH'S® Horseradish Mustard
1 tbsp. sugar
1 ½ lbs. red or boiling-type potatoes, cut into 3/4-inch cubes
1 cup chopped green bell pepper
1 cup chopped celery
½ cup chopped onion
½ lb. kielbasa or smoked sausage, split lengthwise
1. MIX salad dressing, mustard and sugar in large bowl; set aside.
2. COOK potatoes in boiling salted water to cover for 10 to 15 min. until potatoes are tender. Drain and transfer to bowl. Add bell pepper, celery and onion; set aside.
3. Grill sausage over medium-high heat until lightly browned and heated through. Cut into small cubes. Add to bowl with potatoes. Toss well to coat evenly. Serve warm.
Makes 6 to 8 servings