We're 15 weeks into Nutrisystem and feeling great!
Beeb's Weigh-In: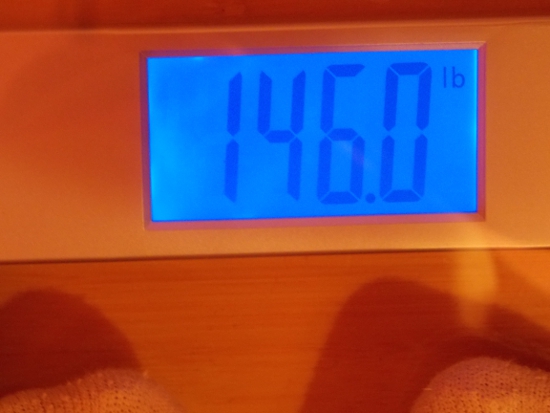 Starting Weight: 164.5 lbs
Week 15 weight: 146 lbs
Total Weight Lost: 18.5 lbs
Goal Weight: 110 lbs
My measurements this week were 10.25″ on my upper arms, 39″ on the chest, 31.5″ on the waist, 39″ on the hips, and 20″ on the thighs. That's 1″ down on the hips and 1″ up on the thighs, with the rest of the measurements remaining the same as last week.
Jai's Weigh-In: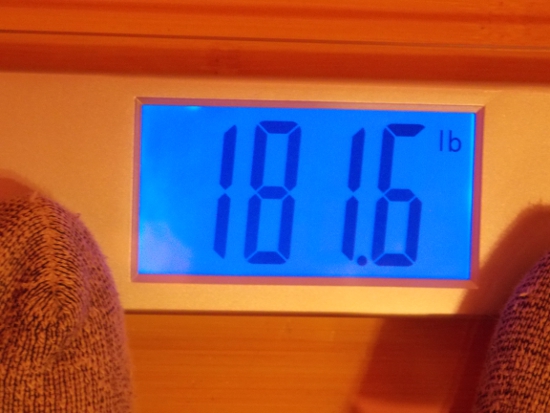 Starting Weight: 217.5 lbs
Week 15 Weight: 181.6 lbs
Total Weight Lost: 35.9 lbs
Goal Weight: 158 lbs
Jai's measurements this week were 13.5″ on the arms, 39.4″ on the chest, 38.5″ on the waist, 38″ on the hips, and 22.5″ on the thighs. That's .5″ up on the arms, .6″ down on the chest, and .5″ down on the waist, with the hips and thighs remaining the same as last week.
So I lost 1.2 pounds this week and Jai lost 1.6 pounds. I'm happy not only because this was a good weight loss week, but also because I was concerned that my weight loss was going to be very minimal. Last week was absolutely insane, so everything was thrown off for us from dealing with emergency after emergency. On Wednesday, the whole site went down due to our traffic/CPU usage slowing down our web host's server, resulting in them shutting us down temporarily; then on Friday, we had to deal with the malware issue from the IZEA Media Ad Network. We got very little sleep – Jai was up all night dealing with the malware crisis and I spent half the week getting up at 3 AM (No joke) trying to keep up with everything. And this is just a brief overview of the emergencies that came up during the week, to say nothing of the regular workload, side projects that came up, dealing with the DMV, and so forth! Plus, I'm in the midst of preparing for my Holiday Gift Guide, so my living room is currently full of shipments relating to that which I haven't gotten a chance to file away yet because of everything else, so it looks like Christmas exploded in my house!
With my schedule thrown so far off, I could definitely feel the effect on my diet. I still ate all my Nutrisystem entrees, but when breakfast time starts anywhere from 3 AM to 12 PM, you can imagine how "Off" I felt! Not that I slept till noon, mind you – but when the site blew on Wednesday I was so busy trying to fix it all morning that I didn't get a second to eat until the afternoon! I also drank very little water last week since I was guzzling coffee just to keep going, and I ate very few vegetables. I did eat "Off-plan" in two ways, although they were very minimal and conscious deviations: I had a handful of Grandma's popcorn (An approved extra) that was topped with some butter and salt (Not approved extras!) when we were on the run and starving, and I have also made a few cups of hot cocoa, using cocoa powder (15 calories a tablespoon) and low-calorie sweetener (5 calories a teaspoon). And of course I load my coffee with half & half, but I've been doing that all 15 weeks!

Really, the whole point of Nutrisystem is to just be smart with your choices, and I think I did a good job of surviving this week!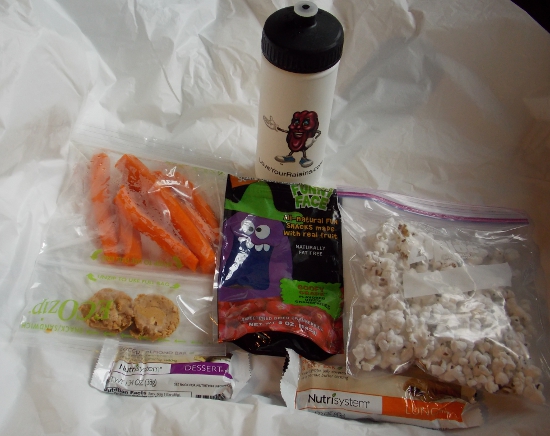 Another thing that kept Jai busy this week was helping his dad with some construction projects. I wanted to share this picture I took of the lunch I packed him, to give you an idea of what a brown bag lunch looks like on this plan. You'll see a Peanut Butter & Jelly lunch bar, as well as a Coconut Almond chocolate bar for dessert; a serving of dried cranberries which I served as a SmartCarb, carrot sticks and peanut butter (A PowerFuel, which Jai gets in the mid-morning and also with lunch), a bag with 3 cups of popcorn (An extra), and a bottle of ice water. I packed all of these items because they would be filling, yet easy to eat on the construction site.
So there you have it – if we'd had a week like this last year, I'd be typing from a pile of empty fast food wrappers

– but having Nutrisystem entrees in our cupboard helps us not only stay on track, but continue to make progress amidst chaos – I love it! Here's to a less stressful week 16!
As members of the Nutrisystem Nation Blogger Panel, Jai and I will be receiving the Nutrisystem program free of charge in order to share our honest opinions with you. Always consult with your physician before embarking on any weight loss or exercise program.

Want to lose weight and get healthy on Nutrisystem? Take advantage of their online support forums & community and join today by calling 1-888-853-4689 or by visiting Nutrisystem.com!