I have some milestones to report for week 18 on Nutrisystem!
Beeb's Weigh-In: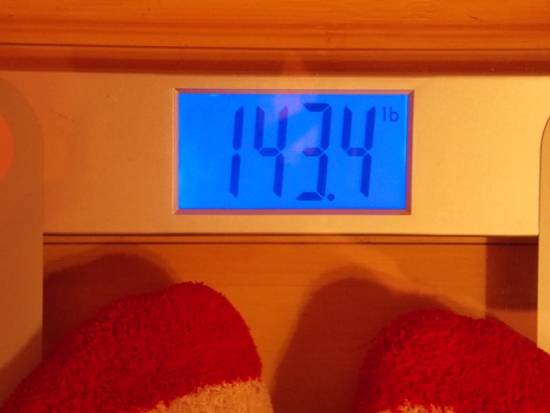 Starting Weight: 164.5 lbs
Week 18 weight: 143.4 lbs
Total Weight Lost: 21.1 lbs
Goal Weight: 110 lbs
My measurements for this week were 10″ on the arms, 38″ on the chest, 31.5″ on the waist, 39″ on the hips, and 18″ on the thighs. That's .5″ down on the arms, .5″ down on the waist, 1″ down on the hips, and .5″ down on the thighs, with the chest remaining the same since last week.
Jai's Weigh-In: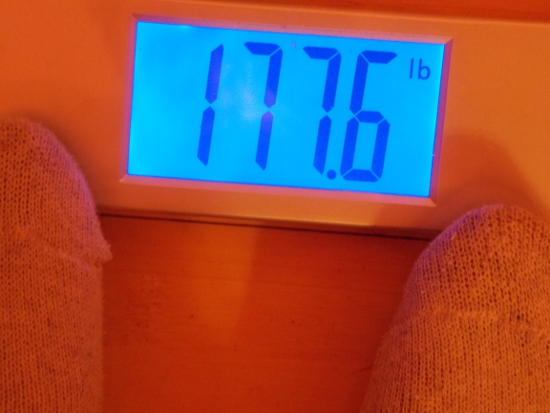 Starting Weight: 217.5 lbs
Week 18 Weight: 177.6 lbs
Total Weight Lost: 39.9 lbs
Goal Weight: 158 lbs
Jai's measurements for this week were 13″ on the arms, 39.5″ on the chest, 38″ on the waist, 37.5″ on the hips, and 22″ on the thighs. That's .5″ down on the chest, 1″ down on the waist, and 1.5″ up on the thighs, with the hips and arms the same as last week.
This week marks a big milestone for me! First, I have crossed the 20-pound milestone – WOO-HOO!!! I had a good weight loss week in general, losing 1.8 pounds. That's 21.1 pounds lost in 4 months and 2 weeks. In addition to the 20-pound mark, I also hit another milestone: Both my weight and BMI are now considered to be in a normal, healthy weight range. According to this calculator at the Centers for Disease Control and Prevention, a healthy weight for someone of my height would be anywhere from 108 to 145 pounds. Obviously, a doctor would need to be the one to truly assess an individual's health and weight, so it's just a rough guide, but the last two doctors I saw this month didn't mention any concerns about my weight either.
Now, there's a difference between a healthy weight range and what is optimal for me, personally. Because I have a small frame, I still look and feel heavy in the 140s; when I get into the 130s, I start to look more average, and when I'm in the 120s and under I start to look toned. So I still have a long way to go before I meet my own personal goal – but it's a nice feeling to know that I've already made such a huge improvement to my health!
I feel really good about how much progress I've made in a relatively short period of time, especially given how much worse my knee condition was when I started. Losing over 20 pounds is pretty significant, especially in the face of mobility issues. And I'm also happy to say that this month, my knee condition is the best it has been for years! I've been able to try all kinds of new exercise, including riding an exercise bicycle. I feel pretty unstoppable now and I think I should start seeing my muscle tone coming back now that I can do more, which will make a big difference in how I look and feel. It's only been a little over four months, but the difference is seriously night and day!
Jai also did really well this week, and is thisclose to passing the 40-pound mark. Wow! He says this is the first time he has been this weight since his brown belt test in martial arts, which was in 1996. His success has not only impressed me, but a lot of other people too. Jai wanted to share this anecdote from earlier in the week, which illustrates what a difference four months can make:
Jai says: "People I know around town are really starting to notice my weight loss. I stopped at the bank last week and the teller asked, in a very low and sheepish voice, if I had lost a lot of weight lately. I smiled and told her that I had indeed. She then asked if was intentional or due to a medical condition. I laughed and told her that yes, I've been on Nutrisystem for the past 4 months and that my health was actually better than it had been in quite a while. She looked relieved and laughed too. To me, the whole process has been pretty smooth and gradual but I imagine that if someone saw you after 3-4 months and you had lost almost 40 lbs, it could be startling."
In terms of our diet this week, we stayed on plan for the most part, although I did receive a giant box of chips in the mail related to work! They were healthier chips made out of lentils, so Jai and I decided to have some as our SmartCarb and then took the rest of the box over to Grandma's so we wouldn't be tempted. I'm going to be serving them at a party we're having this weekend, so she's basically keeping them as "Contraband" for us so we don't go off our diet and eat them all before the party!

Sounds silly, but even "Pre-Nutrisystem" I would sometimes tell Jai to hide snacks from me. I know it's my weakness so I try to plan around it rather than kid myself, you know what I mean?
The other "Off-plan" thing which we do each week is coffee and tea. I do add half and half to my coffee, and whole milk and sugar in my tea. No, this is not on the plan at all, but I am mindful about adding moderate amounts. The thing is, I can't survive without my coffee and I'm too British to drink my tea without milk and sugar.

I've been doing this for the duration of the program and try to be thoughtful about how I balance it out with my food and exercise. I'm not advising anyone else to copy me, but rather just being honest about my approach!
The weather in Seaside has definitely turned cold, which has posed a few interesting challenges. The first thing I was struggling with was getting in my protein shakes in the morning, as well as my water. You know that feeling when you're already cold and you get an icy drink going down your chest? I was just too chilled to do it! Serendipitously, my contact at Nutrisystem sent out a tip to all of us NS Nation bloggers for dealing with shakes during cold weather, almost as if she had read my mind! Her tip was to replace the water with hot skim milk and turn it into a hot drink. Genius or what?! What I've been doing is heating up 8 ounces of lowfat soymilk in the microwave for 1 minute, then stirring in the protein powder and drinking in the mid-morning as both my shake and PowerFuel. It's so yummy, like hot chocolate! I also tried adding it to my coffee, which wasn't bad either.
As for the water, I tried to replace it with plain, decaf green tea, with more mixed results. It would have worked perfectly, except I realized that it was just too difficult for me to drink enough hot beverages to match my recommended water intake. I really hate lukewarm water – usually I drink my water bottle very cold with lots of ice – so I mulled over what to do, and came up with a compromise. Yesterday, I put my water bottle in the fridge to cool off but did not add ice. Then when I pull it out, it's a little cold at first, but as it sits on my desk during my workday it takes the edge off the cold and becomes much easier to drink. I'm OK with water that gradually reaches more of a room temperature, I just can't handle lukewarm water – ha!
The other challenge with autumn is that we have to re-think our workouts. We were fine with taking walks in the cold, but over the last few days we've gotten our usual October rain and wind storms which make it pretty difficult to walk in. However, since my knees are doing better and I'm eager to continue challenging them (In a healthy way!), Jai and I have decided that we're going to try doing exercise videos together. Working out at home is challenging when your office is also at home. simply because of the non-stop interruptions (Phone ringing, people knocking at the door, panicky email alerts!), which is why I think it will be helpful for us to team up and do it together. If this ends up not working for us, we will brainstorm another way to keep active and challenged indoors. I'll keep you posted on how it goes next week!
As members of the Nutrisystem Nation Blogger Panel, Jai and I will be receiving the Nutrisystem program free of charge in order to share our honest opinions with you. Always consult with your physician before embarking on any weight loss or exercise program.

Want to lose weight and get healthy on Nutrisystem? Take advantage of their online support forums & community and join today by calling 1-888-853-4689 or by visiting Nutrisystem.com!