Welcome to our post-Halloween Nutrisystem workout!
Beeb's Weigh-In: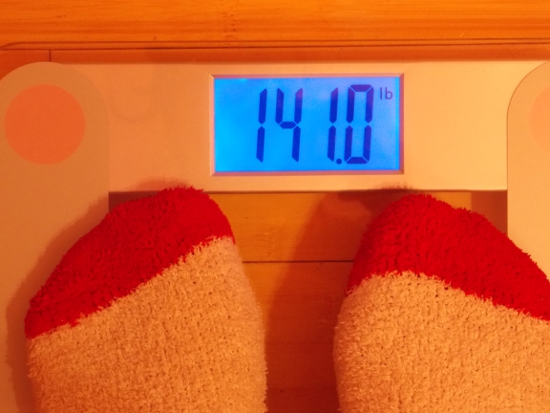 Starting Weight: 164.5 lbs
Week 21 weight: 141.0 lbs
Total Weight Lost: 23.5 lbs
Goal Weight: 110 lbs
This week my measurements were 10.5″ on the arms, 38.1″ on the chest, 32.5″ on the waist, 39″ on the hips, and 18.5″ on the thighs. That's .5″ up on the arms, .6″ up on the waist, .1″ down on the hips, and .3″ up on the thighs, with the chest remaining the same as last week. I totally spaced on taking my measurements on Saturday so these are actually my measurements for today. Whoops!
Jai's Weigh-In: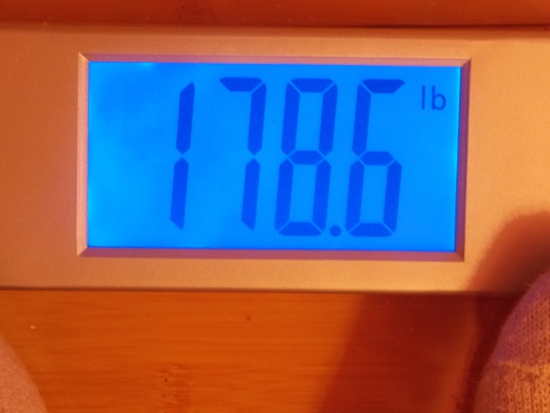 Starting Weight: 217.5 lbs
Week 21 Weight: 178.6 lbs
Total Weight Lost: 38.9 lbs
Goal Weight: 158 lbs
This week, Jai's measurements were 13.3″ on the arms, 39.2″ on the chest, 38.1″ on the waist, 37.1″ on the hips, and 22.8″ on the thighs. That's .1″ down on the chest, .5″ down on the waist, .2″ down on the hips, and .4″ up on the thighs, with the arms remaining the same as last week.
This week, I lost .4 lbs and Jai gained .4 lbs. I guess I gave my .4 lbs to him?

Jai is still recovering from his sickness/weight setback last week, and this week's pizza party didn't help (More on that below). Fortunately, he's all better now and we are both ready to resume working out – which neither one of us has been able to do for about 1 1/2 weeks because of this awful cold! And the fact that Jai's measurements were pretty good this week point towards his overall trend of progress, which is nice.
Oh my gosh, this was the CRAZIEST week. So right after our previous weigh-in on October 27th, we headed off to Portland to go scuba diving! It's thrilling to me that I can even consider doing such an activity – I look back to week 2 on Nutrisystem in June, and at that point I was still doing my outpatient physiotherapy program and limited in my day-to-day mobility. Now here I am in November, talking about scuba diving! I still have a little ways to go with my knee flexibility, but in terms of daily life and being able to do active things, I'm a whole new person. The scuba diving posed a whole new set of challenges – I even kneeled down for the first time in ages. If that's not progress, I don't know what is! To see pictures of me scuba diving and read more about the whole experience, click here.
Right after we finished scuba diving, we headed to Walmart so that I could pick up supplies for a party I was throwing. This was the height of my cold, so I was pretty much sneezing non-stop all the way through Walmart – with that and my bedraggled scuba diving hair, I'm sure I'll be on "People of Walmart" any day now. Ugh! We were there for about 3 hours – I had a lot of stuff to pick up and I had to stop every 2 seconds to grab a Kleenex! – so it was a long day before we pulled back into our driveway in Seaside. No sooner had I gotten home and put my feet up when a tsunami warning was issued briefly due to the 7.7 earthquake in Canada. So, we got back in the car and headed up to Grandma's house, which is out of the tsunami zone, for about half an hour just to make sure everything was all clear. We finally got to bed maybe around 11:30 and I was exhausted!
Sunday through Tuesday were a blur of work. As I'm sure you've noticed, it's Gift Guide season around these parts, AKA my busiest work season! Because of this cold, I had to take a day off the previous week because I was feeling so sick, which meant I was behind schedule and had to work twice as hard to get everything completed. Then on Wednesday, I was hosting my big Spider-Man Halloween party! Anyone who has been to one of my parties knows how much I throw myself into them, so I had only gotten a few hours of sleep, getting up a 5 AM to make sure everything would be perfect!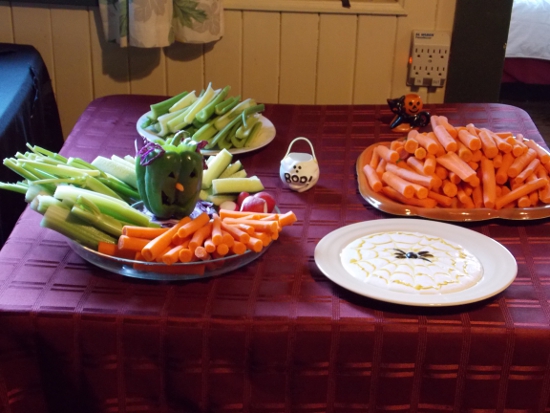 The project I was working on involved Marketside Pizza, so I knew there would be some "Off-program" eating going on; but I tried to stick with the Nutrisystem principles of moderation and sensibility. For the appetizers, I chose items which fit into the plan: Deviled eggs (A slightly-more-fattening version of hardboiled eggs, a PowerFuel), and a giant veggie platter featuring carrots, celery, radishes, cucumbers, jalapeño pepper, and cabbage. For the dip, I opted for low-fat Ranch dressing, and most of the soda that I bought was also zero-calorie options. My thinking here was to aim for healthy leftovers that would help out diet after the party, instead of having a pound of cake or what have you. Instead of making cookies or other sweets, I opted to buy a bag of candy that could serve triple-duty as both the dessert, item for trick-or-treaters, and party favors. I usually bake a TON of cupcakes, cookies, and other goodies and end up with a load of leftovers, so opting for the candy definitely reduced the sweet overload post-party. I also had some non-candy goodies to hand out, such as gum and plastic bat rings.
Of course, we did indulge in pizza, breadsticks, and candy during the party; but do you know what I did as the party drew to a close? I gave all the food away! You see, we still had several boxes of unopened, uncooked pizza and breadsticks left – there was a TON of food! – so I sent my guests home with entire boxes of pizza, plus lots of candy and the bottles of full-calorie soda. (Except for the root beer – that's Jai's favorite so I saved it as a treat for him

) You guys would have been so proud of me if you could have seen my cousin walking out the door with a gigantic pizza, two boxes of breadsticks, several fistfuls of candy and 3 bottles of soda! He said it was the best trick-or-treating ever.

I also packaged up most of the leftover cooked slices of pizza and gave them away. It was really cool, because it was win-win: We stayed on track with our plan, and our family and friends got some free food that they all put to good use!
I got to bed around midnight after the party, and got up again at 6 AM for my next big project: The Holiday Gift Guide! Yes, my Gift Guide was launching the very next morning. This also marked me hosting my first-ever Twitter party, so it was a nutty, intense day! Everything went swimmingly and the Twitter party was a big success, but it was definitely a long day and a lot of work. And we were already sooo burned out from the prior week!
Despite scouring the kitchen after the partyand packaging up all the "Non-plan" food we could find to send off with our guests, we did still end up with some "Contraband" leftovers. Anyone who's ever thrown a party will know how this stuff seems to multiple when you're not looking!

We ended up with several slices of pizza (I saved one or two pieces of the stuff I hadn't gotten to taste, which ended up being more than I realized), candy, and half a pumpkin pie that Grandma brought. My diet kryptonite is long work days with no breaks + exhaustion + kitchen full of food, so I would be lying if I said I didn't crawl to the fridge after the Twitter party and eat some of Grandma's pumpkin pie! (Which, incidentally? Best pumpkin pie I've ever had!)
Friday was spent basically just trying to get my head together and catch up on everything that needed attending to. Things have continued to be nuts so it hasn't been the greatest week for having a stable schedule or being able to work out, which is why I turned on my email autoresponder today to let people know that I am effectively "Out of the Office" for answering emails. I need a chance to attend to my current projects without having to manage so much daily correspondence and last-minute, new projects; So this week, I'll be scheduling articles in advance so that I can take a day off this weekend. I am beyond fried and I need to make sure that I have enough time to reclaim my evenings and have time to work out. Can I get a high-five for being so proactive to keep control of my schedule despite obstacles?
As members of the Nutrisystem Nation Blogger Panel, Jai and I will be receiving the Nutrisystem program free of charge in order to share our honest opinions with you. Always consult with your physician before embarking on any weight loss or exercise program.

Want to lose weight and get healthy on Nutrisystem? Take advantage of their online support forums & community and join today by calling 1-888-853-4689 or by visiting Nutrisystem.com!