It's our second Nutrisystem weigh-in for December:
Beeb's Weigh-In: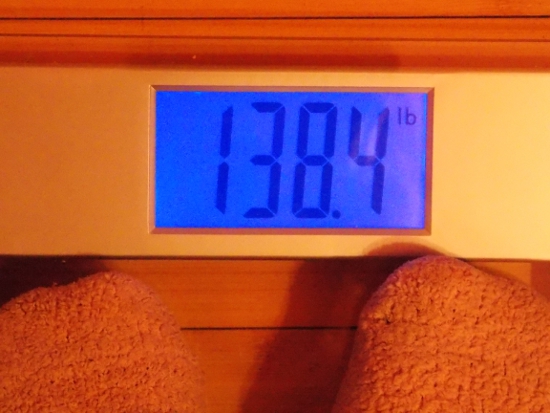 Starting Weight: 164.5 lbs
Week 26 weight: 138.4 lbs
Total Weight Lost: 26.1 lbs
Goal Weight: 110 lbs
Beeb's Measurements – Taken 12/10/12:

Jai's Weigh-In: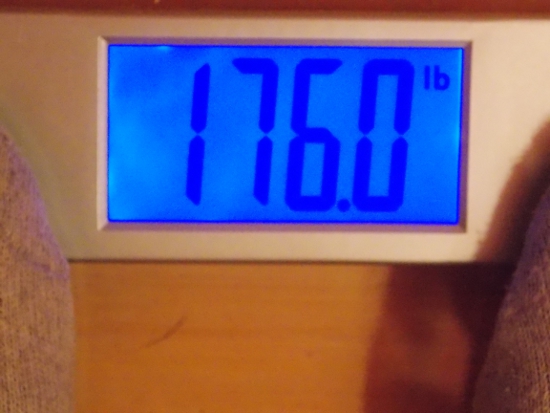 Starting Weight: 217.5 lbs
Week 26 Weight: 176 lbs
Total Weight Lost: 41.5 lbs
Goal Weight: 158 lbs
Jai's Measurements – Taken 12/10/12:

So this week I had a small gain of .2 lbs while Jai lost .8 lbs, putting him down to his lowest weight ever since starting Nutrisystem – woo-hoo, go Jai! We both did a good job taking care of ourselves this week. After a very stressful few months, I've made a point of putting a cap on my days and wrapping up my work no later than 5PM each day. This may sound odd to those who aren't self-employed – I know many people picture my day as sitting around eating bon-bons and watching "Real Housewives"

– but when you have your own business, especially a home office, it has the tendency to take over your life. It's difficult to set boundaries when there's never an end to work that could be done, and since I'm the boss, I can't just clock out and let someone else take over my shift. So, it becomes tempting to work nonstop, and ironically, that also erodes your productivity while simultaneously hurting your health. I think the only way I can get it under control is to set hard limits and not work past those unless it is a truly exceptional circumstance. I've also made a point to take weekends off, and both those things have made a world of difference in my stress levels and well-being. Not just because my brain has time to recover, but because I also have time to take care of other errands and reduce that stress. (Nothing like wrapping up a 14-hour shift and seeing a sink full of dishes to demoralize a person!)
The other important part of this is making sure I have time to exercise as well. That went out of the window for most of last month and I knew that had to stop. Since my knees have been feeling better, I was actually able to do some weight training/mildly aerobic workouts this week, which is HUGE! I found a really cool YouTube channel called Lionsgate BeFit, which is where they share segments from the workout DVDs they sell. These aren't just brief clips – they have some Jillian Michaels workouts that run close to an hour, and the videos are all high-quality. Since I have the MovieNite player that allows me to watch YouTube videos on my TV, I can do my workouts in the living room and the picture is crystal clear. (This YouTube channel isn't a sponsor or anything – I just stumbled onto it while looking for knee-friendly workouts and thought it was really useful.) Now, most of these videos utilize exercises that would be too hard on my knees that this point – I'm not about to kneel down, put all my weight on my knees, and kick my leg out juuuust yet!

– so I've just been modifying them to what I'm capable of or doing other stretches while they do the higher-impact parts. A system that works good for me is to do some stretching on my own first, incorporating some physio stretches; then I'll watch a yoga video followed by an arm workout video. I have a set of weights, so I can get a nice upper-body workout in while also getting my body used to moving around this way again. I'm taking it easy so that I don't overdo it – as you'll recall, this whole knee injury came from hurting myself by working out vigorously! – and especially so since I got such little exercise in last month. The videos I watch are around ten minutes, so between that and my stretching I've been getting in about 25-30 minutes every night after work. I will scale this up appropriately so that I can be challenged without dislocating my knees again! Jai has been doing these workouts with me, and also did some jogging last week.
I also made an effort last week to get better sleep, and since I've been doing very poorly at eating my SmartCarbs and PowerFuels, we made a trip to the store on Friday to get a gallon of nonfat milk and some bananas. My stomach has been tied in knots from all the stress recently, so all of these manageable steps I've taken will help me recover from the chaos and keep my weight loss going in the direction I want it to. I've been eating at erratic times from all the discombobulation and have even skipped dinners at times, so I'm getting myself back to normality and reminding myself to drink my shakes and eat my fruit will help a lot.
We did have an off-program this last week, when we assembled a festive holiday cookie house on our day off. The cookie house lasted long enough for me to take a photo before we ate it!

I also had a few cocktails, and I put garlic salt onto my plain popcorn. And I drink my coffee and tea with milk/sugar, but I've been doing that the entire time we've been on this program.
So, that's been our week! How is the holiday season treating you? Also, if anyone has recommendations for workout DVDs that are easy on the knees, I'd love to hear them!
As members of the Nutrisystem Nation Blogger Panel, Jai and I will be receiving the Nutrisystem program free of charge in order to share our honest opinions with you. Always consult with your physician before embarking on any weight loss or exercise program.

Want to lose weight and get healthy on Nutrisystem? Take advantage of their online support forums & community and join today by calling 1-888-853-4689 or by visiting Nutrisystem.com!