It's time for our post-Christmas Nutrisystem weigh-in!
Beeb's Weigh-In: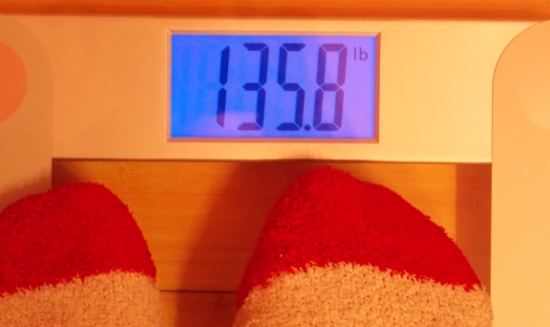 Starting Weight: 164.5 lbs
Week 29 weight: 135.8 lbs
Total Weight Lost: 28.7 lbs
Goal Weight: 110 lbs
Beeb's Measurements:

Jai's Weigh-In: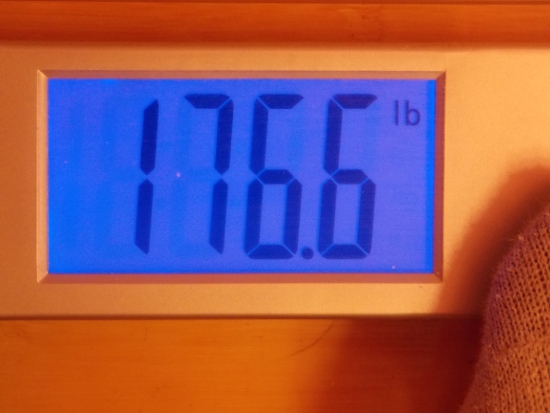 Starting Weight: 217.5 lbs
Week 29 Weight: 176.6 lbs
Total Weight Lost: 40.9 lbs
Goal Weight: 158 lbs
Jai's Measurements:

As we expected, both Jai and I had some "Post-Christmas bloat" this week! I had a gain of .6 pounds and Jai had a gain of 2.4 pounds from last week. This was our weigh-in directly following Christmas, so we had anticipated some bloating after enjoying Grandma's Christmas day feast.

We've come to a good system after 7 months on Nutrisystem that I think is a happy medium – we follow the program except for special occasions such as a birthday, Thanksgiving or New Year's, in which case we allow ourselves to enjoy party food and the like. Everyone is different, but for us, the problem has always been our day-to-day routine; if that's in place, we can have treats without it being a problem. For me personally, I feel like this is the only way for me to lose weight in the long term – the great thing about Nutrisystem is that I'm not living inside a vacuum. If I went to a retreat for a few months and followed a super restrictive diet, I would lose the weight, but I wouldn't address any of the problems that caused me to gain weight in the first place. Trust me, my weight has yo-yoed for years!
With Nutrisystem, both Jai and I have been able to establish a reliable daily routine, and learn how to adapt our habits and approach. I know that there will be many more food-filled family gatherings in the future whether I'm dieting or not, so laying the foundation for managing that in a reasonable way is important – rather than swearing off party food and gorging after the diet is over. But remember, this is just me – everyone has a different situation and different triggers, so if you find that taking a "Day off" your diet for a special occasion causes a downward spiral with the rest of your diet, then of course your approach will need to be different. I think the key is also establishing what a special occasion really is – Christmas is one thing, but if you find yourself eating a lot because it's your cousin's cat's birthday or because it's Tuesday, then you might have set a slippery slope up for yourself. For us, our "Off-program" days have pretty much been birthdays and national holidays, with us each resuming our normal routine at our next meal.
So our transgressions last week were mainly eating a lot on Christmas day and then taking home some select leftovers for Boxing Day dining. As I mentioned in our last video, this was the first time on the program that I decided to not meter what I ate at all on Christmas and just enjoy whatever I felt like. The interesting thing I realized was that I honestly did not feel any more satisfied – the first plate of food was still the most enjoyable. I think it's awesome to be able to have these experiences and internalize new experiences with food in the "Real world". I actually enjoy food a lot more now that I'm on Nutrisystem because I don't feel like my tastebuds are so overloaded with sugar and salt from takeout food. I can really taste and appreciate everything now, and as you can see, I have no reason to feel deprived because I still get to go out and have fun. And you know what's awesome? Coming home after an all-nighter on New Year's Eve/Day, and be able to reach for a Nutrisystem breakfast and get back on your normal routine right away, rather than crawling through a drive-thru and feeling even worse afterwards! (For any of my fellow dieters who may still be hungover, might I recommend the Mac & Cheese With Beef as a good dinner option tonight!

) Jai and I expect to have one more bloated weigh-in this week from the New Year's party we attended, but we're not stressed out about it. This is real life and the habits we have developed will last a lifetime – like I said in my post yesterday, expecting myself to be superwoman all these years is what set me up for failure over and over again. 2012 has been about learning what is actually realistic – and with 69 pounds lost between us, Jai and I have both been able to implement a feasible routine that we can keep up in the real world. Happy New Year, everyone! We are so excited for what 2013 will bring, both in our diet and in the rest of our lives!
As members of the Nutrisystem Nation Blogger Panel, Jai and I will be receiving the Nutrisystem program free of charge in order to share our honest opinions with you. Always consult with your physician before embarking on any weight loss or exercise program.

Want to lose weight and get healthy on Nutrisystem? Take advantage of their online support forums & community and join today by calling 1-888-853-4689 or by visiting Nutrisystem.com!