Jai and I had another successful week on Nutrisystem! Jai has already crossed the 10 pound milestone with his weight loss!
Beeb's Weigh-In: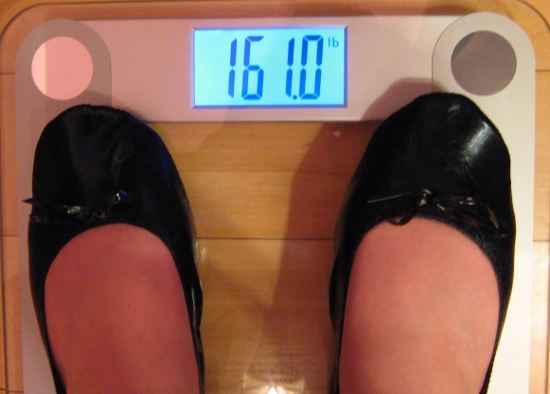 Starting Weight: 164.5 lbs
Week 3 Weight: 161 lbs
Total weight lost: 3.5 lbs
Jai's Weigh-In: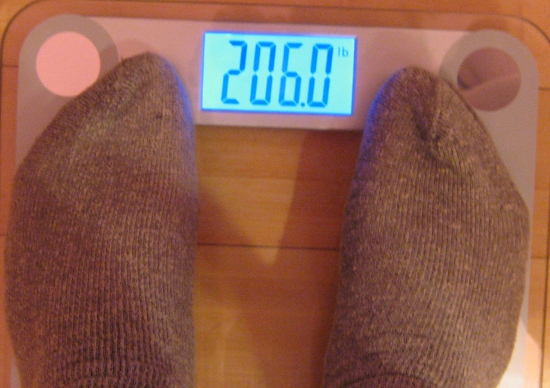 Starting Weight: 217.5 lbs
Week 3 Weight: 206 lbs
Total weight lost: 11.5 lbs
Jai lost a total of 2.6 pounds over the course of last week, and I lost a total of 1.2 pounds. I'm so glad that we have our new, more accurate scale!
It's only been 3 weeks, but we've already noticed some changes that I think are pretty significant. Jai says this is the first time he's been under 207 pounds since around 2008, and with this milestone I have noticed that he has stopped snoring completely. For several years, he's snored so loudly that you can literally hear it all the way across the house. This last week? Complete silence. I'd say that's a big change! It's so awesome to see the health payoffs so early in the program.
In terms of our food consumption last week, it was pretty uneventful. We've gotten into a good routine with the mealtimes and both of us can tell that our appetites are scaling down already. I think that's something which is really important to remember when you first start adjusting portion sizes – there's always a transition period, but it's not like you spend the rest of your life bemoaning that you don't get to eat big meals anymore. It's just that what feels like a big meal changes as you lose weight. For example, when I was at my thinnest (Around 110 pounds), I would happily stuff my face during dinners out; the difference is that I feel stuffed much sooner at 110 pounds than I do at 160+ pounds. The other difference is that when I was at my lowest weight, I ate out as a treat – not as a daily occurrence. So I'd just like to encourage anyone just starting a diet plan that you don't have to feel depressed over cutting back on food sizes – you may feel out of sorts now, but your body adjusts to the "New normal" portions. So hang in there!
Jai and his dad have been working on building a driveway in our yard, so Jai's been digging rocks as part of his exercise! I've been making meals similar to what I outlined last week when we have company – for example, when Jai is outside working with his dad, I'll bring them both a hardboiled egg and ice water as their mid-morning snack. For lunch, I'll fix Jai a veggie-rich plate and use the PowerFuels to make a sandwich for his dad. For example, Jai might have a Nutrisystem granola bar as his entree served with tuna packed in celery and hummus with carrots; then I'll make an egg-and-tuna salad served on wheat bread for our non-Nutrisystem guest. Since there are many things listed as PowerFuels and SmartCarbs, it makes it easy to stock my pantry with staples that I can use to feed others without having to keep "Non-approved" food in the house or needlessly wasting leftovers that we can't eat.
I missed 3 days of my physiotherapy last week because I was ill and needed to rest, but it didn't seem to have too much of a negative effect on my weight loss. Really, the physio is so gentle that it doesn't burn that many calories, so it's primarily about just getting my knees fully functional again – the fact that it burns a few calories is great, but it's definitely not a routine anyone would follow to burn fat. Sure, walking is great exercise, but I can only do it for 30 minutes at a time. But I'm OK with that because once my knees are "Normal" again, there's no stopping what I can do.
An aspect of the program that I've really been enjoying is the desserts. There's a big selection of treats to choose from, ranging from brownies to cheese puffs, and I get to have one every single night. That's a total change for me, because although I love snacks, I don't keep them in the house – I just buy them when I really crave one as a treat. Let's be honest, if I kept a stockpile of Hershey's bars in the house, what do you think would happen? I would eat them all in a day.

But that's the cool thing with Nutrisystem – because you're following a set plan, you're building the habit of leaving food untouched and just eating a certain serving each day. We've developing some invaluable routines through this program, and I get to have delicious cake every night. What's not to love?
As members of the Nutrisystem Nation Blogger Panel, Jai and I will be receiving the Nutrisystem program free of charge in order to share our honest opinions with you. Always consult with your physician before embarking on any weight loss or exercise program.

Want to lose weight and get healthy on Nutrisystem? Join today by calling 1-888-853-4689 or by visiting Nutrisystem.com!