It's our 37th week on Nutrisystem!
Beeb's Weigh-In: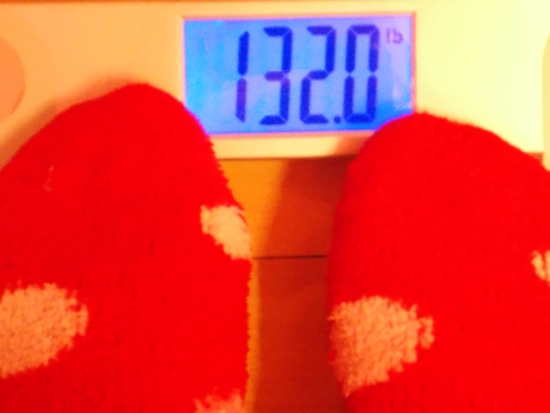 Starting Weight: 164.5 lbs
Week 37 weight: 132 lbs
Total Weight Lost: 32.5 lbs
Goal Weight: 110 lbs
Beeb's Measurements:

Jai's Weigh-In: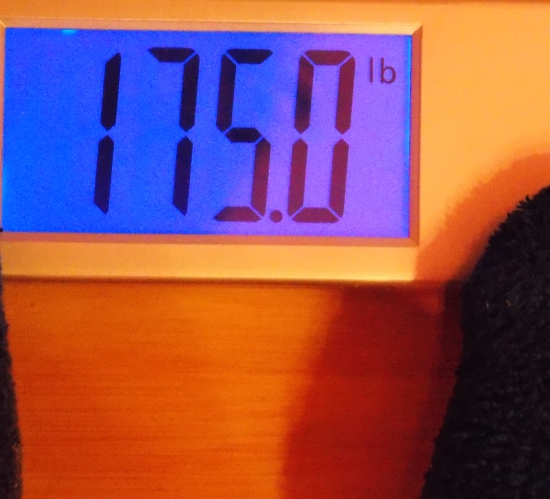 Starting Weight: 217.5 lbs
Week 37 Weight: 175 lbs
Total Weight Lost: 42.5 lbs
Goal Weight: 158 lbs
Jai's Measurements:

This was a "Blah" week for both of us – I had a 1-pound gain and Jai had a 1.4 pound gain. I find that the closer we get to our goal weights, the easier it is to plateau – which of course, is something every dieter encounters! And to be fair, weight can easily fluctuate by a pound in either direction; since we are logging our weight so regularly, those variations become more noticeable. We try not to get too bummed with weigh-ins like this and just use it as a way to course-correct as we go. I think that's the real beauty of this particular program: If I were dieting in a very controlled environment with none of my real-life triggers around, what would happen once I stopped? Nutrisystem has given me the chance to establish new habits that are still realistic, and learn so much about dealing with pitfalls.
The most important thing for me is accepting that it's OK not to be perfect with everything – I'm the type who will decide to lose weight by staying up until 1 AM after work cooking handmade healthy freezer meals, hand-selected with items that I clipped coupons and bargain shopped for, then get up at 6 AM to hit the gym…keeping this up for a few weeks before I completely burn out and bury my face in a fast food bag and pass out! One of the important things I've realized is that I have to be able to adapt as circumstances change, which means that sometimes I will be able to cook inexpensive homemade meals, and sometimes I might grab a bag of pre-prepared salad instead. Being fiscally smart sometimes means using more coupons in one season and less in another, if you have the opportunity to put your energy into something else with a bigger return (Like a business, as I'm doing right now). But no matter how I get there, the most important things for me to keep up on are eating healthy meals at regular times and allowing myself enough downtime from work that I am able to sleep well and workout. So my homework for the next few months is keeping the "Big 3″ in place despite the demands that are always pulling me away, and I feel like I've done a good job of this the last couple of weeks. Whenever something throws me off (Hello, last-minute work projects!) I make a real effort to get back to my normal routine right away. These are all challenges I wouldn't be able to face if I were "Dieting in a vacuum" as I call it!
I had yet another insight this week that I found helpful. I held a birthday party last weekend for a good friend, where I made cake and served cocktails along with sandwiches. I consider these events to be "Eating out", since Jai and I have only eaten at a restaurant two times in the entire nine months we have been on Nutrisystem; instead, we have small events with family and friends maybe one or twice a month where I will make a cake, serve snacks, go over to Grandma's for dinner, and so on. First of all, eating out has a bigger effect on our weight now that we're close to our goal weights, since we could get away with eating out and still lose when we were at higher weights; so that's something helpful for us both to keep in mind moving forward. Second, eating out has a much bigger impact when it's piggy-backing off a hectic day – for example, if I'm busy running around making party food to stop and eat anything but cake batter all day, that's obviously not going to help me out much, and it has a more noticeable effect on my weight now than it did in the beginning when I had more weight to lose. Third, I've picked up some really good party habits to keep up after we hit our goal weights – I'm normally the kind of hostess who sends leftovers home with guests whether I'm dieting or not, but since we started Nutrisystem I've been on a mission to get all "Party food" out of the house after an event, to the point where I will go over to a friend's house who couldn't make the event and bring them the rest of the food from the party. I even did a drive-by drop off of cupcakes on a friend's porch at the beginning of the month!

I think this will be a good habit to keep up in the future, as I can look back and realize that anytime food is left over from an event, I immediately think "Oh good! Leftovers always save money!", when in fact it often just means I have 2 dozen cupcakes left that I eat for breakfast, lunch, and dinner. Someday, I aspire to be someone who can keep junk food in the house without eating too much of it, but for now I know it's a problem for me so why even keep it around?
I have another tip for those of you who are equally frugal and hate the thought of getting rid of food: After the birthday party, I had some leftover cake pop experiments that tasted good but looked like a crumbled mess. They were too mangled for me to take them to anyone, but I knew I would keep snacking on them since they were still yummy, and I hated to just throw them away. So I fed them to the ducks instead! They didn't go to waste, and they didn't derail my diet either!
So after the Sunday birthday party, we took any leftovers that weren't taken by the birthday boy (Or ducks) to Grandma. I did have a bit of Irish cream left over that we finished on Monday, and there seemed to be dribs and drabs of "Off-program" things that snuck in through the week. The biggest issue for both Jai and I seems to be getting hit by hunger waves at night, so we've been diligent to make sure our cupboards are stocked with PowerFuels, SmartCarbs and vegetables so that we're ensuring proper nutrition throughout the day. I stocked up on low-sodium V8 juice so that we could pump up our veggie intake, and I also made a big salad for Sunday's party that we ate all week long. It may seem silly, but I'm so wiped out at the end of the day that if I have a salad ready to go, it makes all the difference in ensuring that I will actually eat my vegetables. I also bought a bottle of a salad spritzer that I had tried years ago when I had a coupon for it. It's only one calorie per spray, so you can add a ton of flavor to the salad for much, much less calories than a typical low-fat salad dressing. Finally, I also bought a box of no-calorie sweetener to help curb temptation and increase the yumminess of oatmeal and plain yogurt, two things we've been eating as our SmartCarbs/PowerFuels. I wouldn't have a chance to develop these strategies if we weren't living through our normal life and doing normal things while losing weight, and the insights and habits I develop now are things that will make a difference for the rest of our lives.
On the fitness front, we've been continuing to workout at the gym and enjoy it. We went every weeknight except Friday, when Jai was feeling a big crunch from a work project and I was actually feeling under the weather. I was able to start increasing the amount of weights I lift slightly and challenge myself a little more – I went really easy the first few weeks since I was so far out of shape. When your muscles have been unused for years, you want to be really careful not to do too much at once and hurt yourself. I can do around 20 minutes on the treadmill no problem – I don't push it past that right at the moment since I don't want to blow my knees out, so I'm just taking it nice and slow and getting my body used to moving normally again. When I think back just to July, I was having some trouble just walking around the zoo and would have to stop and sit down on benches as we made our way around – what a difference I feel now and what a relief it is!
So, onwards and upwards to week 38! How was your week, readers?
As members of the Nutrisystem Nation Blogger Panel, Jai and I will be receiving the Nutrisystem program free of charge in order to share our honest opinions with you. Always consult with your physician before embarking on any weight loss or exercise program.

Want to lose weight and get healthy on Nutrisystem? Take advantage of their online support forums & community and join today by calling 1-888-853-4689 or by visiting Nutrisystem.com!