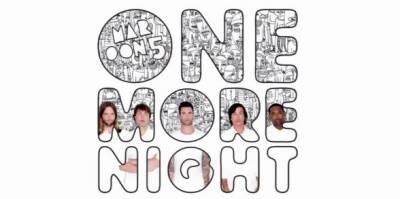 Maroon 5 just released the second single from Overexposed, "One More Night". I've been anxiously awaiting this song's release and I love love love it! Check out the lyric video below for your first listen of the song. The official video is coming soon, and Overexposed drops in just 5 days!
Here's the official news release that accompanied the video which includes more information on when the official video will premiere:
"Maroon 5 have just released a lyric video for "One More Night," the second single from the band's upcoming album, Overexposed. A behind-the-scenes clip is set to premiere this Friday on Vevo, with the official video premiering next Monday, June 25th on MTV. The new track is available now on iTunes.
"One More Night" is the follow-up to the band's record breaking hit, "Payphone," which is the subject of a Check-In & Win promotion involving actual payphones and great prizes. Head to the band's Facebook page to learn more, and visit their official website at www.Maroon5.com for all of the latest news. Overexposed is due out June 26th on A&M/Octone."