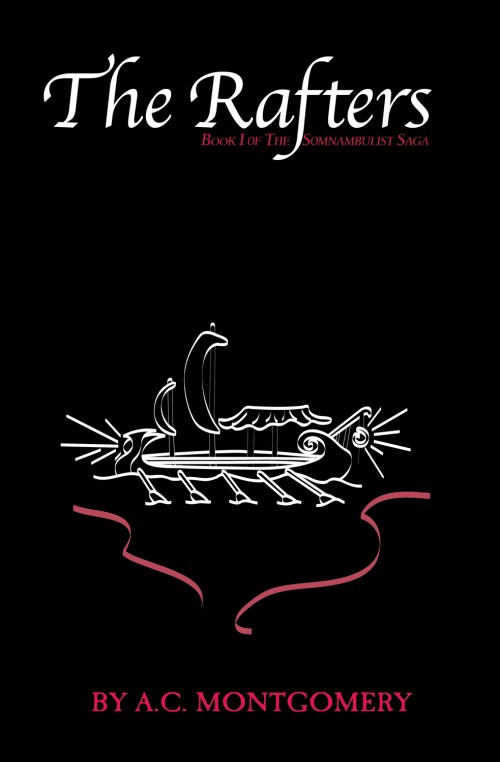 Could you survive in a world where you were unable to discern your dreams from your reality? This is the question posed in the fantasy novel The Rafters: Book I of The Somnambulist Saga from new author A.C. Montgomery. And one lucky Contest Corner reader will win a copy of this book, so read on!
About The Rafters:

Set in a richly imagined world that fuses elements of urban lifestyle, fantasy and science fiction, first-time novelist A.C. Montgomery crafts an imaginative adventure sure to keep you glued to this complex journey in the underworld. Unlike most sci-fi novels where the "good guys" are easily identified from the "bad guys," Montgomery explores the complexity of different sides of people – where not everybody walks the fine line of stark comparisons. Creatively written with a powerful cast of intriguing characters, The Rafters boasts an impressive storyline, with enough twists and curves to keep the reader focused on this adventure for the mind. Book One of the Somnambulist Saga takes place in another world where beings called Messengers and Callings exist. Callings of varying power and purpose are brought into being to reside among the Somns, who are the inhabitants. Every Calling must rely on a Messenger, who is an exclusive guardian and is the only person with the knowledge to bring him or her to the discovery of their own true identity.

The story revolves around a young man, Rhyus Delmar, a 22-year-old Somn, graced with powerful paranormal abilities, who is on a quest to understand and fulfill his mysterious and potentially world-changing destiny. Due to a memory loss, Rhyus is unaware of his destiny as a Calling. In his pursuit to discover his true identity, Rhyus finds himself moving further away from his own Messenger – the only person who has the knowledge to bring him to his true destiny.

ABOUT THE AUTHOR

A. C. Montgomery received an Associate of Occupational Studies degree in Graphic Design, Illustration, and Computer Graphics in May of 2009, while attending The Creative Center College of Graphic Design, located in Omaha, NE. She has also attended the University of Nebraska at Omaha. Her artistic capabilities, talent with words, & strong ability to connect with fans will assist in gaining IntraSomnium Publishing recognition, & its first novel, "The Rafters: Book I of the Somnambulist Saga," will be a book welcome on any fantasy-lover's shelf.
Montgomery has a very descriptive writing style, using flowery prose to paint an intricately detailed picture. At times, I found The Rafters to be a little hard to follow; there is an incredible amount of detail and a very involved plot. This novel is 529 pages long and only the first part in the Somnambulist Saga – I have a huge amount of respect for all of the work and effort the author has put into creating this series. Montgomery has taken great care to construct an entire world around her story, complete with maps in the beginning of the book which illustrate the different places and landmarks in the novel, à la Tolkien. It's clear that this new author is passionate about her craft, and her talent and dedication shows in The Rafters.
Giveaway Time!
One lucky Contest Corner reader will win a copy of The Rafters: Book I of The Somnambulist Saga by A.C. Montgomery! Here's how to enter:
1. For your first entry, click here to visit The Somnambulist Store, then come back here and leave a comment naming another book you would like to read or a fact that you learned! This step is required to qualify for the drawing.
Want extra entries? Do any of the following, and leave a separate comment for each one:
2. Write a post on your blog linking to this giveaway and The Somnambulist Store. Then come back here and leave me the link!
3. Write about this on Twitter, then come back and leave me the link to your tweet! One Twitter entry per person. You can use the button at the bottom of this post to tweet with one click!
4. Subscribe to my blog updates by clicking here. Then come back and leave me the email you subscribed with!
5. Become a follower of my blog by clicking the "Follow" button in my sidebar! Then come back here and let me know in a separate comment!
6. Post my button on your website – just copy and paste the following code, and let me know where you put it:
Rules, regulations, and other important stuff:

Giveaway ends on September 18th at 11:59 PM, PST. Winner will be chosen the following day via Random.org. Winner has 48 hours to respond to my notification email, or a new winner will be chosen in their place.
Giveaway is open to US residents.