Since you're probably sick of all my chili posts, I thought I'd pass on some of these fun recipes that Frank's RedHot Sauce shared with me when they sent over my box of samples. They look tasty and there's nary a chili in sight!


JUICY & ZESTY BURGERS
Prep Time: 5 mins Cook Time: 10 mins
¾ cup FRANK'S® REDHOT THICK™ Cayenne Pepper Sauce
1 lb. ground beef
4 hamburger or Kaiser rolls, split and toasted
1. MIX 1/4 cup THICK Sauce with ground beef; shape into 4 burgers.
2. GRILL or broil burgers about 10 min. until no longer pink in center.
3. SERVE burgers on toasted rolls, spreading with remaining THICK Sauce.
Makes, 4 servings
Variation: Add a slice of American cheese to each burger while grilling.

SWEET CHILI BBQ MEATBALLS
Prep Time: 5 min. Cook Time: 15 min.
¾ cup barbecue sauce
¾ cup FRANKS® REDHOT® Sweet Chili Sauce
36 (1 inch) frozen meatballs
1. COMBINE barbecue sauce and Sweet Chili Sauce in large skillet. Heat to a boil.
2. STIR in meatballs. Simmer, covered, about 10 min. until meatballs are heated through. Stir often.
3. SERVE meatballs with party picks.
Makes 12 servings
Tip: This recipe can easily be doubled and heated in a slow cooker for a party buffet.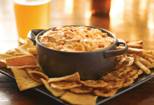 FRANK'S® SWEET CHILI CREAM CHEESE DIP
Super simple way to enjoy FRANK'S® RedHot® Sweet Chili Sauce
Prep Time: 0 mins Cook Time: 0 mins
1 cup FRANK'S® RedHot® Sweet Chili Sauce
8 ozs Cream Cheese
1 tbsp. Scallion, minced
2 cups Mixed cut raw vegetables (crudites) to dip
1. PUT Cream cheese in shallow soup bowl.
2. POUR FRANK'S® RedHot® Sweet Chili Sauce over. Sprinkle scallions on top.
3. ARRANGE crudites around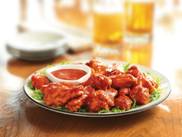 FRANK'S® REDHOT® BUFFALO CHICKEN WINGS
Prep Time: 10 min. Cook Time: 20 min.
2 ½ lbs. chicken wing pieces
¾ cup any flavor FRANK'S® REDHOT® Wing Sauce
1. BAKE wings in foil-lined pan at 500°F on lowest oven rack for 20 minutes until crispy, turning once.
2. TOSS wings in sauce to coat.
Makes 6 to 8 servings
Tip: You may substitute ½ cup FRANK'S® REDHOT® Sauce mixed with 1/3 cup melted butter for the Wings Sauce. Alternate Cooking Directions: Deep-fry at 375°F for 10 minutes.
Broil 6-inches from heat 15 to 20 minutes, turning once.
Grill over medium heat 20 to 25 minutes, turning often.