The holidays are the perfect time to treat the lady on your list to a luxurious gift. Many women will tell you that they can never have enough bags or shoes – so I'd like to introduce you to a company called Saint Francis Couture, who offer all sorts of items for the fashionista on your list!
Saint Francis Couture carry stylish shoes, bags, apparel, and accessories – and though most of their designs feature fun animal prints, this fur is strictly faux: Founder Tere Albanese started the company because she felt the world needed an upscale, cruelty free shoes and accessories boutique.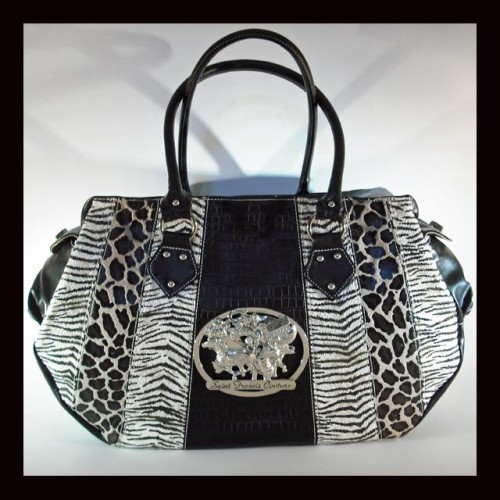 Africa Big Bag – $85.00

I received a complimentary Africa Big Bag to review, and at 19″ wide by 12″ tall and 6 1/2″ deep, the name is no joke: This is one large bag! Perfect for weekend trips and carry-on, I knew right away that this bag would come in handy. We often head over to Portland to stay with family for a day or two, and I'm not going to lug over a huge suitcase for just one night; so I usually ended up packing my clothes and toiletries in grocery bags. Not exactly chic! The Africa Big Bag is the perfect "In-Between" bag for just these sort of outings – an extra big purse that you can carry your necessities in.
My bag has traveled to two different states so far, and it's been a great thing to have. I first used it to pack my things for WordCamp, and I also brought it along on my recent Seattle trip to see Maroon 5. I used this bag to carry my clothes, hair products, flat iron, and all the other essentials of travel. It didn't quite fit everything I needed for WordCamp, so I took an extra bag along with me on that trip; but it held all the items I needed for Seattle, so all I took for that outing was my Africa Big Bag and my big makeup tote!
I liked the zippered pocket inside the bag and also the outer side pockets – I can definitely see where those would be handy in an airport for keeping important items handy. The only thing I could suggest to add is perhaps a wider opening or more compartments, just to make it easier to locate your items without having to rummage through the whole bag.
I love the look of this bag and how chic it is to tote with me on my travels – this really suits my personality!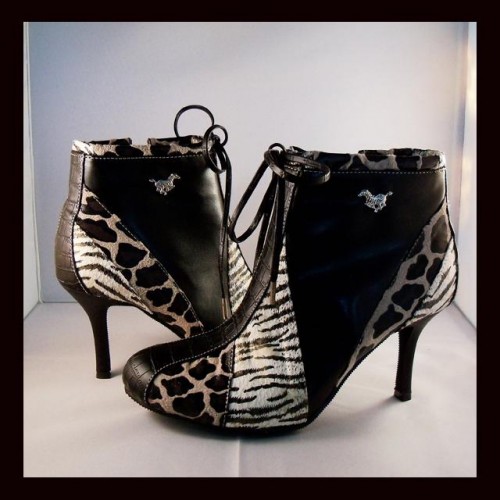 Africa Ankle Boot – $58.00
I also received a pair of matching Africa Ankle Boots. These shoes run very small; the product page advises you to purchase a whole size bigger, so I told them I would probably need a 9 since I usually wear an 8. The boots I received are 9 1/2, and they are still extremely snug! I wore these just long enough to try them on and take a picture – unfortunately, I injured my knees at the gym, and I can't wear heels again until I recover.

They feel so tight that I'm not sure if I'll be able to wear them because of the size, but again, I only kept them on for a minute because of my injury. However, you can always return or exchange your purchase if the size doesn't work out. And I do love what a chic ensemble the shoes and bag make!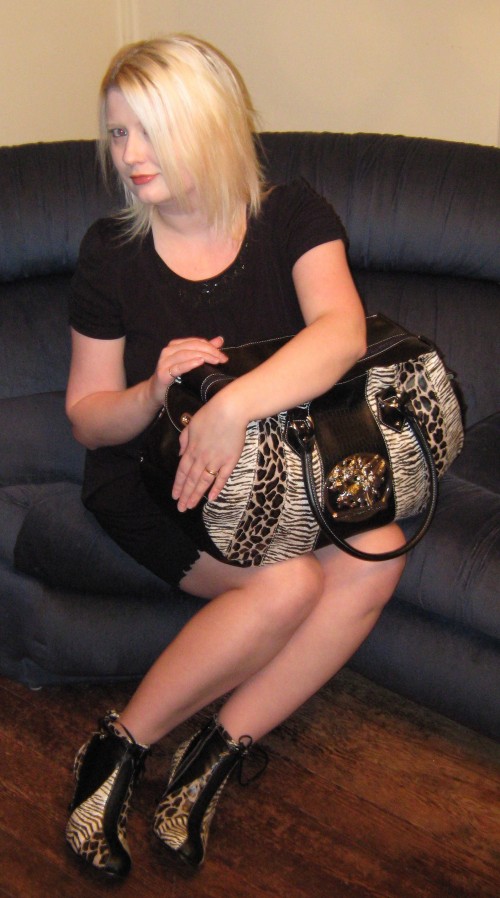 My bag & shoes from Saint Francis Couture!
Products from Saint Francis Couture are available on their website and also in several brick and mortar retail stores – click here to find a location near you.