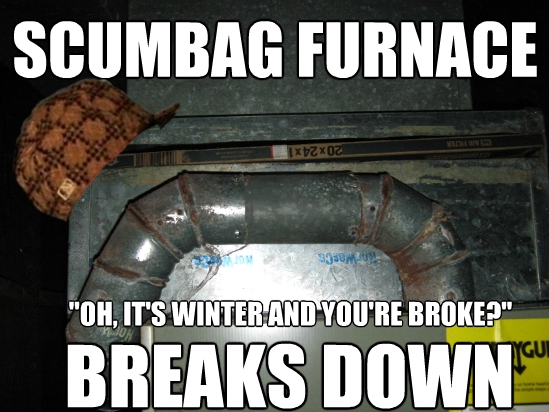 Do you like the new meme that I created?

I made this as a joke after a very chaotic day dealing with a broken furnace. Our furnace bit the dust at about 10 PM last night and starting pumping out cold air, much to my dismay. While I shivered underneath my Snuggie and lamented how much it would cost to replace the furnace, Jai started doing some research on how to repair it himself. He's unbelievably clever at figuring out how things work and can troubleshoot everything from a computer to leaky plumbing; but I feared that this might be something too specialized for us to do it ourselves, especially since we have gas heat.
After some searching, Jai found this very helpful video:
Watching this gave Jai the confidence to go under our crawlspace and open up the furnace to see what he could find out. He saw that the hot surface ignitor had a crack in it, so he removed the part and went to a local plumbing supply store to buy a new one for $44. One hour later, the new hot surface ignitor is installed and we have heat once again! Oh, what a relief to be able to fix the problem so quickly and not have a huge bill to worry about. Jai is a genius! I wanted to share this video with you in case any of my readers are in a similar boat – it's great information and saved us a packet of money!
Thanks to QuickMeme's Meme Generator for helping me to create the masterpiece above. Hat photo credit goes to the unknown photographer who took the original "Scumbag Steve" photo. Furnace photo credit goes to Jai, who took this photo of our very own scumbag furnace while writing down part numbers!