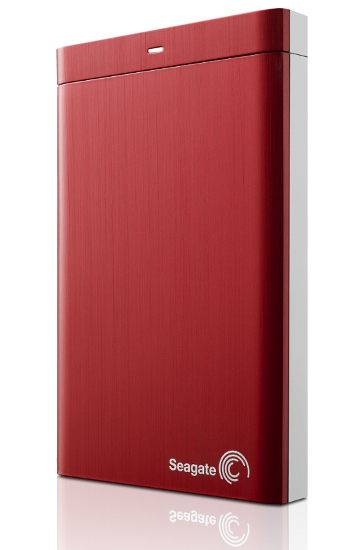 It's the eve of Valentine's Day, and you're breaking out in a cold sweat. What are you going to get your sweetie?! A box of conversation hearts grabbed from the gas station on your way home from work might not cut it.

Well, if you need an inspired gift idea and you're a family that uses computers – which I'm guessing is likely, since you're reading this! – then I have the perfect last-minute gift that won't look like you cheesed out: A Seagate Backup Plus portable drive in romantic red! And one lucky Contest Corner reader will win a 1 TB Backup Plus of their own, so read on for your chance to win!
If you hadn't guessed by now, my Valentine is just a teensy bit of a gadget guy! Jai is not really someone who collects a lot of stuff – a lot of people spend their money on clothes and knick-knacks, but he's very much a minimalist; all of his focus goes to picking up things he can build his projects with. In some ways, it can be fun to buy him little trinkets that he wouldn't think to get for himself, because it can improve his life – like the slippers I bought him last year! – and he is the most appreciative person you've ever met, who never expects anything from anyone. Which just makes me want to get him the perfect gift all the more! So when I try to think of things I can spoil him with, I tend to start looking around for computer parts. I'll never forget the Christmas that I had an HDMI cable dangling out of his stocking!
So when Seagate suggested their Backup Plus Portable Drive in ruby red as the perfect tech Valentine's Day gift, I could not have agreed more! I gave Jai a Seagate drive for his birthday a few years back and he was thrilled; I couldn't think of a better way to show my love on v-day than with a portable drive. And with the bright red color, it fits the holiday perfectly – move over, boxes of candy! There was a complimentary Backup Plus waiting on my porch when I came home from the gym tonight, and since we're so close to Valentine's Day, I decided to go ahead and give it to him right away. I couldn't wait to see what he would think, and since I anticipated that he would be very happy, I took a short little reaction video of him opening it:
If you have a techie on your list, I can guarantee you they'd much prefer this to flowers! Jai was excited to receive his new toy – he's been testing out its various settings all evening, and told me that it is very fast with a really good capacity. It works on his under-powered USB hub and doesn't take a super heavy power source like many other portable drives. He also told me that it has a "Nerd Bonus" in that you can easily unplug the USB to SATA adapter and use it easily on another laptop harddrive. But don't mistake this for a geek-only tool – the goal of the Backup Plus is to make backups easy for the average consumer with its protect, share and save functionality. By using the Seagate Dashboard, users can take advantage of features like automatically backing up the photos you share on social media sites, so that those precious Instagram baby photos don't get lost forever when your phone crashes. So while it has enough functionality to offer many versatile features to the techheads that care to utilize them, everyone else can rest easy knowing they have a simple backup system for those important files!
I would highly recommend the Seagate Backup Plus for everyone from gear guys like Jai to bloggers like myself who need to backup important website data to moms who want a way to store and save all those priceless photos of their children. And the red tint ties in perfectly for v-day! The 1 TB Backup Plus in Red retails for $129.99 and can be found at retailers like Best Buy, Staples, Kmart, and Sears – so what are you waiting for? Get off the computer and go get one while you still have time!

Giveaway Time!
One lucky Contest Corner reader will win a Seagate Backup Plus 1 TB Portable Drive in red! Entry is easy via the Rafflecopter form below:
a Rafflecopter giveaway
Rules, regulations, and other important stuff: Giveaway is open to residents of the continental United States, 18+, and ends on February 20th 2013 at 11:00 PM PST. We are sorry, but P.O. boxes and APO/FPO addresses are not eligible to win. Winner will be chosen through Rafflecopter the following day and notified via email. Winner has 48 hours to respond to our notification email, or a new winner will be chosen in their place. This promotion is in no way sponsored, endorsed or administered by, or associated with, Facebook or Pinterest. We hereby release Facebook and Pinterest of any liability. By entering this giveaway, you are releasing Facebook and Pinterest and understand that you are providing information to Contest Corner and the giveaway sponsor, not Facebook or Pinterest. Contest Corner is not responsible for late entries or entries lost due to technical malfunctions. Please see our Privacy Policy and Disclosure for further details on our site's policies. A sample was received to facilitate this review.