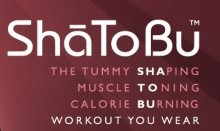 As the New Year approaches, many of us will be making resolutions to work off those holiday pounds and don a new look. ShaToBu is a unique shapewear line that claims it can help you burn calories while you smooth your silhouette. I was intrigued by the idea, so when ShaToBu offered to send me a High Waist to Knee Shaper in Beige, I was looking forward to seeing what it could do.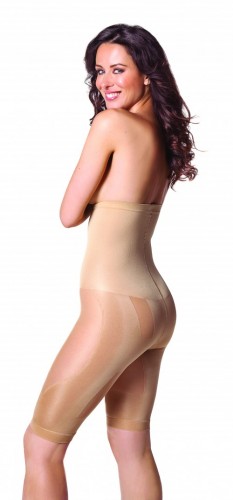 My sample of ShaToBu arrived the day before our engagement photos – is that perfect timing, or what?! It came attractively packaged with a pink tape measure and a pedometer. I was so glad to have it, because I had bought a white dress for the pictures, and beige shapewear is pretty much a necessity when wearing white garments – it seems to be the only thing that doesn't show through. The dress I bought online ended up being so see-through that I literally wondered how anyone could ever wear it; but once I slipped on the High Waist to Knee Shaper , you couldn't see a thing – it made the dress look perfect without any dreaded panty lines or slip seams. Since the dress was short, I made sure to pull the legs of the shapewear further up my thighs so they wouldn't show.
Here's how my dress looked in the engagement pictures: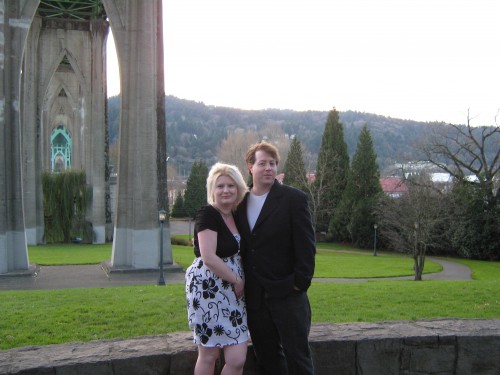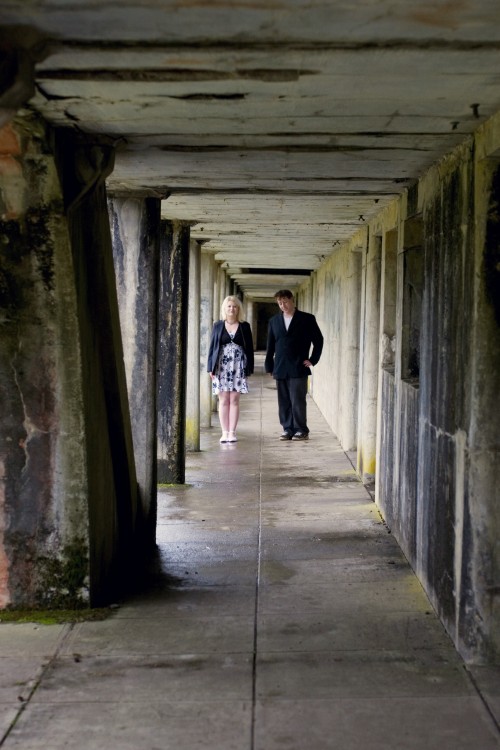 The other benefit of shapewear is, of course, the contours that it adds to your figure. No piece of shapewear is going to work miracles; you're not going to put it on and look 50 pounds lighter. However, it does add support and definition, which makes you feel that much more confident. The garment is fairly comfortable – I was eager to take it off at the end of the day, but to be fair, I feel that way about most bras as well. (I can't be the only one who just wants to change into PJs at the end of a long day!)
As for the calorie burning, I can't vouch for what effects that may or may not have, but here is some information which ShaToBu provided about their product:
Whether it's losing weight, getting in more (or any) exercise, buying a new wardrobe or changing their hair style,  the onset of a New Year means many American women will resolve to get in shape and update their appearance.  This year, however, there is a new product that can really make a difference!   ShāToBu – The Workout You Wear™ – is the first-ever shaper scientifically proven to help women shape, tone muscles and burn more calories when worn during daily living activities – all without changing their regular routine.

Independent researchers at the University of Virginia have shown that women burned more calories during treadmill walking and stair climbing activities that simulate everyday movement when they wore the new shaper ShāToBu™.

"ShāToBu increases the impact of everyday movement, but does not replace the need to be physically active," said Dr. Denise Perron, vice president, research & development, Mayfair Tech, Inc., who is a chiropractor and the creator of ShāToBu.  "ShāToBu uses seamless resistance band technology to make muscles work a little harder during natural movement. So when you're out walking while shopping, picking the kids up from a play date or walking to work, you'll be getting in your light workout!"

ShāToBu tones the muscles of the hips and thighs due to the resistance bands within the garment, which provide 90 to 116 percent more resistance in movement, which causes an increase in muscle activity in the targeted areas causing toning, as well as an average of up to 12 percent more caloric burn when worn during daily living activities.
Check out ShaToBu's product line on ShaToBu.com.
This article is not intended to diagnose, treat, cure, or prevent any illness or medical condition.