Frito-Lay have invited me to participate in Tastes from Home, a special invitation-only recipe contest. I've been asked to share my favorite recipe that reminds me of home; and for participating, I will receive an entry into the Tastes from Home contest as well as a surprise gift. In addition to this, one lucky Contest Corner reader will win a snack-sized variety pack of Lay's Regional Flavors potato chips, so read on!
I was born in England and moved to the US in 1989, so traditional British food is what reminds me of home. This is my family's recipe for Shepherd's Pie, and it can give homesick expats a taste of home no matter where in the world they are!
Expat Shepherd's Pie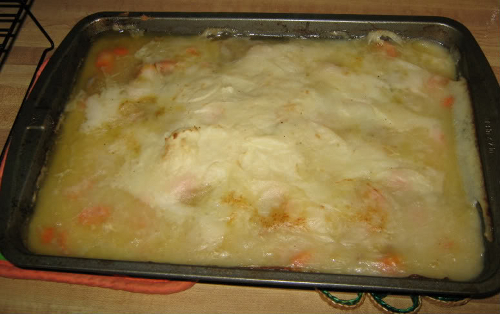 Ingredients:

2 lbs. ground beef
1/2 tbsp. olive oil
2/3 of a large onion, chopped
1 beef bouillon cube
2 cups boiling water
3 large carrots, sliced
5-6 potatoes, peeled
1 tbsp. butter or margarine
2-3 tbsp. milk
Salt and pepper to taste

In a large frying pan, add olive oil, ground beef, and onion, cooking over a medium heat until brown. In a small bowl, dissolve bouillon cube in water, then pour into frying pan. Simmer 3 more minutes, then remove from heat and transfer to a 12.8 x 8.9 x 2 inch roast pan. Parboil carrots in a medium saucepan, then layer on top of meat mixture.

In a large stockpot, boil potatoes until tender. Drain water and transfer potatoes into a large mixing bowl. Add butter, milk, and a pinch of salt and pepper to taste. Use a hand mixer to mash potatoes until smooth, then spread potatoes on top of the meat and carrots with a spatula, covering them completely. Bake in a 350 degree oven for 35 minutes or until the potatoes are lightly brown.

Serve with bread. Yield: About 6 servings.
Lay's Regional Flavors are a line of potato chips inspired by regional cuisine from across the United States. Flavors include:
o Northeastern U.S. – Lay's Honey Mustard
o Midwestern U.S. – Lay's Creamy Garden Ranch
o Northwestern U.S. – Lay's Balsamic Sweet Onion
o Southwestern U.S. – Lay's Chipotle Ranch
o Southeastern U.S. – Lay's Cajun Herb & Spice
All the flavors look yummy, but I'd particularly like to try the Creamy Garden Ranch and the Garden Tomato Basil varieties! Click here to view the full product line and access more great recipes.
All of the Lay's Regional Flavored potato chips are made with all natural ingredients and cooked in healthier oils, like corn and sunflower oils, which contain 80% or more of polyunsaturated and monounsaturated fat. They also contain 0 grams of trans fats per serving.
Giveaway Time!


One lucky Contest Corner reader will win a snack-sized variety pack of Lay's Regional Flavors potato chips! Here's how to enter:
1. For your first entry, just leave a comment on this post sharing what flavors remind you of home! This step is required to qualify for the drawing.
Want extra entries? Do any of the following, and leave a separate comment for each one:
2. Write a post on your blog linking to this giveaway and Frito-Lay. Then come back here and leave me the link!
3. Write about this on Twitter, then come back and leave me the link to your tweet! One Twitter entry per person. You can use the button at the bottom of this post to tweet with one click!
4. Subscribe to my blog updates by clicking here. Then come back and leave me the email you subscribed with!
5. Become a follower of my blog by clicking the "Follow" button in my sidebar! Then come back here and let me know in a separate comment!
6. Post my button on your website – just copy and paste the following code, and let me know where you put it:
#FritoFlavors Rules, regulations, and other important stuff:

Giveaway ends on September 4th at 11:59 PM, PST. Winner will be chosen the following day via Random.org. Winner has 48 hours to respond to my notification email, or a new winner will be chosen in their place.
Giveaway is open to US residents. This blog post serves as my entry into the Tastes from Home contest. I will receive a gift for my participation. Frito-Lay is providing the giveaway prizing to one winner.