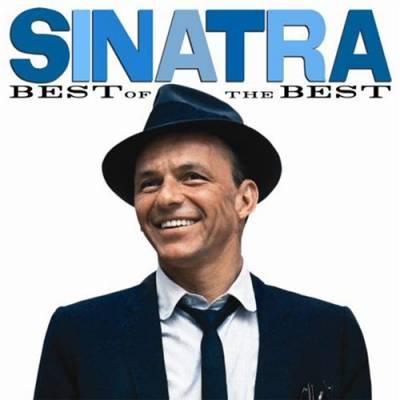 Sometimes when you're racking your brains for a holiday gift, your best bet is to look for something classic. And if there's a music lover on your list, there's nothing that says "Classic" like Frank Sinatra. Just in time for the holidays, a 2-CD deluxe set called Sinatra: Best of the Best is being released so that fans can own some of Old Blue Eyes' greatest hits. And one lucky Contest Corner reader will win a copy of this album, so read on!
Sinatra: Best of the Best is a collection of the crooner's most-loved songs. Disc 1 contains 23 tracks, including "You Make Me Feel So Young", "Strangers In The Night", "Fly Me To The Moon", "The Way You Look Tonight", and so many more. Disc 2 contains a full live concert from Seattle that is otherwise out-of-print, with 19 live cuts. Whether you're shopping for your Grandma or a music-loving college student, Sinatra is appreciated across the generations, making this unique two-disc set a fabulous present. Check out the following album information to learn more about this compilation and read quotes from Sinatra's children, Nancy, Frank Jr., and Tina:
For the first time, Frank Sinatra's greatest recordings for Capitol Records and his own Reprise Records have been gathered for one stellar collection. Sinatra: Best of the Best will be released in single-disc and deluxe 2CD packages on November 15, with insightful track notes written by Frank Sinatra Jr. Both configurations will also be available for download from all major digital providers.

Best of the Best's chronological tracklist leads with 1953's "I've Got The World On A String," followed by 12 other classic tracks Sinatra recorded for Capitol between 1953 and 1960, including "Young At Heart," "You Make Me Feel So Young," "All The Way," and "Come Fly With Me," as well as the Sinatra recording that is the theme of "Married With Children," "Love And Marriage." 10 of Sinatra's best Reprise recordings, released between 1962 and 1980, are also featured, including "Night And Day," "The Way You Look Tonight," "Fly Me To The Moon (In Other Words)," "Strangers In The Night," "My Way," and "Theme From New York, New York." Best of the Best's 2-CD version adds a previously out-of-print and sought-after Seattle concert recording, and is packaged in a lift-top box with an expanded booklet and 6 postcards.

At Capitol Records, Frank Sinatra pioneered his landmark 'concept' albums. Working with arrangers such as Nelson Riddle, Billy May and Gordon Jenkins and singing the songs of Cole Porter, George and Ira Gershwin, and Rodgers and Hart, to name a few, set Sinatra's recordings apart from those of all other vocalists of the 20th century and quite possibly all time.

In 1960, Frank Sinatra realized a dream when he founded Reprise Records. Sinatra was one of the first to recognize the value of artists owning their master recordings. The new label gave him the artistic and business freedom he longed for in his recording career. There Sinatra collaborated with new arrangers such as Johnny Mandel, Don Costa, and Quincy Jones, as well making albums with Count Basie, Duke Ellington, and Antonio Carlos Jobim.

During his years of recording for Capitol and Reprise, Sinatra was also making concert appearances around the world and starring in hit movies, including From Here To Eternity, Pal Joey, High Society, and The Manchurian Candidate.

Sinatra loved and found comfort in recording music, once saying "I adore making records. I'd rather do that than almost anything else. You can never do anything in life quite on your own – you don't live on your own little island. Making a record is as near as you can get to it – although, of course, the arranger and the orchestra play an enormous part. But once you're on that record singing, it's you and you alone."

Tina Sinatra recalls the ambience that was present in the studio while her father recorded saying, "I remember his command, it was palpable, you could feel the energy in the room. It was like this vacuum of power, all eyes were always on him. It was very similar to seeing him on stage."

Frank Sinatra Jr. fondly remembers his father's legendary sessions for Capitol and Reprise, saying "There was a tremendous level of excitement-air of expectation-every time he recorded. Everyone knew they were making the best records around. How could they miss? They had the best singer, best arrangers, best musicians, best engineers, and the best studios in town."

Nancy Sinatra recalls the excitement of her father's recording sessions at Capitol, saying, "I came to sessions whenever I could. We would go to dinner at the Villa Capri and then we would drive to Capitol. Attending record sessions at Capitol was like going to a concert today-it was the hottest ticket that you could get your hands on; it was fantastic. It was great for him to have a small audience in the room and everything was live. The orchestra was in the room and everybody as a result of that did their best. There was magic in those studios and that building."

Frank Sinatra is one of the world's most recognizable, admired and influential artists of all time, with a vast catalogue of music that is a soundtrack for our lives. Long acclaimed as the world's greatest performer of popular music, he is the artist who set the standard for all others to follow. More than a singer, he was an actor, recording artist, nightclub and concert star, radio and television personality and, on occasion, producer, director and conductor. Besides recording nearly 1,500 songs, he starred in some 60 motion pictures.

A beloved entertainer for six decades, Sinatra earned three Oscars, three Golden Globes (including the Cecil B. DeMille Award), ten personal Grammys (and a total of 20 for his albums), an Emmy, a Peabody and the Kennedy Center Honors Award. A generous charitable contributor, he was honored with the prestigious Jean Hersholt Humanitarian Award from the Academy of Motion Picture Arts and Sciences. In addition, Sinatra was awarded the Presidential Medal of Honor and the Congressional Gold Medal, Congress' highest civilian award.
Track Listing:
Sinatra: Best of the Best
1. I've Got The World On A String
2. My Funny Valentine
3. Young At Heart
4. In The Wee Small Hours Of The Morning
5. Love And Marriage
6. You Make Me Feel So Young
7. I've Got You Under My Skin
8. The Lady Is A Tramp
9. Witchcraft
10. All The Way
11. Come Fly With Me
12. Angel Eyes
13. Nice 'N' Easy
14. Night And Day
15. The Way You Look Tonight
16. My Kind Of Town
17. Fly Me To The Moon (In Other Words)
18. It Was A Very Good Year
19. Strangers In The Night
20. Summer Wind
21. That's Life
22. My Way
23. Theme From New York, New York
CD 2 – In Concert: Live In Seattle (out-of-print)
1. Introduction/You Make Me Feel So Young
2. It Happened In Monterey
3. At Long Last Love
4. I Get A Kick Out Of You
5. Just One Of Those Things
6. A Foggy Day
7. The Lady Is A Tramp
8. They Can't Take That Away From Me
9. I Won't Dance
10. Sinatra Dialogue
11. When Your Lover Has Gone
12. Violets For Your Furs
13. My Funny Valentine
14. Glad To Be Unhappy
15. One For My Baby
16. The Tender Trap
17. Hey Jealous Lover
18. I've Got You Under My Skin
19. Oh! Look At Me Now
Sinatra: Best of the Best will be available on November 15th for $26.98 – click here to pre-order it now. Keep up with the latest news by visiting FrankSinatra.com or Frank Sinatra's Facebook page.
Giveaway Time!
One lucky Contest Corner reader will win the deluxe 2-CD edition of Sinatra: Best of the Best! Here's how to enter:

1. For your first entry, just leave a comment on this post and tell me what your favorite Frank Sinatra song is! This step is required to qualify for the drawing.
Want extra entries? Do any of the following, and leave a separate comment for each one:
2. Write a post on your blog linking to this giveaway and FrankSinatra.com. Then come back here and leave me the link!
3. Write about this on Twitter, then come back and leave me the link to your tweet! One Twitter entry per person. You can use the button at the bottom of this post to tweet with one click!
4. Subscribe to my blog updates by clicking here. Then come back and leave me the email you subscribed with!
5. Become a follower of my blog by clicking the "Follow" button in my sidebar! Then come back here and let me know in a separate comment!
6. Post Contest Corner's button on your website – just copy and paste the following code, and let me know where you put it:
7. Add the Holiday Gift Guide 2011 badge to your website – just copy and paste the following code, and let me know where you put it:
Rules, regulations, and other important stuff:

Giveaway ends on November 8th at 11:59 PM, PST. Winner will be chosen the following day via Random.org. Winner has 48 hours to respond to my notification email, or a new winner will be chosen in their place.
Giveaway is open to US residents, 18+. I received a promotional CD for the purposes of writing this article.