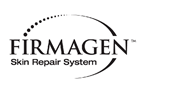 As a beauty product junkie, I've always sworn by moisturizer. I'm always trying new products to better moisturize and care for my skin. I recently had a chance to sample a daytime skin serum from Firmagen Labs, called AM Skin Repair. One lucky Contest Corner reader will win a bottle of this serum for themselves, so read on for my thoughts and your chance to win!
When Firmagen Labs invited me to try a complimentary bottle of their Skin Repair Daily Antioxidant Serum, I was really looking forward to testing it out and seeing how it would make my skin feel. I tried this moisturizer for the first time this morning, and I was impressed. Receiving this was perfect timing, as I had just ran out of my last moisturizer and needed something to use in the mornings.
This serum has a creamy consistency and glides on like silk without tugging at delicate skin. You can feel that it's a very moisturizing formula, but it's not at all heavy – it absorbs quickly into the skin, making it a perfect, non-greasy morning cream. You could easily follow this with an SPF moisturizer and/or makeup, so it's a great compliment to your other products and a good item to start the day off with. This will be my new morning cream and I look forward to putting it on my skin after I get up each day! Although I do have very sensitive skin, I don't have any reason to suspect that I'll develop irritation with this – creamy moisturizers are usually gentle on my skin, where products like cleansers, makeup, or anti-blemish creams are what I run into problems with. If you tend to have dry skin (Like me!), or just want a good base cream to apply in the mornings, I would say that you might like this formula. Every skin type is different, but it worked great for me.
On a side note, the directions for this advise to apply it to dry skin, but I actually left my face a little damp after washing it and then applied the cream. I read recently that Dita Von Teese applies her moisturizer while the skin still somewhat damp to seal in moisture, and I've heard that method recommended before so I thought I'd give it a try. I've been doing this for about a week and I do like how it makes my skin feel. The AM Skin Repair serum went on great and I think leaving my face somewhat wet allowed it to seal in a little extra moisture.
AM Skin Repair is available on FirmagenSkincare.com for $29.95. To learn more and order, click here.
Giveaway Time!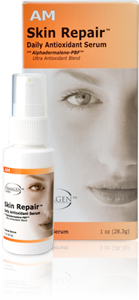 One lucky Contest Corner reader will win a bottle of AM Skin Repair! Here's how to enter:
1. For your first entry, click here to view the full Firmagen Labs product line, then come back here and leave a comment on this post telling me which product you'd most like to try. This step is required to qualify for the drawing.
Want extra entries? Do any of the following, and leave a separate comment for each one:
2. Write a post on your blog linking to this giveaway. Then come back here and leave a comment with the link!
3. Write about this on Twitter, then come back and leave a comment on this post with the link to your tweet! One Twitter entry per person. You can use the button at the bottom of this post to tweet with one click!
4. Subscribe to my blog updates by clicking here. Then come back and leave a comment on this post with the email you subscribed with!
5. Post my button on your website – just copy and paste the following code, and let me know where you put it:
Rules, regulations, and other important stuff:

Giveaway ends on February 28th at 11:59 PM, PST. Winner will be chosen the following day via Random.org. Winner has 48 hours to respond to my notification email, or a new winner will be chosen in their place.
Giveaway is open to US residents, 18+. This article is provided for entertainment purposes only and is not intended to diagnose, treat, cure, or prevent any disease.