Now that we're in the thick of "Spring cleaning" season, many people are looking to clear out the clutter as well as clear out potential allergy triggers. Sleep Number has polled seasonal allergy sufferers and found that 75 per cent of those whom they spoke to have lost sleep as a result of allergies. No fun! As a result, Sleep Number offer bedding and pillows designed with the aim of reducing discomfort for those with allergies. I was recently approached by Sleep Number and asked if I would like to review one of their specialty pillows, as well as host a very special giveaway. I'm all about anything that can help me sleep better and improve comfort, so I was eager to take them up on their offer! Read on for your chance to win a Sleep Number pillow of your own!
Tips on Minimizing Allergens from Sleep Number:

Bedrooms are often among the worst places in the house for allergens. To help with this, Sleep Number has come up with some tips:

· Clean your bedroom regularly, especially if you have carpets or drapery

· Use a HEPA air purifier in your bedroom

· Launder your bedding weekly in hot water – at least 130 degrees

· Wipe all hard surfaces with a wet cloth regularly to remove dust

· Use allergen-barrier covers for your mattress and pillows

· Look into purchasing naturally antimicrobial bedding

· Try undressing in another room to avoid bringing in new allergens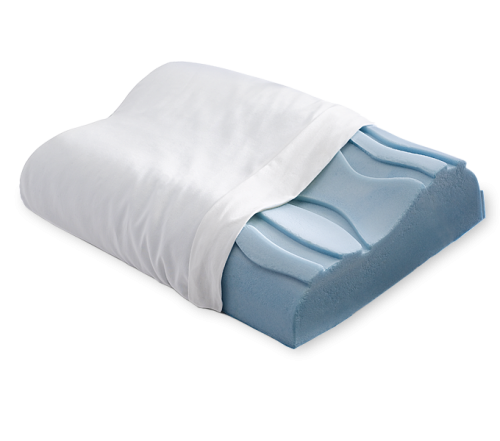 Sleep Number sent me a complimentary CoolFit Foam Contour Pillow to review, and I was very excited to see how comfy it would be! This memory foam pillow is designed with cooling gel technology that aims to create a more "Breatheable" pillow for a more comfortable temperature. The foam shapes to the contours of your head, which I really liked. I actually found this pillow to be a bit too firm for my tastes, but Jai, on the other hand, loves, loves, loves this pillow! He uses it both to sleep on and as a pillow to prop behind his back while sitting at a chair or on the couch.
Giveaway time!
Sleep Number are offering a very special giveaway! One lucky Contest Corner reader will win one (1) standard-size Sleep Number pillow. This will work a little differently than our usual giveaways, so here's how to enter:
1. Click here to fill out the entry form and be sure to fill in "Contest Corner" under the "Referring Blog" section. That's it!
Sleep Number will draw the winner randomly on or about May 31, 2011. Giveaway is open to US entrants. Sleep Number will notify me who the winner is so that I can announce it here on Contest Corner. Click here to read the full official rules for this giveaway.
Remember, you must click here and fill out the form to enter. Comments on this post will NOT enter you into the drawing. Good luck!